Dozens of books have been written over the past two decades eulogizing the 'Big 3' of tennis. The way the trio of Roger Federer, Novak Djokovic, and Rafael Nadal have dominated the sport is unparalleled, and not only in tennis. That being said, with Federer retiring and Djokovic and Nadal having a few years left with them, sooner or later the next-gen stars will take over. 
Serbian star Djokovic has picked two of his favorites among the most promising players. According to him, Carlos Alcaraz and Holger Rune are two among the next-gen who deserve more attention. Spanish youngster Alcaraz impressed everyone with his outstanding US Open 2022 triumph. On the other hand, Danish former No. 10 Rune has also caught everyone's eye with his performance on the Tour.
"What Alcaraz has done last season has been extremely impressive and historic for our sport, so he deserves praise, no doubt," the Serb told reporters in Adelaide. "He's already now. . .he's No. 1 in the world. There's no higher peak to climb than that one, and already won a Slam, and he's still so young," Djokovic further added. "I guess we're going to see lots of Alcaraz and Rune in the future," Djokovic continued.
After winning the US Open Alcaraz became the youngest ever men's world No. 1 and the first teenager in the Open Era to top the men's rankings. Danish star Rune on the other hand won the Paris Masters and made his Top 10 debut becoming the first player on record to beat five top-10 opponents in the same event (outside the ATP Finals). 
Related: "What can I do," Novak Djokovic addresses his ban from entering USA amidst latest policy revision
Other top contenders among the next-gen according to Novak Djokovic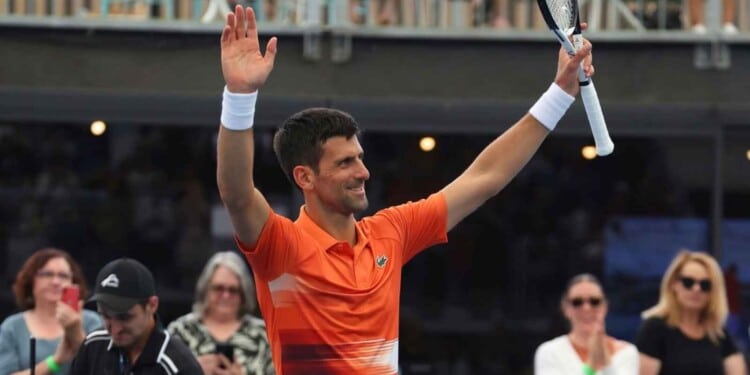 According to the Serbian legend, Felix Auger-Aliassime and Lorenzo Musetti will be the other players to make their mark in tennis. Djokovic believes because of Rune and Alcaraz these two do not get the media attention. The 21-time Grand Slam winner showered praise on both of them.
"Felix [Auger-Aliassime], I think he's probably playing the tennis of his life in the last five, six months," Djokovic expressed. "Maybe because of Rune and Alcaraz, people don't talk maybe as much about Felix," he further added. "But I think he deserves to be right there in the conversation right at the top with these guys, and Musetti as well is gaining more confidence and is improving," Djokovic continued his thought. 
Djokovic is currently in Australia competing on the Adelaide International. He talked to the press after his win over Quentin Halys at the tournament. After this, the 35-year-old will head to Melbourne to reclaim his Australian Open title. 
In case you missed:
"Not a surprise", Emma Raducanu slams the slippery surface for her ankle injury
WATCH: Iga Swiatek sobs uncontrollably as she loses to Jessica Pegula at the 2023 United Cup