It seems as if Novak Djokovic has made sure that he will stir up some controversy or the other in all of his matches. In the 2nd round match at the French Open, Djokovic was seen with a very unidentifiable type of taping right at the center of his chest. The 36-year-old Serb was playing against Hungarian Marton Fucsovics in a night match when he changed his t-shirt on the court. What was revealed underneath his shirt has become a big topic of discussion in the tennis world.
Upon seeing the weird tape on Novak Djokovic, Jim Courier, who commentates for Tennis Channel, joked, "Have you ever seen Robert Downey Jr. in the same room as Djokovic? May be Novak is Ironman." Later at the press conference, a curious journalist asked Djokovic about the tape's origins. Djokovic trying to create an air of mystery about the tape, said, "When I was a kid I liked Iron Man a lot, so I try to impersonate Iron Man." Djokovic defeated Marton Fucsovics in 3 straight sets
The joke did not end there, as Novak added by saying, "You know my team delivers an incredibly efficient nanotechnology to help me deliver my best on the court. So that's the biggest secret of my career".
The whole world is currently speculating what the strip was, and Djokovic's faux pas answers during the conference did not help. Some believe it is slow drug-releasing equipment, while others say it's a magnetic strip tech to relieve chronic pains. A lot of people are of the belief that this could be some type of home remedy or pseudo-science to relieve pain.
Novak Djokovic will continue with his quest for his 23rd Grand Slam title by taking on Alejandro Davidovich Fokina in the 3rd round. Djokovic has already been in a lot of controversy after his first-round match when he wrote Kosovo is the heart of Serbia. The Serbian had said, "Drama-free Grand Slam — I don't think it can happen for me. You know, I guess that drives me, as well."
Keep Exploring: Holger Rune dismisses Carlos Alcaraz's French Open chances ahead of a potential clash, chooses Novak Djokovic as favorite in Rafael Nadal's absence
Novak Djokovic's unconventional treatments are always a hot topic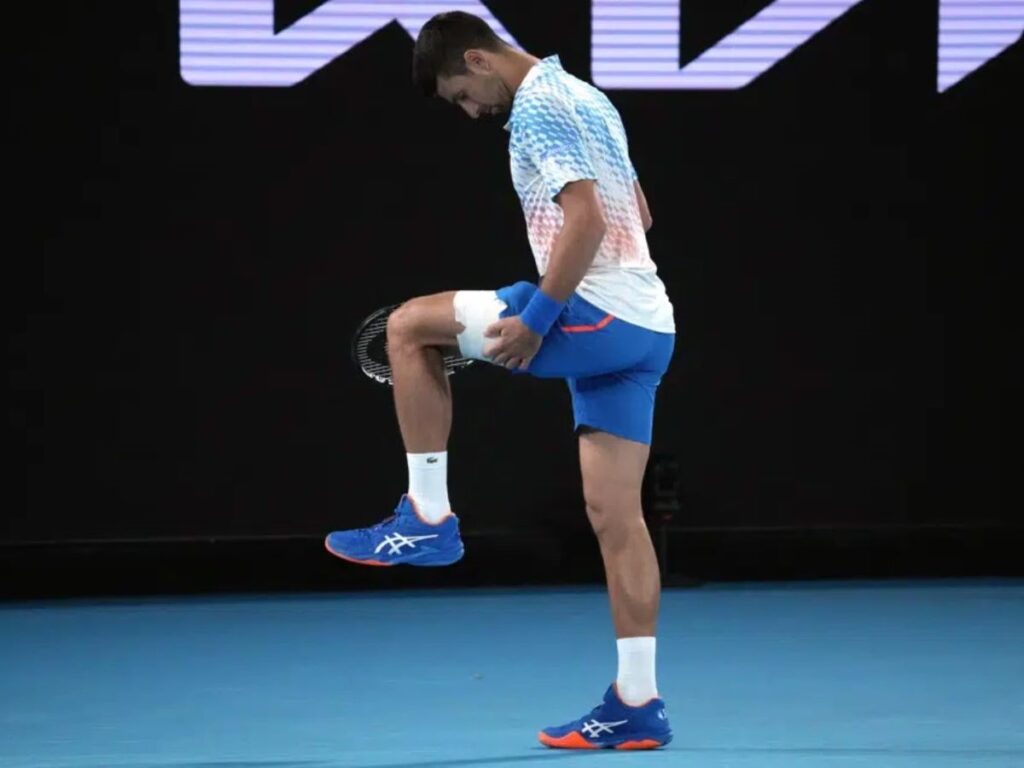 Djokovic is known to treat his body as a temple. He was one of the very few professional tennis players who outrightly rejected taking the COVID vaccination. But otherwise, he is known to go for some unconventional ways of treating his body. Some people believe that Djokovic could be anti-science. The 36-year-old has frequently dismissed modern medicine and has been a proponent of alternative medicine for recovery and treatment.
He frequently visits Visoko in Bosnia, which are man-made pyramid structures. There are claims that the ancient man-made structures in the area have healing powers. Even the special drink that Djokovic's team makes for him, which some call 'Novak Elixir', is also a secret recipe. For years people have speculated the composition of the concoction that energizes the 22-time Grand Slam champion.
In Australian Open 2023, Djokovic had his entire hamstring taped up, which led to speculation of him being unfit. Additionally, he had a few timeouts to get the tapes retaped on the court, which became a controversial issue for him. And every next round the amount of taping seemed to have increased from the previous match. But ultimately, he won the Australian Open, so there was much noise about nothing. But one thing is guaranteed. Novak Djokovic is never 'Drama free.' It never has been and never will be.
In case you missed it: