A demand for players to be paid for participating in the Ryder Cup has driven a wedge in Team USA. According to SkySports' sources, Team USA player Patrick Cantlay demands that players be paid for competing in the tournament, held in Rome. This has led to Cantlay causing controversy by allegedly refusing to wear the team cap during the Saturday foursomes.
Reacting to the news, ESPN analyst and Serena Williams' former coach Rennae Stubbs lashed out at the player for raising the issue in-tournament. "What!???? Figure that out later. U accepted the invitation and NOW u want to bitch!?? Omg these dudes! Also they're all worth 10s of millions already. Wow," she wrote in a post shared on social media site 'X'.
Escalating the issue, Patrick also refused to attend the gala dinner earlier in the week and, along with his close friend Xander Schauffele, is reportedly sitting in a separate area of the team dressing room. The split in the dressing room is affecting Team USA's performance as they trail Team Europe by a record-equalling 5 points at the end of day one.
Patrick's agent, while refusing to confirm or deny his pay demands, said that the absence of a cap was due to the lack of the relevant size for the player. He also refuted the rumors that Patrick Cantlay was sitting separately from the rest of the team in the locker room.
Earlier, the golfing world was embroiled in a controversy over the players leaving the PGA tour for the LIV Golf League. The league, owned by Saudi's sovereign wealth fund PIF, offered players multi-million dollar contracts to lure them away from PGA. One source said Johnson – winner of two major championships and a former World No. 1 – was paid US$150 million to play in the LIV series.
Keep Exploring: Alexis Ohanian shares his 'heartbreaking' thoughts on NFL icon Barry Sanders' upcoming Amazon documentary 'Bye Bye Barry'
Novak Djokovic joins in for the Ryder Cup celebrity all-star match
The World No. 1 Novak Djokovic swapped his racket for a golf club when he participated in the Ryder Cup celebrity all-star match. The 24-time Grand Slam champion tried his hand at the golf swings at the Marco Simone Golf & Country Club in Rome during the ongoing 2023 Ryder Cup.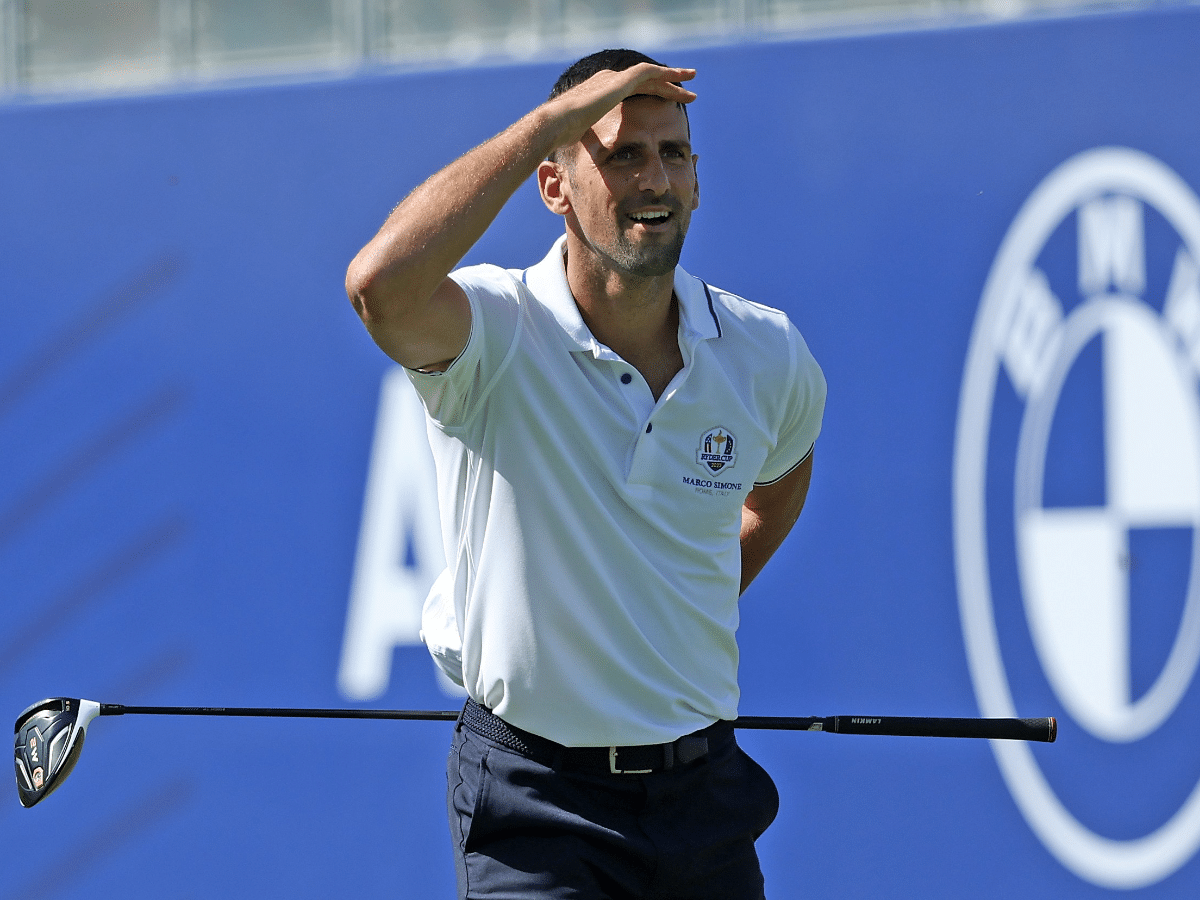 The Serb stunned the crowd with his 100-meter shot, driving par 4. Celebrating his rather unexpected but spectacular shot, he went on to hit Cristiano Ronaldo's famous 'Siu' celebration.
Speaking to SkySports on the sidelines of the celebrity match, Djokovic talked about his plans for the season ahead. The world no.1 confirmed his participation in the Paris Masters, starting 30th October. The 36-year-old has won the tournament record 6 times. Expressing his 'big goal' for the end of the season, Djokovic talked about his desire to lift the Davis Cup trophy for Team Serbia.
In case you missed it :
Do follow us on: Facebook | Instagram | Twitter
Follow FirstSportz on WhatsApp Channel