World No. 5 Stefanos Tsitsipas and World No. 11 Carlos Alcaraz played another thrilling contest between the two which once again went the teenager's way as he won the match in 3-sets. On a busy day at the 2022 Barcelona Open that has been affected due to the weather conditions, Alcaraz picked up a 6-4, 5-7, 6-2 win in a high-intensity clash on the Pista Rafa Nadal court.
It was a perfectly balanced between the two players who are both great on the surface. With Alcaraz having the added advantage of playing in Spain, it was a hard time for Stefanos on the court to get some support from the crowd apart from his team in the player's box. Added to this, an ugly incident between the two players saw Stef get more hostile reactions from the fans.
With Alcaraz serving for the first set, the teenager was quick to take a 40-0 lead and it was adding to the Greek's frustration amidst the loud cheering for the teen. For the setpoint, Alcaraz hit his service wide which needed Stef to use his one-handed backhand for which Alcaraz had already approached the net to hit it on the other side with a drop shot. While Stef managed to reach the ball, he fired the shot straight at Alcaraz who had to duck at the net as the ball landed outside the court giving the point to Alcaraz.
Alcaraz stared at Tsitsipas as both players approached their respective benches for the break between the sets as the crowd started booing Stef for his aggressive shot that looked like an attempt to hit the player rather than win the point. As the camera shifted to Stef's coach and dad Apostolos, he just smilingly shrugged at the camera.
Twitter bashes Stefanos Tsitsipas for his shot at Carlos Alcaraz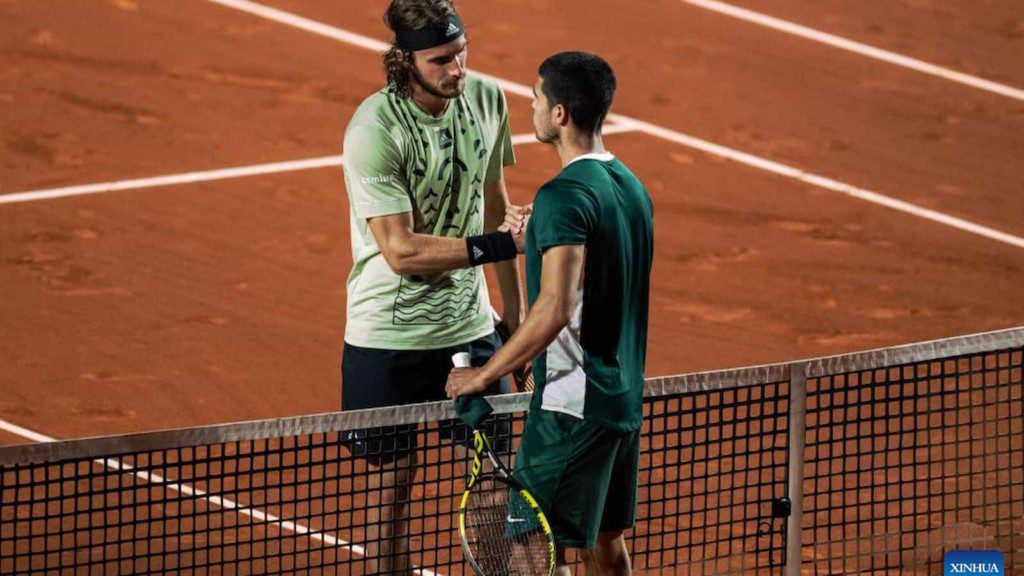 While it is no brainer that approaching the net is always a risk for the player to get hit at, it all comes down to the intention by which the shot was hit. The other thing that did not work in favour of the World No. 5was his delayed apology which was not well taken either as in most cases, a quick apology is seen by the player who hits such a shot. Twitteratis were quick to express their opinions with the majority of them speaking against Tsitsipas.
Also Read: "I've done enough in my career to stop today" Novak Djokovic gives cryptic answer ahead of Serbia Open