World No.1 Novak Djokovic has done the unthinkable. The 36-year-old Serb clinched his 23rd Grand Slam title at the French Open last week, the highest ever won by a man in the history of the sport. Since his historic win, former greats as well as current superstars of tennis and beyond have congratulated the Serb for his amazing achievement. Two of the legends of the game too have now congratulated the Serb.
They are none other than Venus and Serena Williams. The two ladies combined have a whopping 30 singles Grand Slam titles, with Serena accounting for 23 of them – the same as Djokovic.
The Williams sisters, widely regarded as the best female players of contemporary time, took to their respective Instagram accounts to congratulate Djokovic. The Serb, acknowledging their appreciation, reposted their stories and thanked them.
Keep Exploring: This could be the last year for Venus Williams
Novak Djokovic etched his name in the history books following his triumph at French Open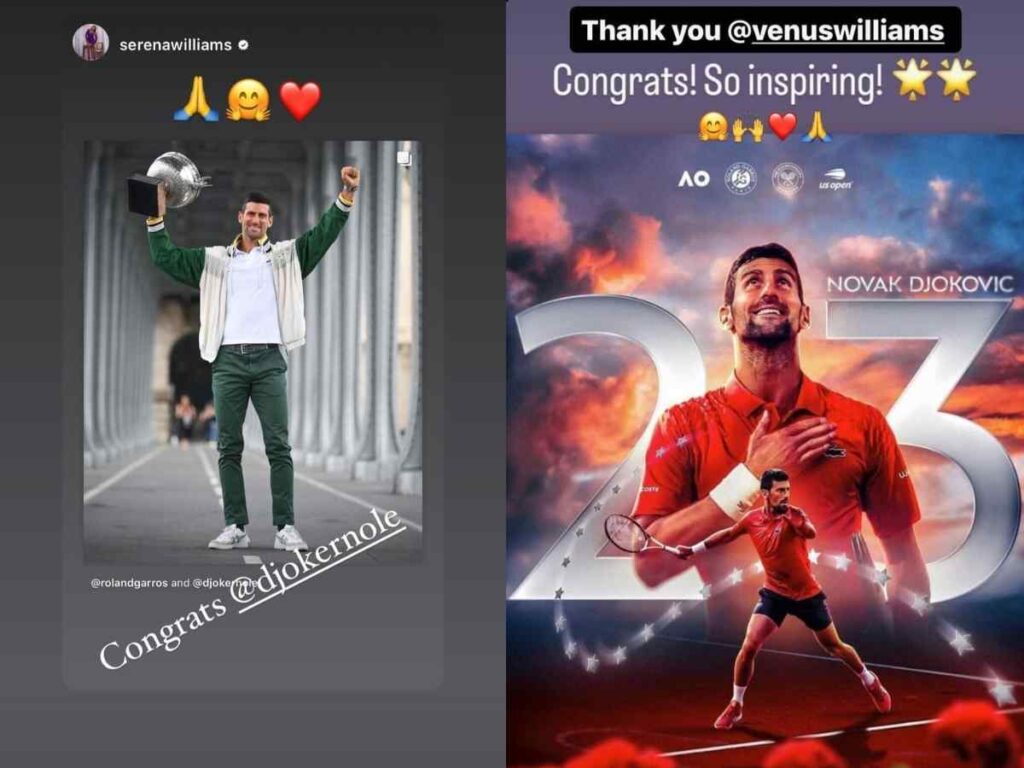 Many counted Djokovic out even before the beginning of the French Open due to his lean patch of form heading into the tournament. However, with each passing match, Djokovic got better and better and started looking like his usual self. His annihilation of Carlos Alcaraz, especially in the last two sets of their semifinal encounter, made people believe that it was Djokovic's title to lose.
And as expected, the Serb did not disappoint, as Casper Ruud, the other finalist, even after playing some of his best tennis, fell way short and didn't have answers to Djokovic's audacity. Djokovic clinched the championship match in straight sets as he fell to the ground in joy, while the whole world stood to acknowledge the genuineness of the Serb.

In case you missed it: