Spanish star Carlos Alcaraz is currently competing in the 2023 Rio Open. The World No.2 is playing just his second event of the season. He had pulled out of the 2023 Australian Open due to an injury. The player was unable to play any other ATP tournament after sustaining a leg injury during practice. Alcaraz started his season with the Argentina Open. The 19-year-old won the title and his 5th clay-court tournament win.
At the Rio Open, Alcaraz breezed through his first round easily, as he defeated unseeded Brazilian Mateus Alves. The Spaniard played against Fabio Fognini in the second-round match. In a feat of sportsmanship, Alcaraz helped the Italian after he suffered a nasty fall in the midst of an intense rally.
Despite losing the first set in a tie-breaker, Alcaraz was able to regain his momentum and finally won the match. The Italian collected dust during the second set when he was down 4-1. In the fifth game, Alcaraz made an unforeseen during the first point. Fognini rushed from the baseline to attempt the shot but failed to do so.
Fognini suffered a terrible fall near the net as he chased the drop shot. In order to prevent further aggravating the injury, Alcaraz quickly checked on Fognini. He moved to the other side of the net to assist him in standing up and handed him his racket. The crowd applauded Alcaraz's sportsmanship and cheered for the youngster.
For Fognini's benefit, the incident had little effect on the rest of the match. Instead, he had tape applied to his right ankle and continued playing. Alcaraz prevailed 6-7(5), 6-2, 6-4 to extend his winning streak to six games after beginning his season in Buenos Aires last week. Carlos is set to face Dusan Lajovic, who he faced in Buenos Aires last week, and won in straight sets.
Also read: "Was blown away by his intensity," Monica Seles heaps praise on Carlos Alcaraz for his performances last season
Can Carlos Alcaraz dethrone Novak Djokovic from World No.1?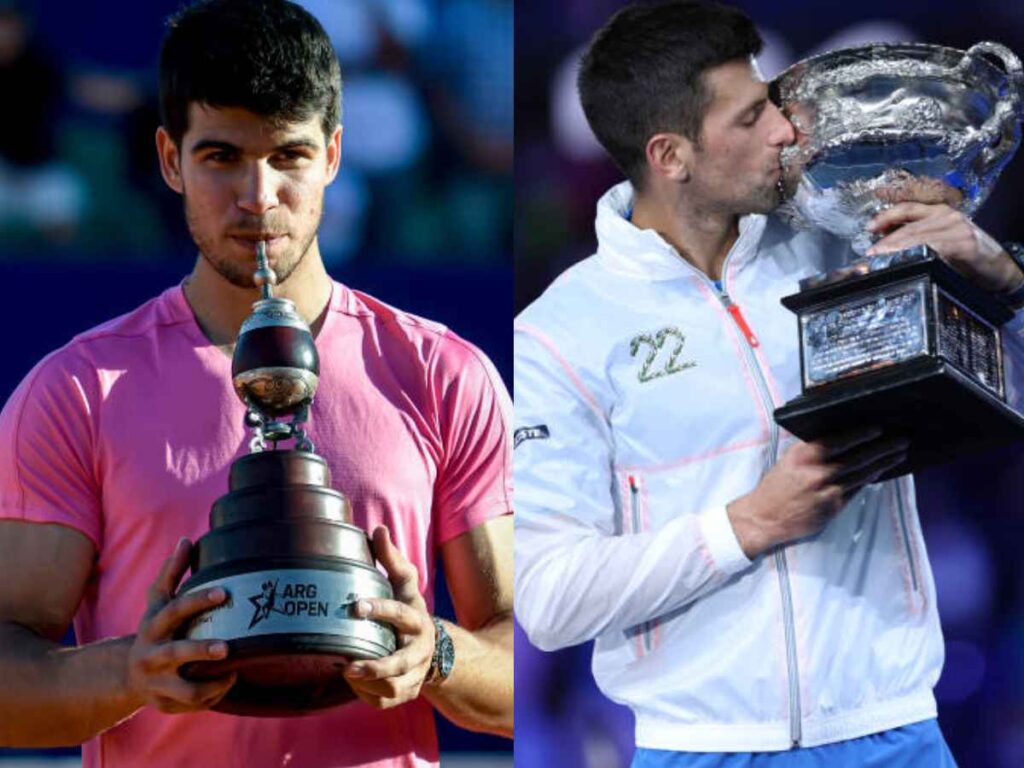 By winning the Rio Open presented by Claro, Carlos Alcaraz will have the chance to tie Novak Djokovic for the top spot in the world. The Spaniard cannot, however, reclaim the top spot the following Monday. When a tie occurs, the player with more points in major events (Nitto ATP Finals, Grand Slams, and ATP 1000) attains the position.
Next week, when both men will participate in ATP 500 competitions, the competition for No. 1 will intensify. Alcaraz is slated to compete At the Abierto Mexicano Telcel while Djokovic will be the favorite at the Dubai Duty-Free Tennis Championships. The Spaniard will reclaim the top spot in the world on March 6 if he wins in Rio de Janeiro and progresses further in the draw in Acapulco than Djokovic does in Dubai.
In case you missed it:
"It is always about me or Nadal or Djokovic," Nick Kyrgios blasts ATP for 'double standards' whilst criticizing the 'pee rule'
"There is no pressure on me," Coco Gauff confident of upsetting Iga Swiatek in Dubai