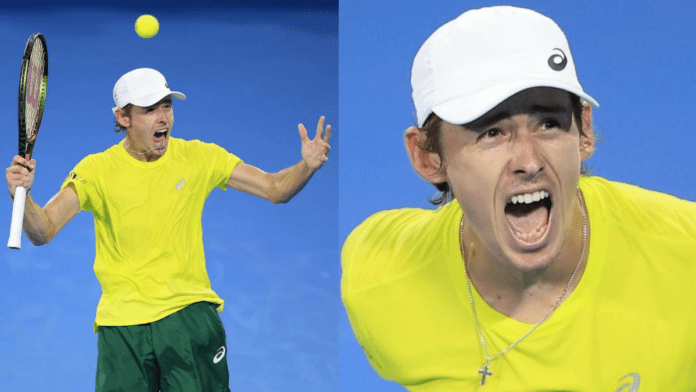 There is no better feeling than winning a match in front of your home crowd and Alex De Minaur was able to achieve just that ahead of a Major. This might help boost the confidence of the Australian No.1 who will be carrying a lot of expectations at the Australian Open 2022.
Alex De Minaur defeated world No.7 Matteo Berrettini in the group stages of the ATP Cup. Alex currently placed at the 34th position in the ATP Rankings will be Australia's biggest hope at the Australian Open.
Alex De Minaur claims his territory in Sydney
Alex De Minaur has a lot of expectations resting on his young shoulders, as Australians expect a homeboy to finally win an Australian Open and end a 45-year drought. It was back in 1976 when the last Australian won the Australian Open, ever since then the Australians have been waiting for a local boy to win the Australian Open.
Due to the unavailability of many players at the Australian Open, Alex has a real chance of becoming the first Australian to win the Australian Open in the 21st Century.
Alex had a great start to the year with a win against world No.7 Matteo Berrettini in the group stages of the ATP Cup (6-3, 7-6(4)). After winning the match the Aussie yelled, "THIS IS MY F**CKING Court!".
Alex and Matteo last faced each other over a grass court at the Queen's Club Championship 2021. Where the world No.7 bested the Aussie in straight sets. So, Alex was able to able to take his revenge on his home court.
In a post-match interview, the Aussie said, "It's no secret that this court brings out the best in me. There is no place like playing at home and in front of a packed crowd which is just amazing,"
There will be much bigger expectations from the Australian No.1 to perform his best at the Australian Open and to finally bring the title home after 45 years.
Also Read: ATP Cup 2022: Greece vs Argentina Preview, Prediction, and Live Stream