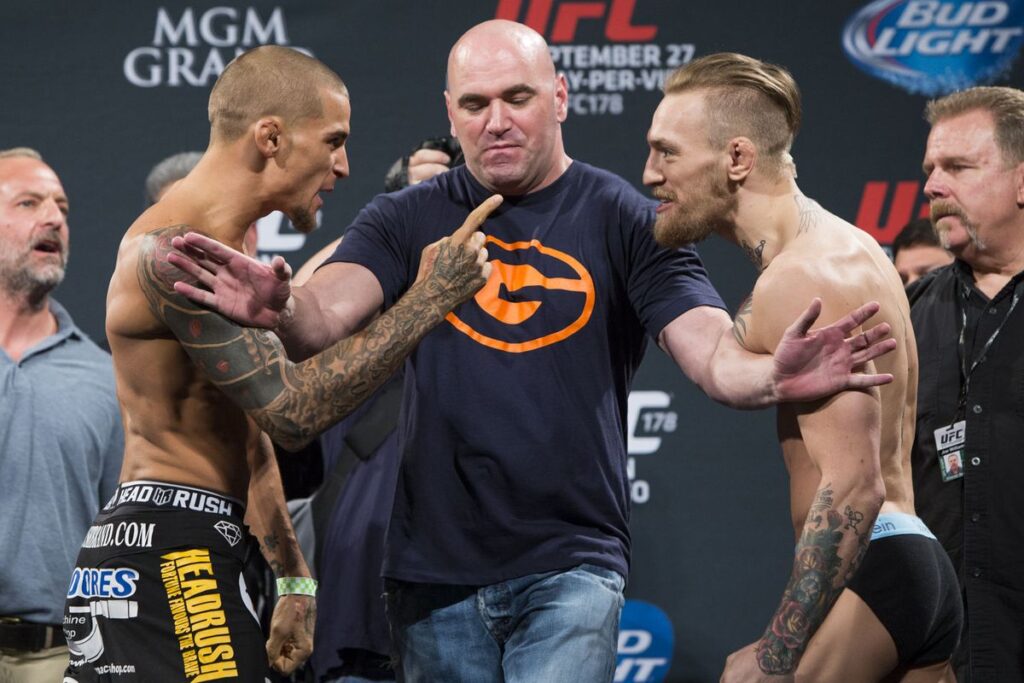 Dustin Poirier ready for Conor McGregor challange at UFC 257 in January. There has been a huge contrast in the Dustin Poirier we knew six years ago versus the one we know now. The man who stepped into the Octagon back then was someone who fought with a head of clouded emotions.
Poirier had fought with the main intention of settling his grudge against the rising fighter of the time, the Notorious One, Conor McGregor. Who knocked him out in a featherweight bout at UFC 178 in just 96 seconds, was just a stepping stone for Conor at the time.
The rivalry at the time forced Poirier to disregard his game plan and what the fans got to see was a hotheaded version of him in that Octagon. This past experience has Poirier stepping into the rematch with McGregor on January 23 with a healthier mindset.
What has changed ever since?
"He was obviously a great fighter in finishing a bunch of guys before me in his UFC career, but at this point we're both so much more established and have so much more experience, just more mature fighters, and I think you get a completely different fight here," Poirier told in an interview with 'MMA Junkie' on Monday.
"I was emotional in the first one. I wanted to hurt the guy. This time I just want to outsmart him, just want to beat him. This is business. This isn't any ill will towards the guy."
"When I was younger, I used to fight with a lot of emotion. This isn't the same thing for me. This isn't about getting even for me. This isn't like a revenge type of thing for me. This is about moving my career forward, about putting my family in a better spot. It's not trying to get back a guy who got me. This is just business."
"It's kind of the same, honestly," Poirier said. "Going into the Max fight I knew he was a different fighter. I knew I was a different fighter. I couldn't really draw any momentum from the first fight, and kind of same here with this. This is a completely different fight. We're both completely different fighters, and I'm not really looking back at that first fight."
Poirier might have lost initially but does have an edge over McGregor when it comes to being more active in the Octagon in the span of the past few years. McGregor has fought twice in the past four years while Poirier has fought eight times during that same stretch.
The two have moved up weight classes and this match up will for sure be interesting. Poirier looks to be a more calm and collected version of himself while McGregor is looking to show everyone why he is to be feared in the division. Conor has proved many people wrong in the past no matter the odds were against him.
Also read: "You give me a Nate Diaz" Paul Felder is excited to face Nate in a potential matchup