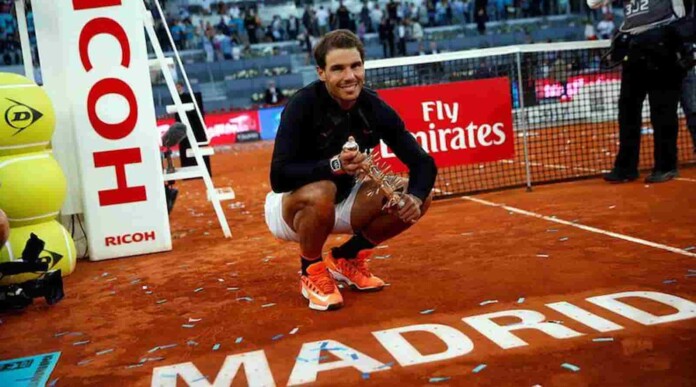 Madrid Masters, an ATP 1000 event will be held from May 2-9, 2021. This is the second of the three Masters tournaments that are held on clay courts, prior to the French Open. Novak Djokovic is the defending champion, however, he has withdrawn from the tournament this year. Last year, the event was canceled owing to the covid-19 pandemic.
Rafael Nadal enters as the top seed at the Madrid Open, having won the title won five occasions. He is coming on the back of winning the Barcelona Open title last week, where he defeated Stefanos Tsitsipas in the finals. Daniil Medvedev enters as the second seed at the tournament. The Russian missed the Monte Carlo and Barcelona Open because he had tested positive for covid-19.
Top seeds at the Madrid Masters 2021
Dominic Thiem makes his return to tennis for the first time after the Dubai Open, as he is the third seed in Madrid. Stefanos Tsitsipas, winner of the Monte Carlo Masters 2021 is the fourth seed, whereas, Alexander Zverev is the fifth seed. The German won the title in 2018, and will hope to do well this year.
Top 10 seeds at Madrid Open 2021:
Rafael Nadal
Daniil Medvedev
Dominic Thiem
Stefanos Tsitsipas
Alexander Zverev
Andrey Rublev
Matteo Berrettini
Diego Schwartzman
Roberto Bautista Agut
Pablo Carreno Busta
Andrey Rublev is the sixth seed in Madrid, whereas, Diego Schwartzman comes in as the seventh seed. Matteo Berrettini, winner of the Serbia Open 2021 is the eighth seed. Roberto Bautista Agut, playing his home tournament is the ninth seed. Pablo Carreno Busta rounds off the top-10, as he is the tenth seed.
Also Read: Find Out: Rafael Nadal's potential path to his 6th Madrid Masters title