Barcelona got to second place in Group E of the Champions League with a crucial 1-0 away win over Dynamo Kyiv at the NSC Olimpiyskiy. Both teams created a good amount of scoring opportunities but it was an emphatic solo finish from Ansu Fati which went on to decide the three points.
Let us have a look at how each player from the two teams performed:
Dynamo Kyiv
Georgiy Bushchan (GK) (7/10): Buschchan was not made to do a lot of work but made some key saves to keep Kyiv in the game till the final whistle.
Oleksandr Karavaev (6/10): Karavaev was caught out of position on occasions and troubled by the pace of Gavi. He let in crosses way too easily and struggled.
Oleksandr Syrota (7/10): Syrota partnered Zabarnyi in central defence and was no different. However, he was a bit better than his partner in dealing with aerial deliveries.
Ilya Zabarnyi (6/10): Zabarnyi was at central defence and was no match for the pace of Fati. He was constantly out of position and was saved by the poor finishing from Barcelona.
Tomosz Kedziora (7/10): Kedziora had a great first half. He was instrumental in the attack and used the right wing to keep the Barcelona defence on the back foot with his quick wide attacking runs.
Mykola Shaparenko (7/10): Shaparenko was one of the finest players for Kyiv on the night. His darting runs down the middle stretched the Barcelona defensive midfield. He also created a good amount of scoring opportunities.
Sergiy Sydorchuk © (8/10): Sydorchuk was on the top of his game. He created several scoring opportunities throughout the game and even helped out his side in defence. He was practically everywhere on the pitch in a very diverse role as the captain.
Carlos de Pena (7/10): Pena was deployed on the left wing and combined with Shaparenko on multiple occasions to crack open the Barcelona defence and have a sight at goal throughout his time on the pitch.
Vitaliy Buyalskyi (5/10): Buyalskyi was not much involved in the game and struggled to play a great role upfront to find spaces in the Barcelona defence.
Viktor Tsygankov (6/10): Tsygankov was not effective in attack. He was deployed behind Garmash and was struggling to get much of the ball in useful positions.
Denys Garmash (6/10): Garmash was mostly isolated upfront and was devoid of any real supply for most parts of the game.
Substitutes
Vitinho (7/10): Vitinho had a key role to play after coming on in the second half. He made some good runs and even had a chance to score for his side.
Oleksandr Tymchyk (N/A)
Benjamin Verbic (N/A)
Volodymyr Shepeliev (N/A)
Bogdan Lednev (N/A)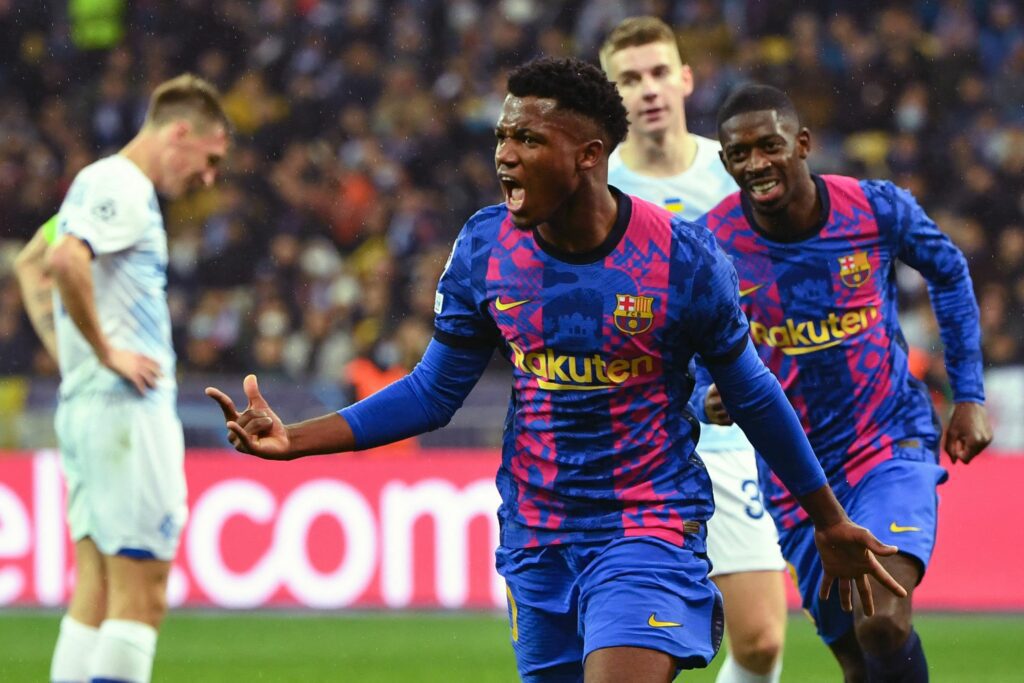 Barcelona
Marc-Andre Ter Stegen (GK) (8/10): Ter Stegen was not taken to task in the first half but he made some great and necessary saves to keep an important clean sheet for his side.
Oscar Mingueza (7/10): Mingueza was not much better than Garcia in defence but was a great addition upfront in attack. He constantly got up front to help out his side with crosses and shots.
Eric Garcia (6/10): Eric Garcia had a silent first half but was really taken to task in the second half. He did make some important challenges but was not clinical enough in the last few minutes of the game.
Clément Lenglet (7/10): Lenglet was slow on occasions throughout the game but put in a decent shift with his physical and aerial dominance to keep the Ukrainians away from dangerous areas, especially during set-pieces.
Jordi Alba (7/10): Alba was crucial to several Barcelona crosses from the left side. He was constantly combining with Frenkie de Jong to widen the Kyiv defence.
Nicolas Gonzalez (8/10): Nico Gonzalaz was a livewire in the midfield. Apart from helping out Busquets in a defensive role, he raced away upfront on occasions to assist this side in attacking moves as well.
Sergio Busquets © (7/10): Busquets had a very disciplined day in the defensive midfield. He stuck to his designed position and helped out his team to keep away Kyiv in midfield battles.
Frenkie de Jong (7/10): De Jong carried Barcelona away from home. He made some good passes and supported his side in the defensive capacity as well.
Gavi (7/10): Gavi delivered some key crosses from the right and kept the Kyiv defence in check on the left side throughout the first half with his quick runs.
Memphis Depay (6/10): Depay got several opportunities to get Barcelona ahead but never managed to get clean strikes at goal, thanks to his woeful positioning in the final third.
Ansu Fati (9/10): Ansu Fati scored a stunner to get the three points for his side. He was involved in almost all of his side's attacking progress and was a menace for the home side at the back.
Substitutes
Ousmane Dembele (8/10): Dembele had an instant impact in the game and stretched the Kyiv defence wide, which led to the first and only game of the game for Barcelona.
Ronald Araujo (N/A)
Alejandro Balde (N/A)
ALSO READ | UEFA Europa League: Legia Warsaw vs Napoli Live Stream, Preview and Prediction