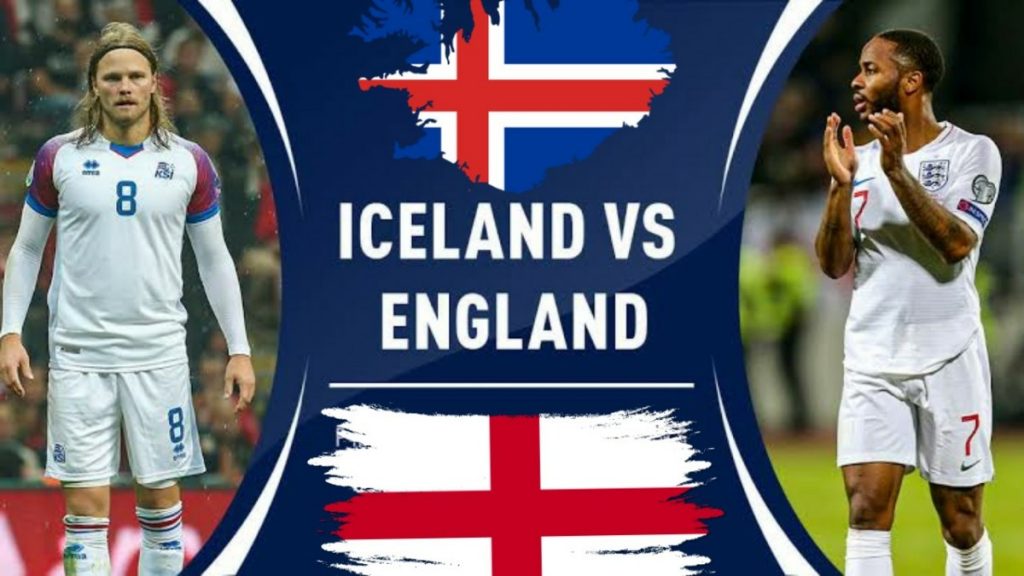 Live Updates: England vs Iceland – UEFA Nations League 2020
Welcome to the live updates of England vs Iceland – UEFA Nations League 2020
23:28 IST : England were very lucky tonight. They should improve themselves going forward in the tournament if they think of winning the cup
23:20 IST : FINAL WHISTLE !!! England somehow emerge victorious over Iceland. Southgate definitley would feel that his team could have performed better
23:18 IST : PENALTY MISSED!!! Bjarnason launches it to the sky, a very poor penalty from Bjarnason.
23:17 IST : PENALTY for ICELAND!!! Late late drama
23:15 IST : STERLING SCORES!!!! Sterling converts the penlaty. England 1 – 0 Iceland
23:14 IST: PENALTY and RED CARD !!!! Ingason who was phenomenal until the 89th minute gives away a penalty. A red card for a hand ball which seems unintentional is very harsh of the referee.
23:13 IST: With just over 2 minutes to go England are finding it difficult to breach past the defense of Iceland. Iceland would like to hold on to the present score which will earn them their first point in the Nations League after losing all 4 matches last year
23:09 IST: A night to forget for Kyle Walker
23:05 IST: SUBSTITUTION ENGLAND- Greesnwood in for Kane. The 18 year old Manchester United player makes his debut for England.
23:03 IST: SUBSTITUTION ICELAND – Hallfredsson in for Traustason. Iceland would definitely wish to make most of the red card which walker got
23:00 IST: SUBSTITUION – Trent Alexander Arnold for Jadon Sancho
22:56 IST : RED CARD for KYLE WALKER!!! With 20 minutes to play the experienced full back has been sent off after a silly tackle. Southgate would be furious with Walker as he has forced him to make a defensive change
22:55 IST: SUBSTITUTION – Ings in for Foden – Foden definitely would have dreamt to start his debut with a goal or assist at least. But unfortunately he couldn't do it today.
22:53 IST: SUBSTITUTION – Sigurdsson in for Thorsteinsson
22:50 IST: England are time and again failing to convert the corners. Meanwhile, Iceland bringing in their first substitution.
22:48 IST: England just can't break past the Iceland wall at the moment. Trippier is providing nothing in erms of attack. Its probably time to bring in Trent Alexander Arnold
22:43 IST: Iceland are defending with their hearts on their sleeves. The players are shouting and pressing Southgate's men who are finding it difficult to score
22:40 IST: Despite the pressure, England are struggling to create any real opportunities. England do have a half-chance, however, as Kane passes it to Declan Rice who then fires it over.
22:35 IST: England would love to go back to the way they were playing the first 10 minutes
22:33 IST: An early corner for England in the second half which they failed to convert
22:28 IST: FIRST HALF SUMMARY
England will feel unlucky not to be 1-0 up at half-time with Harry Kane denied a perfectly good goal. It would have been the perfect start for England, who somewhat slowed down after the first 15 minutes.
With all the complaints about VAR, its absence was felt there. We know exactly how Iceland are going to play in the second half so it's down to England to find a way through. Southgate will tell them to be patient and keep passing how they are, but to look for more of those line splitting passes and turn on them, rather than pass sideways or backwards to be safe. A little more brave and the likes of Sancho, Foden and Sterling could turn their man and break into space.
22:17 IST: ENGLAND 0-0 ICELAND (Half Time)
22:12 IST: Kane looks to pass a ball through to Sancho but his pass his intercepted. He does well to continue the press. He'd like the ball a lot closer to the Iceland box, however.
Kane looks to thread a ball through to Sancho but his pass his intercepted. He does well to continue the press, however, hustling the ball out for a throw in. He'd like the ball a lot closer to the Iceland box, however.
22:09 IST: Its fair to say Iceland will be very pleased here. England made an amazing start but it's a very even game now. England have been quiet in the last 10 minutes or so.
22:03 IST: YELLOW CARD for KYLE WALKER. A silly foul from the City player and fortunately its just a freekick
22:00 IST: A controversial decision
21:58 IST: Raheem Sterling with a shot towards the far corner but lacks power
21:54 IST: England is a gifted side though. Sancho, Sterling, Foden, and then the pace and power and aggression through the rest of the team gives England a solid XI.
21:51 IST: Iceland are determined to ensure England cannot pass through them. England keep moving the ball wide and then try to beat the full-back. It's all England with more than 65% possession
21:48 IST: Jadon Sancho with an amazing low cross but Declan Rice misses the shot
21:45 IST: Iceland are finding it difficult to keep possession as they keep on losing the ball easily
21:40 IST: Kyle Walker wins a corner.
21:38 IST: Goal ruled out as offside as Kane finds the net
21:37 IST: Trippier wins a freekick after a promising attack
21:35 IST: Sterling finds himself offside
21:32 IST: Phil Foden the debutant wins a freekick
21:30 IST: The toss is over. Its Iceland who are going to kickoff the match. England's Phil Foden makes his debut as the three lions would be looking forward to take revenge for their 2016 defeat.
Southgate's word ahead of the clash
The visitors have arrived
Lineups are out: England vs Iceland
Preview: England vs Iceland
The UEFA Nations league Match day 1 already witnessed late drama at the Mercedes-Benz Arena, as Spain clinched a draw against Germany thanks to a last-second winner courtesy to Luis Gaya.England visit the Icelandic capital of Reykjavik to play the hosts in the Laudgardalsvöllur. England will be hoping for a better tournament this time after losing 3-1 to the Dutch in the Semi-finals of the inaugural National League.
Iceland had a terrible run in last year's tournament. They finished bottom of their group with four losses in four games and scoring just one goal and conceding 13. This time they have been drawn in an even tougher group with the likes of Belgium, Denmark, and England.But when these 2 sides met the last time Iceland had the last laugh. On a night to forget for Southgate and his men, Iceland humbled the three lions in the 2016 European Championship Quarter Finals.