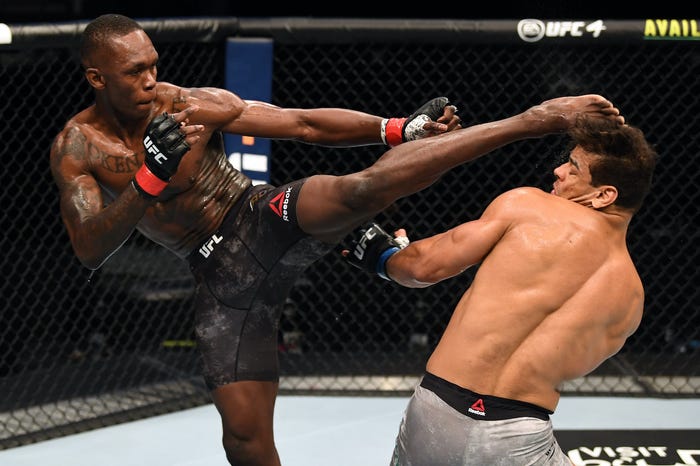 Israel Adesanya proved to the world that he is the legitimate real deal. The undefeated UFC Middleweight Champion made it look easy against long time rival Paulo Costa at the main event of UFC 253.
"The Last Stylebender" looked calm and collected and maintained composure even after "The Eraser's" taunts in the middle of the fight and stuck to his game plan. Adesanya first viciously attacked Costa's legs making him get a hold of the first round. Adesanya unleashed his inner beast, dropped Costa with a perfect kick and a left hook and landed power strikes until referee called a stop to the contest. The man even "rawdogged" him.
Adesanya let the haters know he was here to say. This marks his 100th official win in combat sports career and now holds a record of 100-6 with wins in MMA, Kickboxing and Boxing.
Undefeated in MMA, it was safe to say that we were looking for a fight between the two. However, it wasn't a fight. It was pure masterclass by The Champ.
Adesanya reacts to his win
It wasn't long until Adesanya hopped on Twitter to give his reaction over his win against the Brazilian. Adesanya had a lot to say, not just about the fight but who he dedicated this fight to, his tactics and how he knew he already won the fight in Round 1!
Adesanya's take on him being on the cover of UFC 4, "What EA curse?…"
The Champion made headlines before the fight that he is "gonna make it look easy." Which he did.
"Imagine if I was taunting as much as Costa after all that shit he was talking… The amount of shit I would cop from the internets hahaha. I'm still in the air, I ain't even started yet. He had all the preflight memes. I'm gonna go in on his ass…oh wait". The Champion had this to say after he demolished Costa in Round 2.
The Champ went on to troll the The Brazilian. The tweet, "Mounted by a white beltch #Oss ",aimed at Costa comes after Costa gave Adesanya the white belt, mocking him and showing off his own black belt. Adesanya was not at all pleased with the move which hence led to an altercation between the two.
Adesanya shows off his impeccable record, and reacted to his 100th win in Combat Sports Career. He tweeted, "I've been at this for years. 31 years old, looks like 26 years old, acts like a 12 years old."
Last but surely not the least, he posted a video of "rawdogging" Costa.
With the amount of times this man has proved his worth, Adesanya has not let anybody come even near the belt. We are surely looking at one of the best UFC Middleweight champion of all time. We are witnessing history.
Also Read: UFC 253: Twitter, MMA community reacts to Adesanya's TKO win over Costa