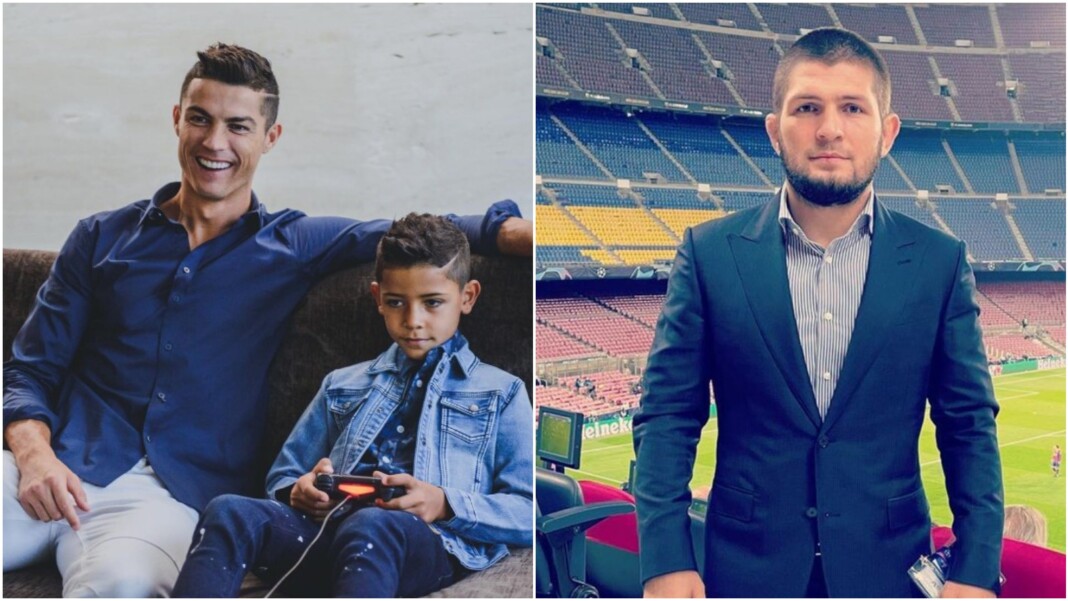 Cristiano Ronaldo is arguably the greatest footballer of all time. He has conquered it all, across Europe in several leagues, won a couple of major titles with his country, has a plethora of well-established businesses, you name it! A man this successful still has a worry, a legit one, about the future of his son, Cristiano Jr.
In a recent interview with YouTube Channel Kasava, Cristiano Ronaldo's 'fighter' friend, and former UFC lightweight Khabib Nurmagomedov detailed what the Manchester United forward said to him about the future of his son. Khabib stated that 'lack of hunger due to riches' was the primary reason Ronaldo worried about his son.
"When you have everything, it's hard to find a proper source of motivation" – Khabib Nurmagomedov
Khabib was quoted as saying, "He told me he wanted his son to succeed him but he was worried his son won't be able to do it since when Cristiano himself was his age, he could only dream about a pair of simple cleats [boots]. His son has everything. So he's worried that he will never feel that hunger. In fact, people are driven by hunger. One needs motivation, one needs to have a desire to achieve things. When you have everything, it's hard to find a proper source of motivation.
He continued, "When he told me that, I can't say I was surprised, as things are simple things. But I liked it. I understood that he was such a person who would never be satisfied with one, two or three titles." [via Sport Bible]
While it might be nearly impossible to achieve what his father has done, Cristiano Jr. can still make his father proud by being the best at what he does. As for Ronaldo, he moved to Manchester United recently, and has already begun banging in the goals. Out of the 3 games he has featured for his club, Ronaldo has scored 4 already.
Khabib, on the other hand, has been enjoying his retired life. 'The Eagle' is currently an active promoter – Eagle Fighting Championship. He has also been coaching fellow Dagestanis, and never fails to accompany them during days of the fight.
Also Read: Everything you need to know about the Bellator 266 judging controversy – Phil Davis vs Yoel Romero
Also Read: Who was Heather Ceballos? Here's everything you need to know about the deceased UFC employee