Dustin Poirier crowned himself the king of the lightweight division while he awaits his title shot against Charles Oliveira.
There is a lot going on in the lightweight division and the fight that everyone is eyeing is Dustin Poirier vs Charles Oliveira for the lightweight belt. Charles became the 11th champion of the lightweight division at UFC 262. He is on a nine-fight winning streak as he knocked out Michael Chandler for the vacant lightweight belt. Dustin of course was the fighter in line for the title shot but the Louisiana fighter decided to take on Conor McGregor for the third time in his career to settle their trilogy which he won.
It's all in Poirier's hands now on who he wants to fight. Whether it will be a money fight or a championship fight. Recently on Twitter, Poirier hinted that he was going to take on Oliveira for the belt by unofficially claiming himself as the "Undisputed World Champion." He is the no.1 title contender and the rightful title contender.
Will Conor McGregor get another shot at Dustin Poirier?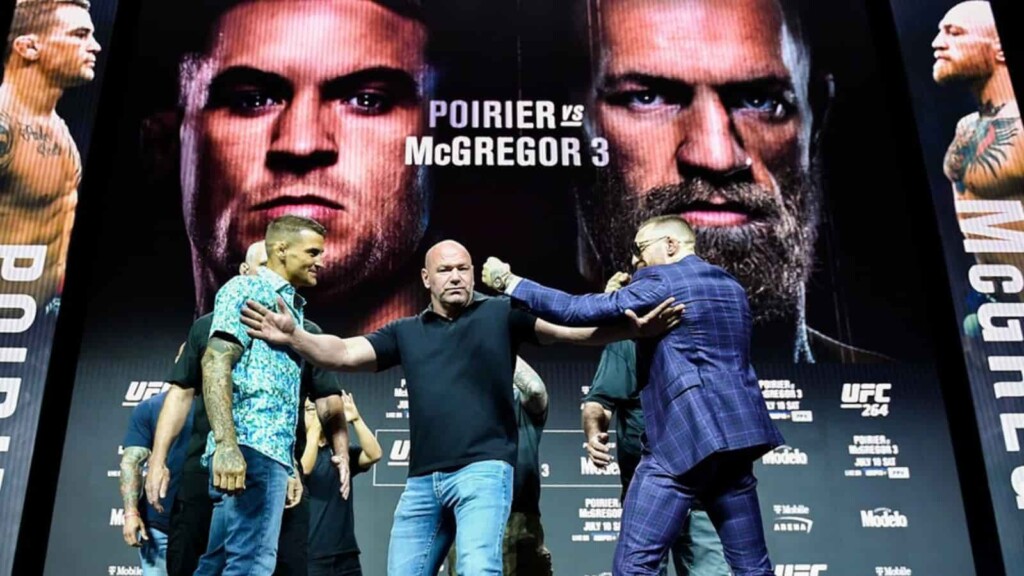 While Dustin Poirier might be over his arch-nemesis, Conor McGregor, the Irishman for sure is not and wants another rematch. According to McGregor at UFC 264, Poirier did not win that fight and it should've been called a doctor's stoppage. He even mentioned Dustin's name once again on Twitter posting photos of the Irishman connecting punches.
According to the judges and most MMA analysts, Dustin's first-round against Conor at the third fight was a 10-8 but McGregor feels like he did more damage. Dustin so far has only lost one fight in his last eight. The fighter has wins against some of the biggest names and is only right that he fights the Brazilian champion, Charles Oliveira.
Also read: "Bones heal. Blunt force trauma to the brain..don't," Conor McGregor snaps back at Nate Diaz for asking the Irishman to heal up