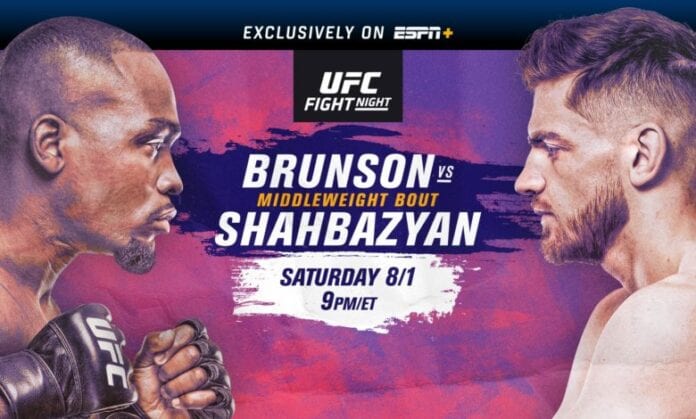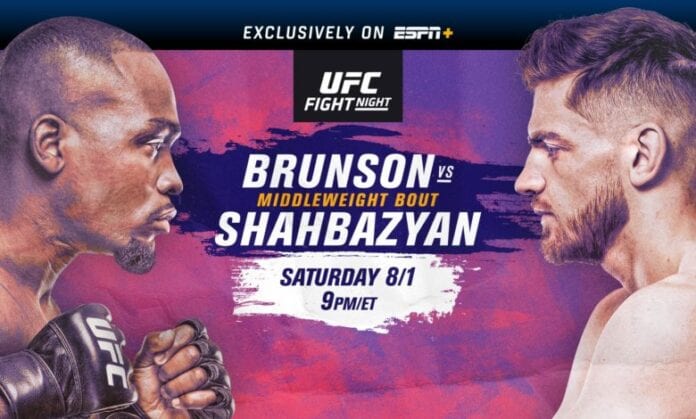 MAIN CARD

Derek Brunson def. Edmen Shahbazyan via third-round TKO (0:26)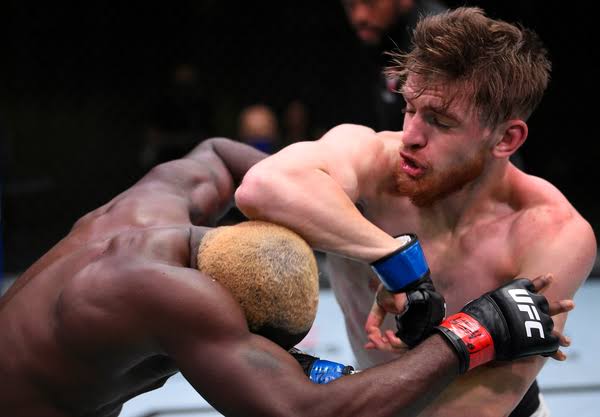 Derek Brunson entered his UFC Fight Night main event bout with Edmen Shahbazyan with more fights in the UFC Octagon than his opponents had fights in his entire career. Despite having been in with elite fighters throughout his career, including some of the best middleweights in the history of the sport, Brunson was a considerable underdog facing the undefeated 22-year-old phenom.
In the end, Brunson was able to remind everyone of his quality in a performance that showed grit and a bit of veteran savvy in surviving some early flurries to wear out Shahbazyan and score the TKO finish early in the third round from the UFC APEX in Las Vegas.
Brunson wasn't in the mood to call out his next opponent after the fight, instead saying it was time to go be with his family after the odd circumstances of fighting during a global pandemic.
"I'm going to get home, chill and enjoy my family," Brunson said after the win. "I miss my family so much, my kids are everything to me. I want to go and kiss my family. But, believe me, I'm going to talk to my coaches and we'll try to get somebody by next week."
The win was Brunson's third victory in a row, moving him to 3-0 since moving to train under Henri Hooft in Florida.
Jennifer Maia def. Joanne Calderwood via sub (armbar) (R1, 4:29)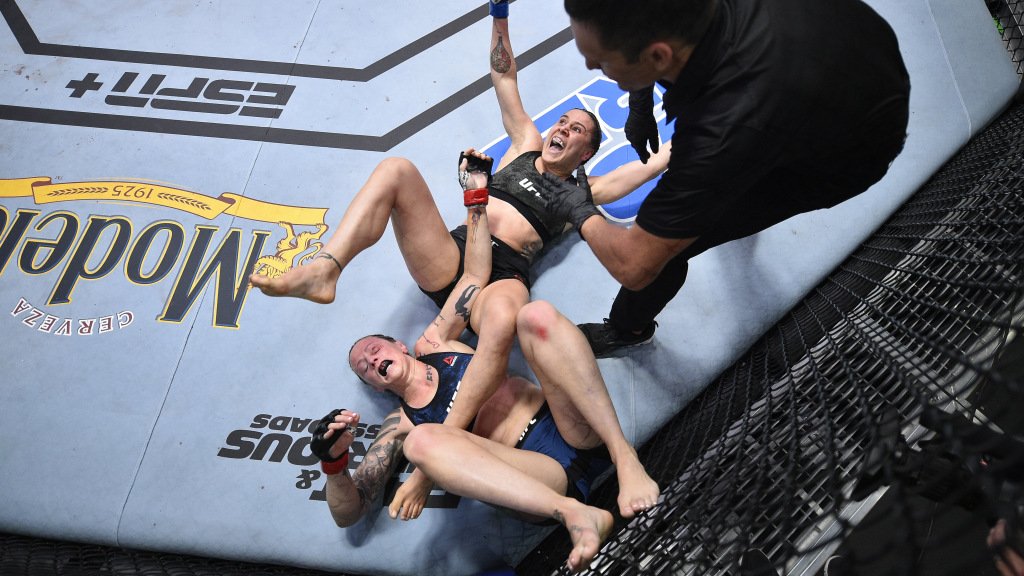 Round 1 – The co-main event is underway. Joanne Calderwood bypasses a title shot to take on another top contender. Will it pay off? Let's find out. Maia opens up with some jabs. Calderwood lands a leg kick. Maia fires back with a hard one-two combination. Calderwood continues to pump her kicks. Maia lands an uppercut. Maia tries a front kick to the face but misses. Calderwood catches the kick and shoves Maia to the mat. Calderwood in on top of Maia on the ground against the fence. Calderwood is in half guard. Maia is working for a submission. She's creeping up her left leg for a triangle choke. Calderwood is now in Maia's full guard. Calderwood yankers her arms out of danger. Maia shoots up for an armbar. She might have it. This looks tight. Maia readjusts – and gets that tap! Jennifer Maia spoils Joanne Calderwood's title shot. Wow!
Result: Jennifer Maia def. Joanne Calderwood via submission (armbar) – Round 1, 4:29
Vicente Luque def. Randy Brown via second-round TKO (4:56)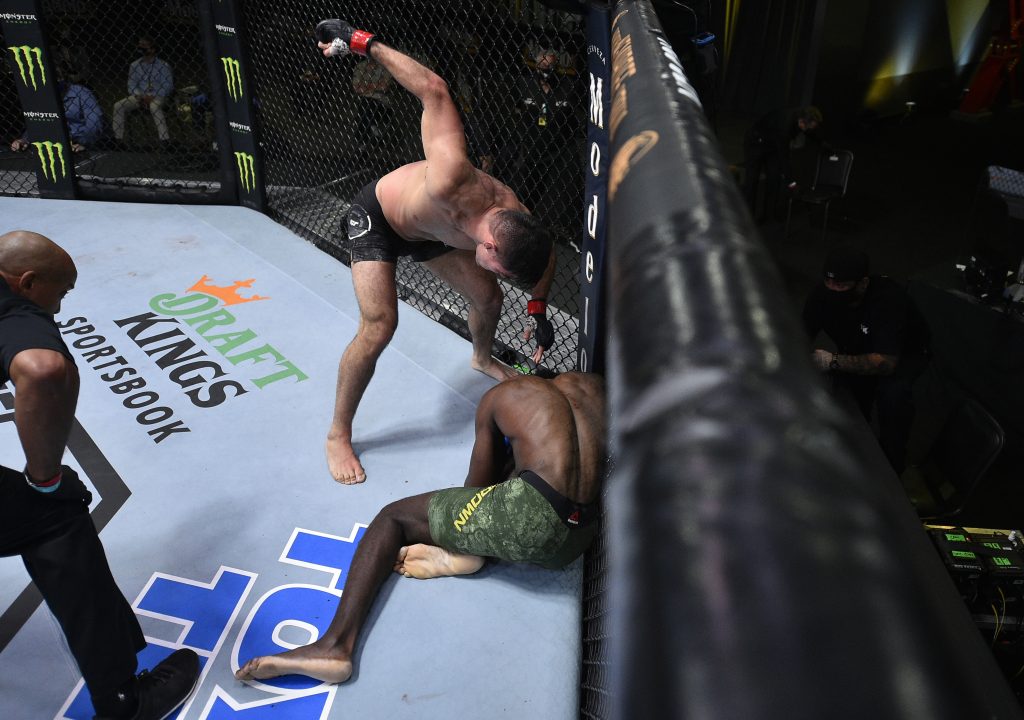 Luque lands a leg kick. Brown responds with a body kick. A hard Luque jab has Brown pirouetting as he whiffs on a punch. The two fighters point-fight, exchanging technical punches and kicks. Luque is targeting the lead leg of the long, lengthy Brown. In a follow-up exchange, Brown misses and Luque connects with a hard right hand. Brown is knocked down, but recovers instantly. Luque pounces and is in Brown's guard. Luque postures up and stands up. Brown gets up. They're back in the center. Luque connects on another punch, as he stalks Brown. Moments later, Brown shoots for a takedown. He's pressing Luque against the fence. With 10 seconds left, the two fighters break. Luque is bleeding from above his right eye. The round ends.
Luque catches a Brown body kick and fires a leg kick. Luque presses Brown against the fence. Brown leans toward the canvas and Luque blasts him with a knee. Brown goes down and Luque fires a trio of follow-up punches. That's it. With just a few seconds left in the round, Luque knocks out Brown. Impressive.
Result: Vicente Luque def. Randy Brown via TKO (strikes) – Round 2, 4:56
Bobby Green def. Lando Vannata via unanimous decision (30-26, 30-27 x2)

The rematch is underway. Green lands a kick to the stomach. Vannata lands a combination. Green cracks him with a right hand. Vannata lands another combination. No surprise, Green is talking to him. Green lands a low kick. Vannata says something back. Both fighters land simultaneously but Vannata stuns Green. Vannata stumbles to the mat himself and both fighters resume. They briefly tie up and then separate. Vannata lands a jab. Both fighters exchange. A few exchanges later, Green floors Vannata with a punch. Green lands on top but Vannata gets up. Vannata clinches against the fence. They separate and both fighters land hard punches. Green continues to talk trash, with his hands down. This fight is living up to the hype. Green tags Vannata with a hard overhand. Vannata is bleeding from his nose. The round ends and the two fighters high-five.
Green pounces and ends up in a postured-up half guard. The two fighters scramble up and connect on punches. Vannata takes a minute to reset. Green takes Vannata to the mat again. He's in half guard. Vannata works his way back to his feet and pushes Green off. There's about 90 seconds left on the clock. Each fighter lands a punch. They tie-up and separate. Vannata lands a hard punch. Vannata loops in for a combination. He's getting aggressive. Green starts to find success but Vannata fires back. Vannata tries a spinning back kick but falls over. The round, and the fight, ends when the horn sounds. MMA Junkie scores it 30-27 Green.
Result: Bobby Green def. Lando Vannata via unanimous decision (30-26, 30-27, 30-27)
Kevin Holland vs. Travin Giles

Fight called off after Giles faints backstage.
The fight between Giles and Holland was canceled moments prior to walkouts after Giles fainted before the walkout.
UNDERCARD

Jonathan Martinez def. Frankie Saenz via third-round TKO (0:57)
Saenz lands a right hand, followed by another right hand, followed by a takedown. Martinez gets back up against the fence. Saenz is pushing him into the fence. After a struggle, Martinez pushes Saenz off. Saenz is utilizing his movement early, circling around Martinez. At the same time, Martinez is calm, not wasting any movement. Martinez lands a combination. Martinez lands a low kick. Martinez connects on a counter knee. Now Martinez is pressuring Saenz. As the clock winds down, Martinez lands consecutive, successful combinations on Saenz, who is on the retreat. The horn sounds. 10-9 Martinez.
Any guesses on how this round begins? If you said "groin shot," you're correct! Martinez lands low on Saenz. After a moderate pause in the action, Tognoni resumes the fight. Martinez has another high kick blocked. Saenz rushes in for a takedown and Martinez lands a crushing knee which crumples Saenz. Martinez lands a series of punches and Tognoni jumps in. That's it. A pretty one-sided performance from Jonathan Martinez.
Result: Jonathan Martinez def. Frankie Saenz via TKO (strikes) – Round 3, 0:57
Nathan Maness def. Johnny Munoz via unanimous decision (29-27 x3)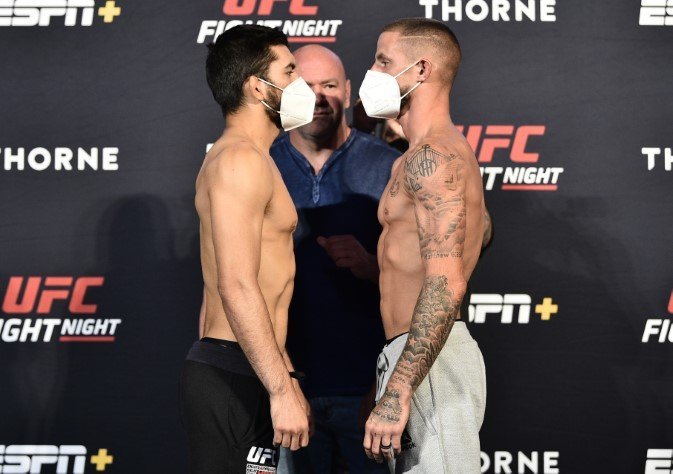 Munoz comes out kick-heavy. Maness blocks his attempts. The two fighters tie up and push off. Maness gets aggressive but doesn't land anything. Maness connects on a hard punch. Munoz goes back to his kicks. Munoz ducks under a Maness punch attempt and grabs hold of the body. Munoz walks Maness to the fence. Munoz knees Maness in the groin. Timeout is called and Munoz loses his position. The action resumes and Munoz hits Maness in the groin again. After another timeout, the action resumes. Munoz ties up Maness and tries to take him down. Maness is fighting well. Munoz gets Maness to the mat. Munoz is in half guard. He moves to side control. Munoz working for an arm submission. He uses it to get into mount. Munoz lands hard ground-and-pound. Maness rolls over and Munoz flattens him out. Munoz lands hard punches and Maness is saved by the bell. 10-9 Munoz.
This isn't pretty but Munoz, the 48-hour replacement, is winning. Maness reverses Munoz, who returns the favor with a reversal of his own. Maness grabs double under-hooks and gets Munoz down. Munoz attacks for a leg off his back. Munoz is attempting a calf slicer from the bottom – but the horn sounds. MMA Junkie scores it 29-27 Munoz.
Result: Nate Maness def. Johnny Munoz via unanimous decision (29-27, 29-27, 29-27)
Jamall Emmers def. Vincent Cachero via unanimous decision (30-27 x3)

Round 1 – The size difference is evident – even before the fight begins. There's a reason Cachero usually fights at 135 pounds. Emmers looks huge. The fighters are opening up and exchanging early. Both fighters connect hard simultaneously. Emmers fires a one-two. He looks very loose. Cachero isn't fazed. He's moving straight forward. Emmers lands a series of knees in the clinch. They separate. Cachero lands a leg kick. Emmers hits a front kick to the body. Cachero shoves Emmers down after catching a kick. Emmers pops up and grabs hold of Cachero. Emmers has Cachero in a headlock. They separate and Cachero lands a low blow. Timeout is called. The action resumes. Emmers lands a low kick. Emmers grabs the plum clinch and rattles off some knees. Cachero pops out and Emmers cracks a body kick.
Emmers tries an overhand right. Cachero lands to the body with a punch. Both fighters land right hands. Emmers lands a knee. Cachero shoots for a takedown but Emmers stuffs it. They separate. Emmers goes back to the clinch, landing knees. Cachero ties him up and pushes Emmers against the fence. Emmers continues to dive into the clinch, connect with knees, and pop out. Emmers shoots for a takedown and gets it. Emmers is in Cachero's guard. The horn sounds. 10-9 Emmers.
Emmers gets a takedown moments later. Emmers lands in side control. Cachero gives up his back and Emmers grabs hold with double hooks. Emmers is working for a rear-naked choke but Cachero is defending. Emmers mounts Cachero right before the horn sounds. MMA Junkie scores it 30-27 Emmers.
Result: Jamall Emmers def. Vincent Cachero via unanimous decision (30-27, 30-27, 30-27)
Chris Gutierrez vs. Cody Durden declared unanimous draw (28-28 x3)
Gutierrez sits up. Durden is sitting up against the cage on Gutierrez's back. Durden is landing short punches. Durden goes for another choke. No dice, but he rolls Gutierrez, where Gutierrez is flat and face-down. Gutierrez postures up and lands a series of punches. Gutierrez doesn't like that and rolls backward. Durden still has Gutierrez's back, but Gutierrez is now face-up. With less than 10 seconds left, Gutierrez rolls and lands on top of Durden. The round ends. That was dominant. 10-8 Durden.
After a two-minute timeout, Durden gives his thumbs up and the action resumes. The fighters exchange. There's a lot more boxing going on now – rather than kickboxing. Durden is aggressive and Gutierrez lands a right hand. Durden falls on a kick but pops back up. Gutierrez lands another leg kick. Durden ties up Gutierrez in a single leg attempt. Gutierrez initially fends off the attempt but Durden is relentless. Durden eventually drags Gutierrez to the mat. Gutierrez shoots for an armbar. This is fairly tight. Gutierrez leverages Durden and rolls on top, all the while holding onto the submission attempt. The round ends with Gutierrez still trying to get the submission locked in. 19-18 Durden.
Durden shoots for another takedown but Gutierrez pushes him away. Durden shoots again – this time on a single-leg. As Durden is fighting for a leg, Gutierrez cranks him with a punch. Durden falls down but grabs for Gutierrez's leg again. Durden gets up and they separate. Gutierrez goes back to his leg kicks, landing a pair. Durden slips in an exchange and Gutierrez follows him into his guard. Gutierrez lands a few punches and stands up. With Durden still on the mat, Guiterrez tries a rolling thunder onto his downed opponent. The horn sounds. MMA Junkie scores it 28-28 – a draw.
Result: Chris Gutierrez vs. Cody Durden ends in a unanimous draw (28-28, 28-28, 28-28)