Islam Makhachev is seriously done with taking any other fights except for the title fight at the UFC's lightweight division. Makhachev, a protege of retired, undefeated mixed martial artist Khabib Nurmagomedov, took to Twitter to explain his frustration on why he couldn't fight a top-ranked opponent for so long.
Makhachev, whose MMA record is 21 wins and 1 loss hasn't suffered a bad night since 2015 and is hence on a 9 fight winning streak. Makhachev's last fight was the biggest win of his career when he submitted top-ranked lightweight Dan Hooker in the very first round of the fight at UFC 267 in Fight Island, Abu Dhabi.
Since then, Makhachev has been pitched against Justin Gaethje in a debate of who deserves the title shot after UFC 269 hosts the title match between the current champion Charles Oliveira and challenger Dustin Poirier. Makhachev got Khabib's back too on why he should be next in line for a title match, while Gaethje, who recently came off a unanimous decision win over Michael Chandler in a fight of the year candidate at UFC 268, wants nothing less than a title shot too.
Islam Makhachev responds to former UFC and Bellator MMA champion Eddie Alvarez on who deserves the title shot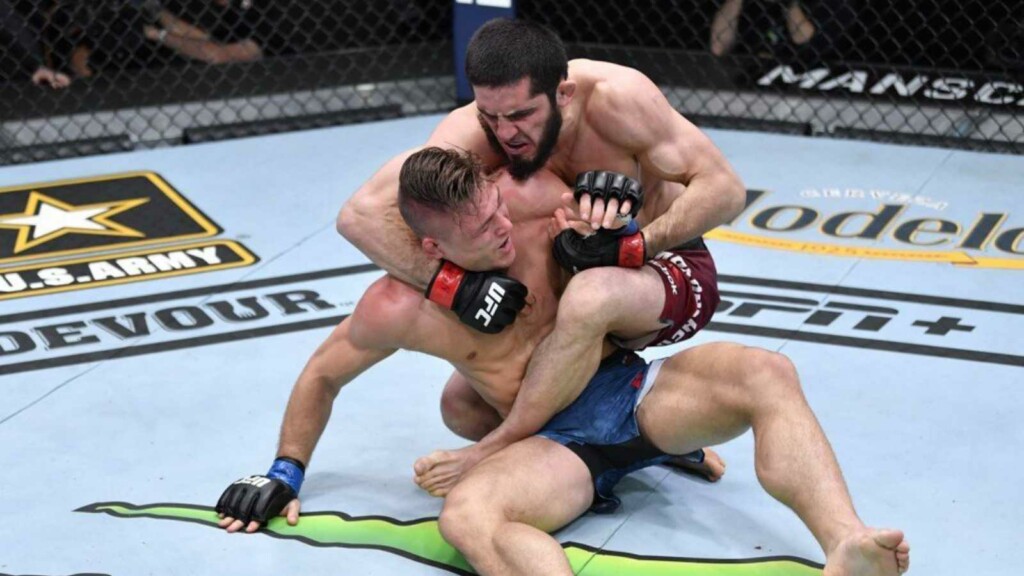 First, Eddie Alvarez took to Twitter to put forth his opinion on who deserves the title shot between #4 ranked UFC lightweight Islam Makhachev and #2 ranked Justin Gaethje. He said, "I respect @TeamKhabib [Khabib's Twitter] but giving @Justin_Gaethje [Gaethje's Twitter] a shot over @MAKHACHEVMMA [Islam's Twitter] is only right, Islam fought 1 ranked opp to stay 9-0. Justin fought 4 champions and a Legend in DC to be 6-3. Only One road was more honest and true. Truth always Wins. I'd rather b 6-3″
The champions Alvarez is talking about in Gaethje's fight record include former UFC interim lightweight champions Dustin Poirier and Tony Ferguson, a UFC and Bellator MMA champion in Alvarez himself, another UFC champion in Islam's mentor Khabib Nurmagomedov and finally, a former Bellator MMA Lightweight Champion in Michael Chandler.
To this, Islam Makhachev has an overlooked point as to why he shouldn't be held accountable for not being able to have higher-ranked opponents in his record before Dan Hooker. He tweeted responding to Alvarez, "It's not my fault that I did not fight with ranked opponent, everybody declines to fight with me. And still, I'm #4 now.. Name a single fighter from top 10 who wants to fight me now. UFC had to overpay Hooker to take this fight. It's slowly turning into boxing."
Who do you think now makes more sense out of Alvarez and Makhachev? Who do you think deserves the title shot first out of Gaethje and Makhachev? Do you think Gaethje and Makhachev should fight each other just to figure out who deserves the shot?
Also Read: "I'm just so thankful it wasn't five rounds," Justin Gaethje reflects on his three rounds war against Michael Chandler at UFC 268