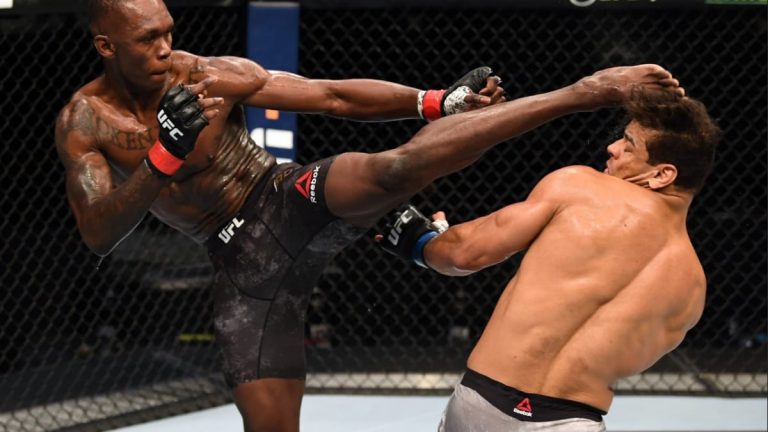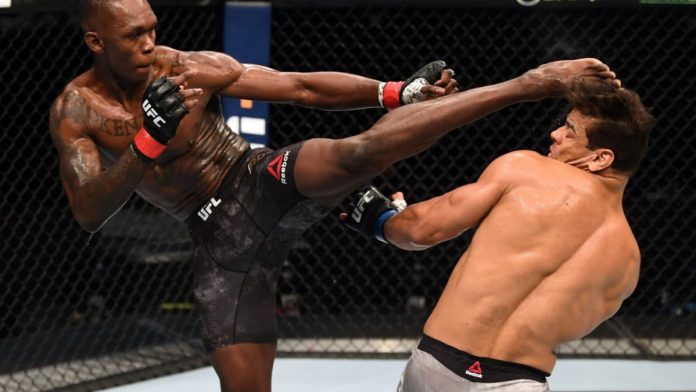 Israel Adesanya confessed to having taken magic mushrooms in preparation for his fight with Paulo Costa at UFC 253 in 2020.
Adesanya teased the story of his appearance on HOTBOXIN' With Mike Tyson by posting a short clip on Instagram, which he captions, "'Story storyyy?!…'Yarns with Mike and Bash bout my last trip with the fun guys (fungi) and much much more. Link in my bio, hoe!!"
The UFC's middleweight champion spoke out about his experiences with psychedelics, and how they helped him to address his childhood traumas.
Tyson once asked Adesanya whether he'd ever tried psilocybin (also known as magic mushrooms). Adesanya then admitted to having taken mushrooms just a few weeks prior to his title defense against Costa. "The Last Stylebender" says, ""The last time I had mushrooms, actually, was before the Costa fight. This was like maybe three weeks before the fight.
He then goes on to recount his story, saying, "So we're quarantined, right? We're quarantined in the gym because we were in lockdown. So me and my team, we locked up in the gym and we were living in the gym for that whole camp. One day, it was a Sunday, we did our spider session – this was the hardest workout of the week, it simulates the fight. After that, me [my companions] decide, 'Let's go on a bike ride.' And then we just did some mushrooms and it was one of the best f***ing days ever."
Read: WATCH! UFC middleweight kingpin Israel Adesanya analyses UFC 273 fight card
Israel Adesanya praises Mike Tyson in his podcast
Adesanya, who was recently on the HOT Boxin' with Mike Tyson podcast reminisced about when Tyson was at his peak in boxing and how he generated a lot of hype before his fights.
He tells, "Your (Mike Tyson) time man, I don't know what you were… you were giving problems in the sense that they were just looking at what round is he going to end it in. Like what time… like someone pays… well I don't know how much pay-per-view was back then, but like he's going to kill him in the first round, he's going to kill him in the second round. That kind of stuff… that's the stuff of legends."
Also Read: Israel Adesanya shows off his latest NFT that displays him humping Paulo Costa