Daniel Cormier had a decorated career as an MMA fighter. He became the second simultaneous double champion and held the P4P #1 status during his time. He was competing in the heavyweight division and moved down to light-heavyweight to clash with his teammate Cain Velasquez. Now, he made a bold claim about Velasquez.
Cain Velasquez was one of the most dangerous heavyweights of all time, but injuries turned him into the biggest 'what if' in MMA. Now, Daniel Cormier recalled the time when Jon Jones and Velasquez shared a face-off and got disappointed that the fight didn't happen. He further claimed that Cain Velasquez was the best fighter and mentioned that Khabib Nurmagomedov would agree. Here is what he said:
Nobody wanted those Cain Velasquez problems. I still believe he was the best fighter man. Ask me, ask Khabib, ask the guys that saw him in the gym when he was healthy and he was good. Nobody was like Cain man! Nobody was like Cain! Think of his accolades and he had to miss 5-6 years in the middle of his prime because of injury.

Daniel Cormier via YouTube
Jon Jones had been teasing his move up to heavyweight since 2013. Cain Velasquez was the heavyweight champion then. They even had a friendly face-off in one of the UFC's promotional events. Jon Jones believed that he had the tools to dethrone Velasquez. Unfortunately, Jones didn't move up to heavyweight until 2023.
Cain Velasquez retired in 2019 after his loss to Francis Ngannou. He won the UFC heavyweight title by beating Brock Lesnar at UFC 121. However, injuries sidelined Velasquez on and off from his prime years. But, his teammate Daniel Cormier went on to become the heavyweight champion in 2018 when Velasquez was away from the sport.
[related] Related: WATCH: Emotional video of Khabib Nurmagomedov reuniting with Cain Velasquez after release from jail [/related_content]
A short recap of Cain Velasquez's UFC career
Cain Velasquez made his UFC debut in 2008 in the historical card of UFC 81, where Georges St-Pierre beat Matt Serra in their historic rematch. Then, he tore through the UFC heavyweight division spectacularly to rack up a six-fight win streak. This earned him a shot at the title. He faced the WWE star Brock Lesnar in a heated matchup for the heavyweight title. He rag-dolled Lesnar to finish the fight in the very first round.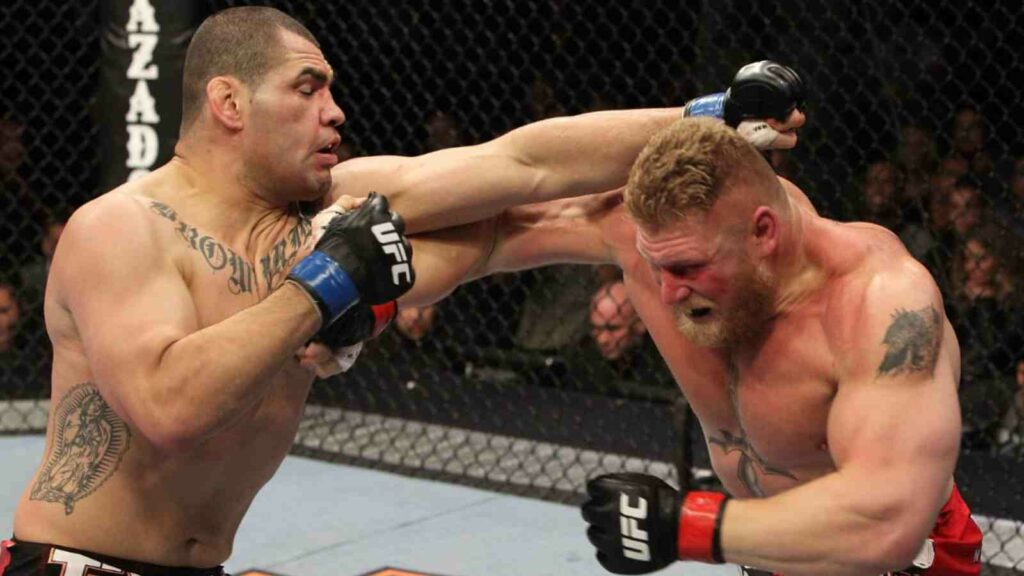 However, Cain Velasquez suffered a torn rotator cuff in his fight with Brock Lesnar. He returned a year later to defend his title against Junior dos Antos. However, he lost the fight and the title in just 64 seconds. Later, we got to know that he entered the fight with a torn ACL. He later rematched dos Antos in December 2012 to avenge his loss. He was successful this time and became a two-time heavyweight champion.
Cain Velasquez soon racked two title defenses to his name in 2013 but was injured again. This time, another knee injury sidelined him for over a year. He returned to defend his title against Fabricio Werdum but lost the fight by submission.
He won his next fight against Travis Browne but didn't fight for the next three years. Velasquez returned in 2019 against Francis Ngannou and lost the fight in 26 seconds as he was brutally knocked out. Subsequently, he retired from the sport with a record of 14 wins and three losses.
In case you missed it: