Dustin Poirier talks about Oliveira! Charles Oliveira is unbelievably good at mixed martial arts. The Brazilian lightweight has secured a win at yet another title fight but this time against Justin Gaethje at UFC 274. MMA Twitter went crazy for Do Bronx's performance.
Oliveira took on Gaethje in the main event of UFC 274. 'Do Bronx' faced upset leading up to the fight as he was stripped of the lightweight title owing to his failure at the weigh-ins. Despite the fact that he couldn't win a belt. Charles came to the fight guns blazing and did not disappoint.
Oliveira got yet another submission win in the main event at the Footprint Arena in Phoenix, Arizona. Charles is on his path to becoming the greatest lightweight of all time as he looks to surpass Khabib's legacy. If Oliviera had made weight, this would have been his second title defense since becoming a champion.
Oliveira's former opponent, Dustin Poirier suffered the same fate against him. He was a heavy favorite to win the fight, and he started their brawl in a spectacular fashion. He had Oliveira in all sorts of trouble in the first round, but 'Do Bronx' made an amazing comeback, and submitted him in the third round.
Related – "Beat Dustin faster than Khabib"- Chael Sonnen draws a fascinating comparison between Charles Oliveira and Khabib Nurmagomedov
"I have good jiu-jitsu"- Dustin Poirier believes he feared Charles Oliveira's Jiu-Jitsu a little too much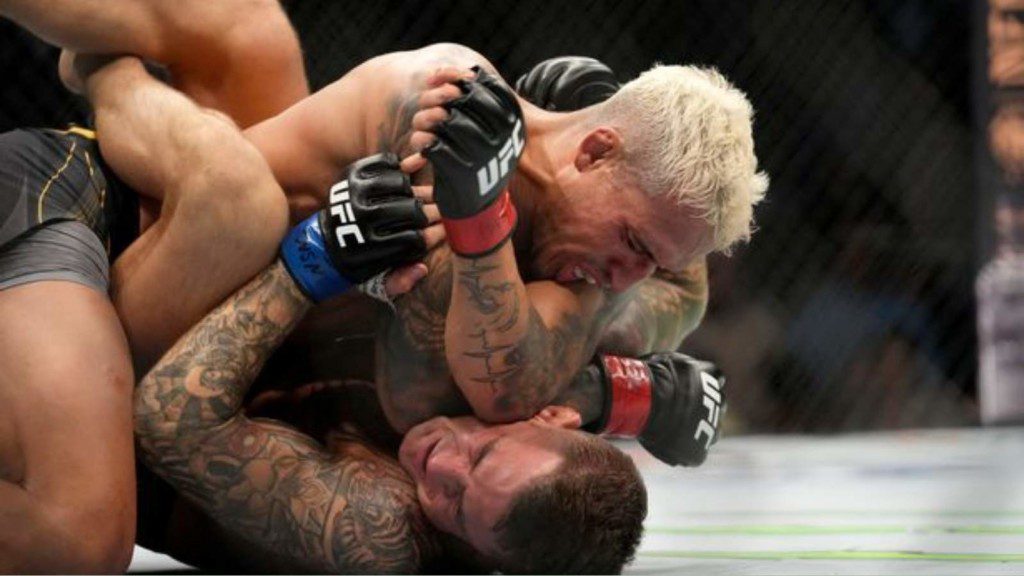 He talked about Oliveira's win against Gaethje and revealed the mistake they both did against him. Talking to Teddy Atlas, he said, "I think he should have followed him up. Got on top, tried to finish the fight. You know, find out how hurt Charles really was. There's only one way to find out: You've got to dive in."
He added, "Same thing with me. of course, you have to respect Jiu-Jitsu. I've been doing jiu-jitsu forever. I'm a blackbelt, as well, compete with and train with the best guys in the world. I'm confident, and I have good jiu-jitsu. I just respected his too much that I didn't engage. The plan was to by any means stay off the ground and don't play jiu-jitsu at all with this guy."
"So, even in the second round when I ended up on my back, and he was on top, I just tried to get stood up. I tried to get a stalemate. I didn't engage and use my jiu-jitsu offensively or defensively, and I should have. I should have created space. I should have attempted submissions and used that to create space and get back up," Poirier concluded.
Also read – "Who beats Charles Oliveira?" Twitter erupts as Khabib Nurmagomedov, Dustin Poirier, Islam Makhachev, and others react to Do Bronx's stunning win at UFC 274
Also read – "Your help is so important"- Charles Oliveira thanks Dustin Poirier and The Good Fight for their donation