Aljamain Sterling defeated Henry Cejudo at UFC 288 in New Jersey. Sterling defended the bantamweight title for a record third time. After the fight, his next opponent Sean O'Malley came to the ring wearing Michael Jackson's 'Thriller' replica jacket to the octagon. The two fighters faced for promotional purposes, but Merab Dvalishvili stole the show at UFC 288. Merab 'stole' O'Malley's jacket and started posing for photos around the octagon.
Merab Dvalishvili is the best friend and training partner of champion Aljamain Sterling. O'Malley removed his Michael Jackson replica jacket during the face-off to intensify the moment. However, he was not aware that Merab had taken his jacket. After getting the jacket, Merab wore it and paraded around the octagon stealing the thunder of the Sterling-O'Malley face-off.
It was a wholesome moment for Merab while Sterling and O'Malley tried hard to promote their upcoming fight. Sean O'Malley will take on the champion later this year. He has not fought since his split decision victory over Petr Yan last year. Sterling will look to extend the bantamweight title defense record when he faces O'Malley.
On the other hand, Merab looks forward to fighting another contender in the bantamweight division. Cory Sandhagen and Song Yadong have good winning streaks; one might Merab in the future. Merab is on a nine-fight winning streak with his dominant fighting style and decided not to fight his best friend for the title. He will only fight for the title after Sterling vacates the belt.
Related: "Done the splits like a stripper" – Conor McGregor and fans troll 'mastermind' Henry Cejudo for failed comeback after hype
Fans rejoice as Merab Dvalishvili steals the show at UFC 288 after stealing the jacket of Sean O'Malley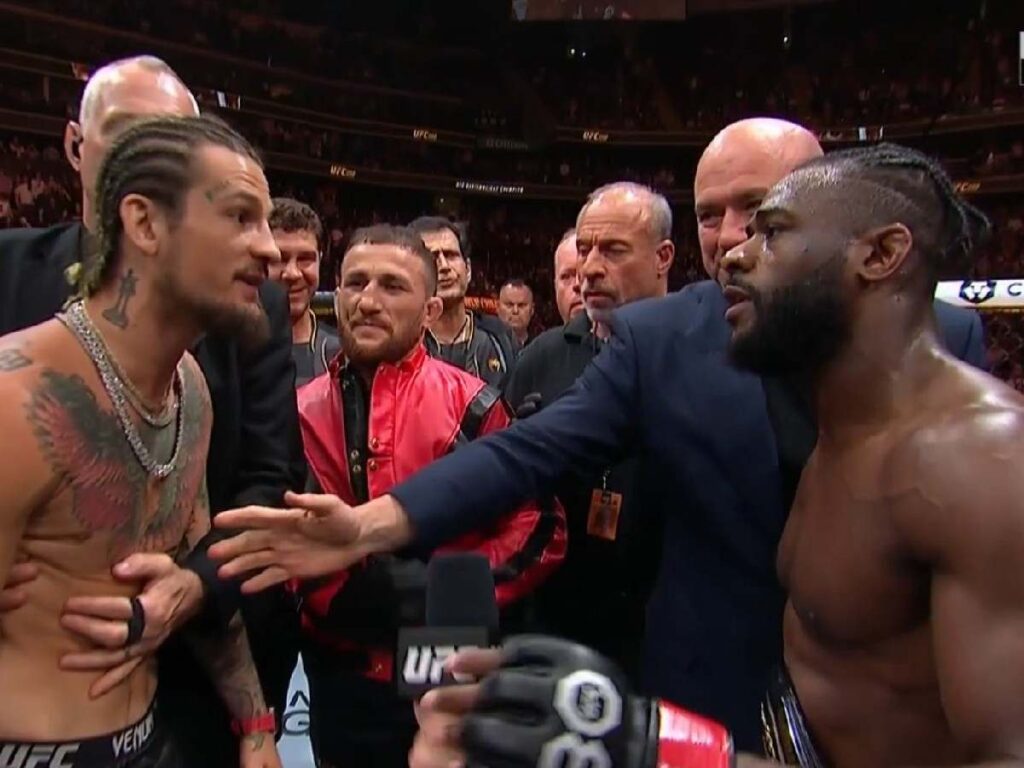 Bantamweight contender Merab Dvalishvili attended UFC 288 to corner his best friend and training partner, Aljamain Sterling. Sterling managed to beat former champion Henry Cejudo in a five-round battle. After the fight, Sean O'Malley came to the octagon to promote his next fight with Sterling. However, Merab stole O'Malley's jacket and paraded around the cage. Fans took to Twitter to react to the wholesome moment. Check out some of the fan reactions:
Merab has not fought since his dominant decision victory over Petr Yan in March 2023. Cory Sandhagen called him out, and Merab accepted the challenge. UFC will try to book Merab in a contest soon.
In Case You Missed It!