Dave Portnoy is famously loved for his podcast and his youtube channel "One Bite Pizza Reviews ". However, Portnoy has been under heat after he recently criticized Angel Reese. Dave Portnoy's criticism of Angel Reese has upset many people on Twitter. While Shaquille O'Neal did not like the criticism from Dave Portnoy, it was also followed by disagreement from UFC fighter Terrance Mckinney.
In the 2023 NCAA women's basketball championship game, the LSU Tigers defeated the Iowa Hawkeyes to earn their first national championship. Angel Reese was seen making fun of Caitlin Clark during the match. Reese pointed at her ring and gestured you can't see me. Dave Portnoy did not like this behavior and called her a 'classless piece of shit' in his tweet. Shaquille O'Neal responded to Dave Portnoy's tweet with 'and so is your mother'.
Following this tweet, Terrance McKinney chimed in with 'typical barstool'. This is not the first time McKinney has disagreed with Barstool. McKinney After his loss at UFC 283 called out Barstool for their controversial tweet. The tweet read" Terrance McKinney Gets Knocked Out Cold Just Hours After Claiming Barstool Didn't Know Sports". Prior to UFC 283, Terrance McKinney called for a clash with Paddy Pimblett. Given Barstool Sports' association with 'The Baddy', it's not surprising to see the website go after the lightweight prospect.
Portnoy's tweet was deemed racist and hypocritical. Dave Portnoy later explained his stance but was met with a backlash yet again. According to many he supports the actions of Paddy Pimblett and celebrates his win. Dave Portnoy had nothing to say when Paddy Pimblett teabagged Jordan Leavitt after he won. Yet, went on to insult Angel Reese after her recent actions.
Related: "He shouldn't have won," Joe Rogan and Dave Portnoy have heated moment debating Paddy Pimblett's controversial win
Dave Portnoy signed a six-figure deal with Paddy Pimblett and Molly McCann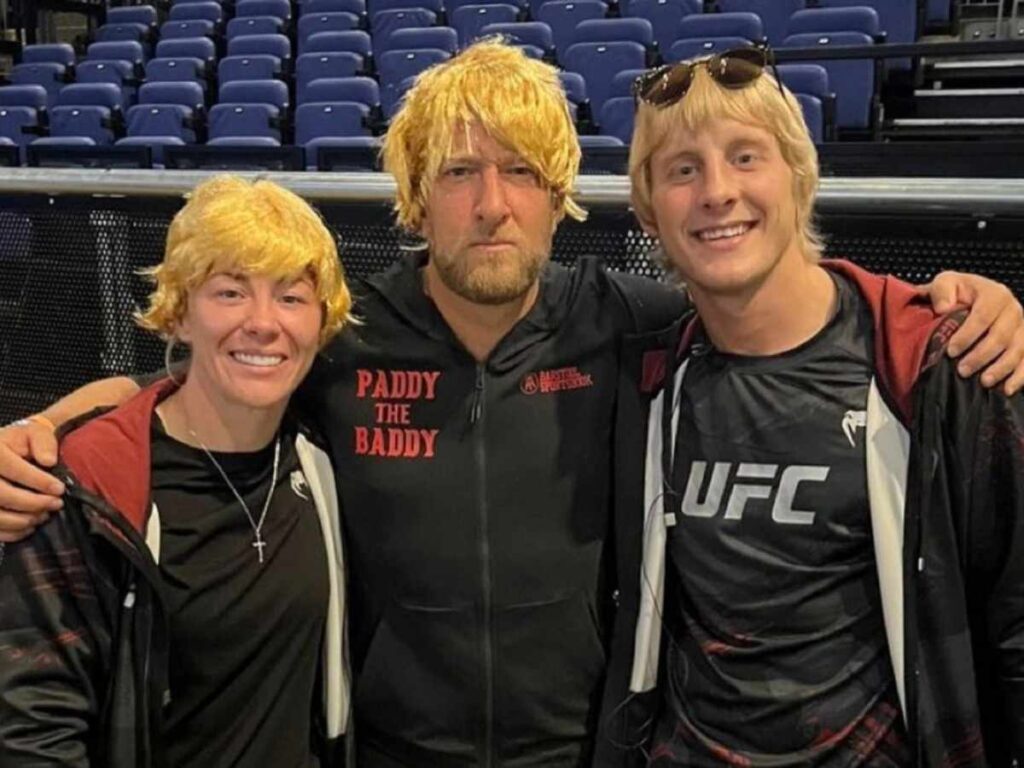 Dave Portnoy might not be a hardcore fan of the UFC but he surely has a soft corner for Paddy Pimblett and Molly McCann. Apart from being the barstool president, Portnoy is pretty famous for his podcast "Dave Portnoy Show with Eddie and Co " and his youtube channel " One Bite Pizza Reviews". Portnoy has signed a six-figure deal to sponsor Paddy Pimblett and Molly McCann.

Paddy Pimblett may not have fought the toughest of the lightweight division but his fame outreaches a few in the top 10. Whereas Molly Mccain is a rising star in the women's flyweight division. Portnoy is all praise for the duo after witnessing their performances at UFC London. Dave signed Paddy the Baddy a big money six-figure deal, which must have been nice for 'The Baddy' considering how little the UFC was paying him at the time.
Paddy was later joined by his partner in crime Molly McCann as Dave Portnoy first tweeted that Molly would join Barstool. He then confirmed this five days later and made it official. Both Paddy and the Meatball are officially sponsored by Barstool Sports and have racked up quite a sum. This deal encourages other fighters to be able to pursue huge sponsorship deals outside the UFC and thrive.
In case you missed: