Francis Ngannou won the UFC heavyweight title at UFC 270 via a majority decision over Ciryl Gane. After the fight, Ngannou admitted that he had been dealing with a knee injury. During the sparring sessions building up to the fight, he tore his MCL and hurt his ACL. In Los Angeles, Ngannou had surgery.
Ngannou then made his way back to Cameroon, where he and his colleagues wanted to avoid having the operation get in the way of their preparations. When he gets back to the US, the ACL will be fixed. Achieving victory in March 2021. In terms of the amount of action he engages in or the money, he earns when he does walk to the Octagon.
While successfully defending his title against Ciryl Gane in a unanimous decision in January 2022, Ngannou revealed that his contract expires in December. Throughout this drama, he has made it clear that he wants to face Tyson Fury, even going so far as to confront the other champion in the ring after Fury's most recent victory in April.
Francis was recently asked whether he would ever fight again during a Twitter Q&A session, and he replied, "I'm just getting started bro! I have at least 5 more years to conquer everything." Ngannou has spoken out about what he wants in a new deal and the divide that exists in negotiations between the two organizations. Ngannou is free to leave the UFC at the end of the year after his contract expires.
Related:- "Having big brother around"- Israel Adesanya reunites with Francis Ngannou, after Predator's intensive knee surgery
Tyson Fury questions Francis Ngannou's motivation, and Francis claps back with a vehemence response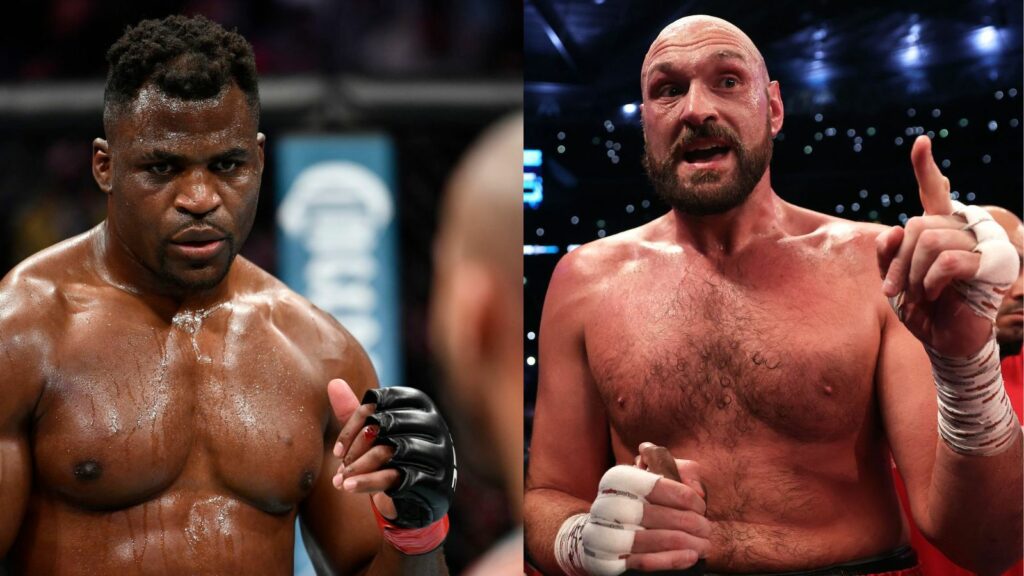 Francis Ngannou, the UFC heavyweight champion, is doubling down on a crossover match later this year, but Tyson Fury doesn't sound certain that he actually wants to fight him. Fury announced his retirement from a professional boxing competition after knocking out Dillian Whyte in the sixth round in April, but he also claimed he was open to some exhibition fights, with Ngannou at the top of the list.
In reality, after Fury's victory in front of 94,000 spectators at Wembley Stadium, Ngannou and he both stood side by side and expressed interest in the fight. He took to Twitter and stated the following, "Thought you wanted some smoke, Let's do a proper fight. Wembley Stadium 2022."
Ngannou would then reply to Fury, making it quite obvious that he wants that chance as soon as possible, which in his view appears to be in 2023, He took to Twitter and stated, "Don't you dare think I take my eyes [off] of you. You're still my priority. I'm coming for all of the smoke. 2023,"
He then followed up to this response and stated, "What do you mean when you say "PROPER" fight? because I'm a real fighter, and I can make it a la carte for you since you can't handle it all"
Also read:- "End of the year"- Francis Ngannou reveals roadmap to his in-octagon return
Also read:- "Kings of The Game"- Francis Ngannou and Israel Adesanya catch up before UFC 276