UFC superstar Conor McGregor trolled former Olympian gold medalist Henry Cejudo after a recent loss at UFC 288 against Bantamweight champion Aljamain Sterling. Cejudo claps back at Conor on Twitter.
'Coach McDaddy' offered to coach Cejudo after ridiculing his performance at the UFC 288 main event. The fight went the full distance and both fighters put up a thrilling performance. Aljamain Sterling retained his championship after he won the bout via split decision. Cejudo had made his UFC comeback in this fight after he was away from the octagon for nearly three years. He was previously the two-division UFC champion in both the Flyweight and the Bantamweight division.
Conor mocked him on Twitter after the fight saying, "Easiest money I've ever made. Not a scratch on Aljo! Congrats Funk Master! Good little fighter is Henry but give it a rest with these agendas all the time." Conor had reportedly made a bet on Aljamain Sterling to win the fight. He went on to mock Cejudo's moves and feints and even uploaded a video ridiculing Cejudo which he later deleted. "The guy is sub 20 fights in his career. His little feints and all ahaha omg please teach me mastermind lol. Done the splits like a stripper and got dumped on his ass he did hahaha…"
Cejudo who had downplayed 'The Notorious's comments during the post-fight press fight press conference saying, " Conor McGregor don't got s*** on my resume,…," recently responded on Twitter. Bringing up the case of steroid use that everybody is attacking McGregor on prior to his UFC return, Cejudo tweets- "Hey @TheNotoriousMMA Your grappling is so you bad you can't even submit a clean urine sample. I've seen more intimidating men on a can of Bud Light."
Related: "He don't got sh** on my resume," Henry Cejudo absolutely loves Conor McGregor hating after UFC 288 loss
Ali Abdelaziz defends Henry Cejudo on Twitter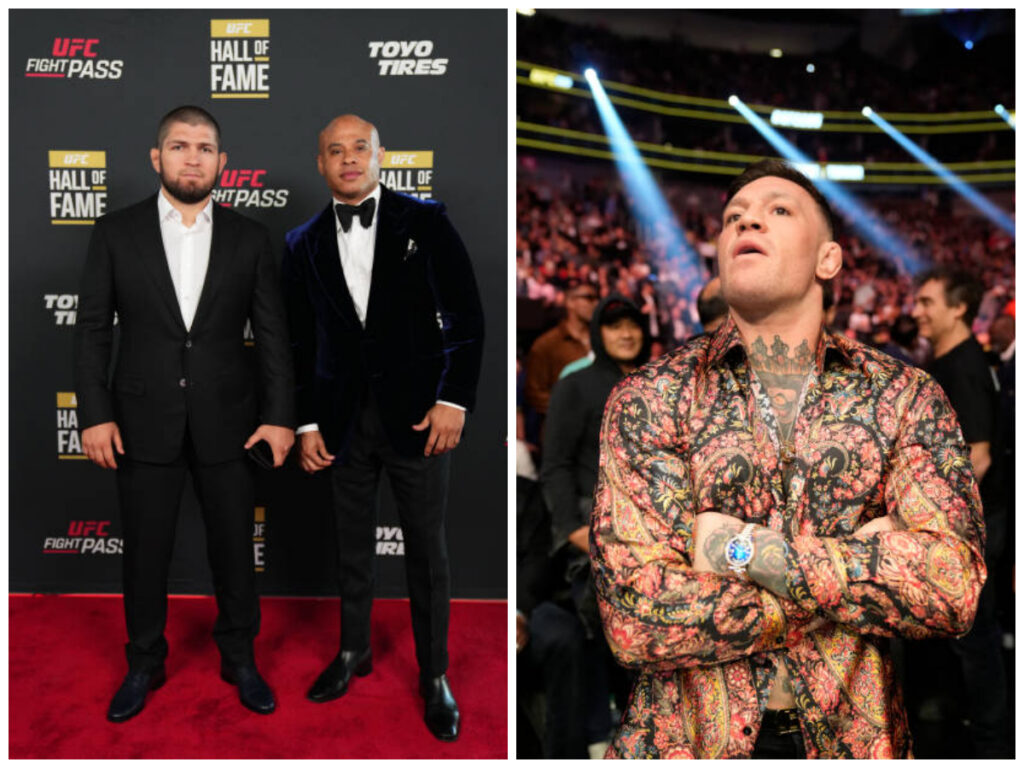 During his hiatus, Henry Cejudo publically discussed and pointed out Conor McGregor's weaknesses and shortcomings in the sport. Even recently, prior to his comeback at UFC 288, Cejudo uploaded a video to his Youtube channel titled "How To Fix Conor McGregor: These Changes Will Bring Back The OLD Conor!", where he analyzed some of Conor's previous fights and pointed out some of his recent mistakes.
Conor took to Twitter to ridicule Cejudo who couldn't win a fight after teaching him and pointing out the Irishman's mistakes. He offered to coach Cejudo instead. Conor McGregor and Cejudo have had a recent back-and-forth where Cejudo condemned McGregor for speaking ill of Khabib's dead father. Meanwhile, Khabib Nurmagomedov's manager Ali Abdelaziz entered the scene defending Cejudo for his fight and putting down McGregor via a tweet.
"At least he is fighting instead of you doing drugs and steroids and talking from the sidelines, STFU you bi*ch," the tweet read. Ali has had beef with McGregor ever since the infamous Conor-Khabib fight, back in 2018 when Conor called Abdelaziz "a terrorist snitch."
In case you missed it!
Do follow us on Google News | Facebook | Instagram | Twitter