Joe Rogan believes the whole Brittney Griner scenario is a case of keeping a political prisoner hostage. Brittney Griner is one of the most popular athletes in the women's basketball world. The 31-year-old is a three-time All-American and has outstanding records. The player found herself in a serious situation after getting arrested in Russia for carrying cannabis oil cartridges for vaping in her luggage.
Griner was taken into custody and could get imprisonment for approximately 10 years for owing and smuggling Cannabis. The two-time Olympic gold medalist has been behind the bars since February 17 for the crime.
Griner's lawyer during the trial in Russia claimed that the player was prescribed the use of Cannabis for medical purposes in the United States. The team also mentioned that Griner underwent check-up after chronic pain symptoms and the vape was helping her to recover from it.
" I'd like to plead guilty, your honour," Griner announced in court on Thursday. "But there was no intent. I didn't want to break the law," said Griner during the prosecution.
Read More: "'F*cking dictator'- Joe Rogan candidly shares his brutal opinion on Justin Trudeau
Joe Rogan comments on the Brittney Griner's imprisonment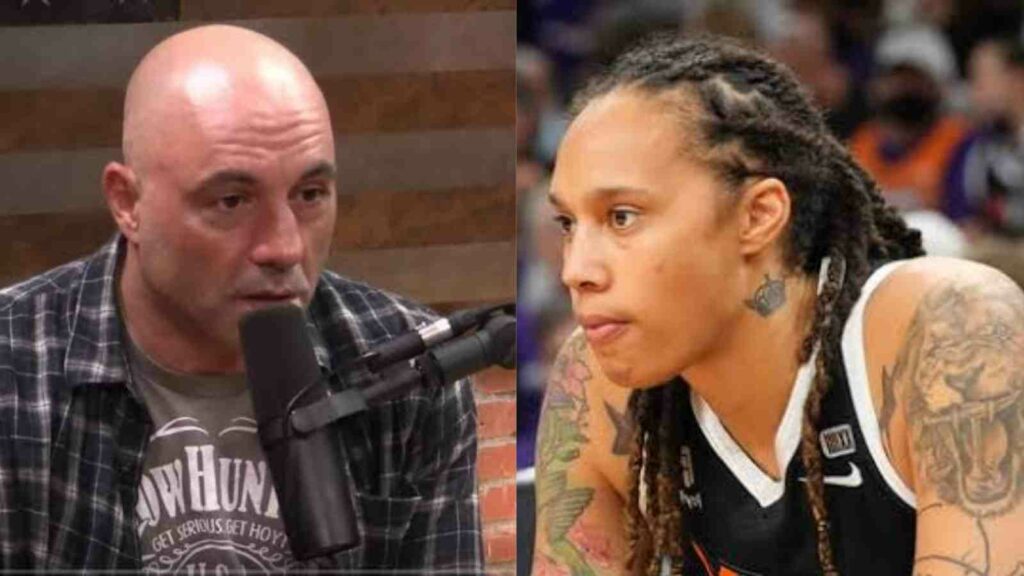 After the whole scenario got more public attention more and more celebrities and athletes started giving their opinions on the matter.
UFC commentator, Joe Rogan also in one of his recent episodes of the ' Joe Rogan Experience', the podcaster revealed that whatever happened was extremely bad. Rogan named this scenario as a case of political prisoners for unnecessary reasons. Rogan mentioned that he wants the matter to be solved as soon as possible. He said :
" F***, it's horrible. It's for nothing. It's like she's the clearest form of political prisoner…I'm not a very political person, in that sense…I'd like to see them resolve this, but I think it's just one part of a bigger problem."
Rogan himself is a great supporter of the use of Cannabis for medical purposes and has spoken about it a lot of times in the past. But more than that, this whole scenario with Griner is surely turning into a huge political problem which should not be going that way. This might have been the aftermath of the tense political relationship between Russia and the US over the Russian invasion over Ukraine. Many people have shown their support towards the player and are eagerly waiting for the justice.
Also Read: "Do some goddam good"- Liver King claps back at Joe Rogan after allegations of steroid use
Also Read: "Disturbing"- Joe Rogan shares an article in which 80 per cent of US pee samples include a cancer-related chemical