Kamaru Usman fights Leon Edwards in a welterweight title bout in Salt Lake City at the upcoming pay-per-view event, UFC 278. The welterweight king believes it would have made no difference if the fight were to take place in England, the home of his title contender.
It has been quite a while since fans got to see the pound-for-pound king Kamaru Usman work inside the octagon. However, the fighter returns to the big stage this August to defend his welterweight title against contender Leon Edwards. This fight has been in the making for quite a while and Usman is excited to run things back with the British-Jamaican.
Leon and Kamaru have both met each other in the past in 2015 when Kamaru handed Leon's only defeat in the UFC. Since then the British fighter has gone undefeated and climbed all his way up the rankings to earn himself a title shot. Last night the press conference for UFC 278 took place and Usman spoke to BT Sport and discussed his thoughts on fighting Edwards in the USA instead of the UK.
Related Watch: Kamaru Usman and Leon Edwards bring back Conor McGregor's iconic 'Let's wrestle' moment at UFC 278 presser
"The crowd can't fight for him" Kamaru Usman dismisses home advantage in fights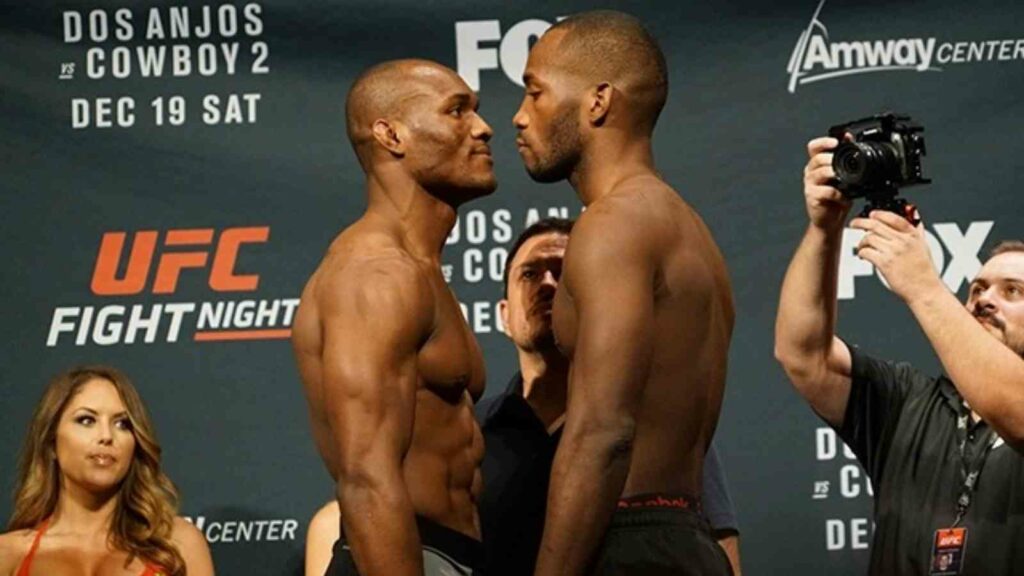 "Those people can be loud but those people can't fight for Leon Edwards and in a sense it kind of works against these guys," said Usman talking to BT Sport about Leon having an advantage if he fought in front of his fellow countrymen. UFC was initially looking to book Kamaru and Leon as a headliner for UFC London after the immense success in their previous outing earlier this year. However, Usman's injury shut down those plans and now the two will instead fight in Salt Lake City, Utah.
"To be honest, a lot of Brazilian fighters can attest to that. From back in the day where you're fighting back home, there's all this pressure there for you to go out there and deliver," said Usman talking about how fighting in front of the home fans could turn out to be a disadvantage. Even if the fight did happen in the enemy's territory, Usman is no stranger to fighting in those situations.
Usman's recent title defense against Jorge Masvidal took place in Miami, Florida which is the home to Masvidal. Kamaru shut the whole crowd up with his highlight reel, "knockout of the year" finish. Do you think Leon would be at an advantage if UFC 278 happened in the UK?
Also read "A light milly on my brother" – WATCH Drake reveals he bet on Israel Adesanya ahead of UFC 276 title fight
"I can grapple" – Khabib Nurmagomedov's fantastic response to claims of beating Israel Adesanya at 185-pound division