Former UFC champion Khabib Nurmagomedov had a dominant mixed martial arts career. Khabib had 29 professional bouts and only lost a few rounds. The Dagestan-born fighter is one of those fighters whose life runs organically. In many of his interviews, 'The Eagle' always mentioned that he loved to sleep and eat as much as possible.
There has already been a lot of debate about how Khabib Nurmagomedov stayed undefeated for a long time. Many amateur fighters search in finding motivation like Nurmagomedov. Nevertheless, the only repetitive aspect of Khabib's career remains his "sleep-train-eat-repeat" routine. The former champion is also one of the most loved people in Arab countries.
Before ending his career in MMA, Khabib traveled to many countries to experience their culture. A country like Afghanistan has always had visitors like Nurmagomedov and other Dagestani fighters. Russian fighters live like brothers; even the newcomer is treated like a brother. When the UFC Hall of Famer was active, he was found consuming Afghan food on many occasions.
Khabib loves to visit Afghanistan and try their new recipes, as well as his favorite ones. Once, he rated Afghan food as his favorite back in 2018. He had visited Afghanistan before he defeated Conor McGregor via neck crank. This time, Nurmagomedov and his team consumed Afghan food during their training time.
Related: "He was dumbfounded," Henry Cejudo reveals Khabib Nurmagomedov was shocked to learn how much 'Triple C' got paid by UFC
UFC Hall of Famer Khabib Nurmagomedov humbles his friend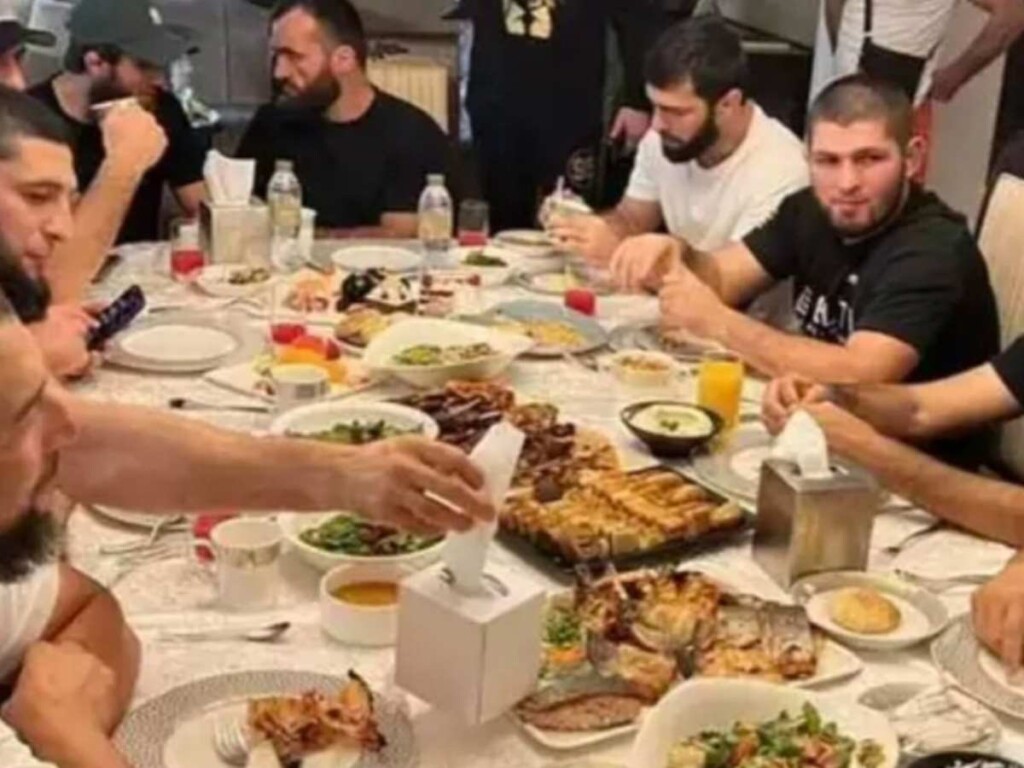 Someone once took a picture of 'The Eagle' and his team consuming Afghani food. Khabib was pictured alongside Belal Muhammad and Umar Nurmagomedov. Belal Muhammad recently joined Khabib's team for training purposes. Umar is the cousin of Khabib. They dined together with many friends.
One of his friends shadowboxed while enjoying the delicious cuisine. Showing humility, Khabib asked his friend not to disrespect the food. Even during his run at UFC, Khabib was known for showing humility.
Khabib retired with a record of 29 wins and 0 defeats. After losing his father due to COVID-19, he competed against Justin Gaethje for his last professional bout. However, his love for MMA went nowhere as he started coaching other Dagestani fighters. Recently, he decided to leave coaching duties to spend more time with his family.
In case you missed it!