Khabib Nurmagomedov retired as the GOAT of the UFC's lightweight division. The Dagestani fighter's perfect 29-0 record is something to marvel at.
However, fans may have entirely lost out on the chance to see Khabib's legend unfold if not for his father, Abdulmanap Nurmagomedov. The former champion revealed during his UFC Hall of Fame speech that he was very close to retiring after suffering multiple injuries. Talking about the dark phase of his career, Khabib said, "I remember when I was talking with my father, 'Maybe I should like retire? What do you think? I'm tired. Again surgery, surgery."
Khabib's fire reminded him of his journey and set him straight. He told Khabib, "If you wanna give up, you can give up, this is your choice. But how you gonna give up? So many years we working together. You only 26 years old, your time is gonna come. But you cannot give up."
The Eagle said this pep talk from his father really helped him rally during a very difficult time in his career. MMA fans will be glad that Khabib Nurmagomedov decided to heed Abdulmanap's advice. His career trajectory only skyrocketed after this and he finally ended his career in 2022 defending his belt 3 times and setting the UFC's PPV-buy record, which still hasn't been broken.
Related: Is Khabib Nurmagomedov's PERFECT RECORD tainted because of his CONTROVERSIAL win over Gleison Tibau?
Khabib Nurmagomedov called Dustin Poirier crazy for thinking he would tap in front of his father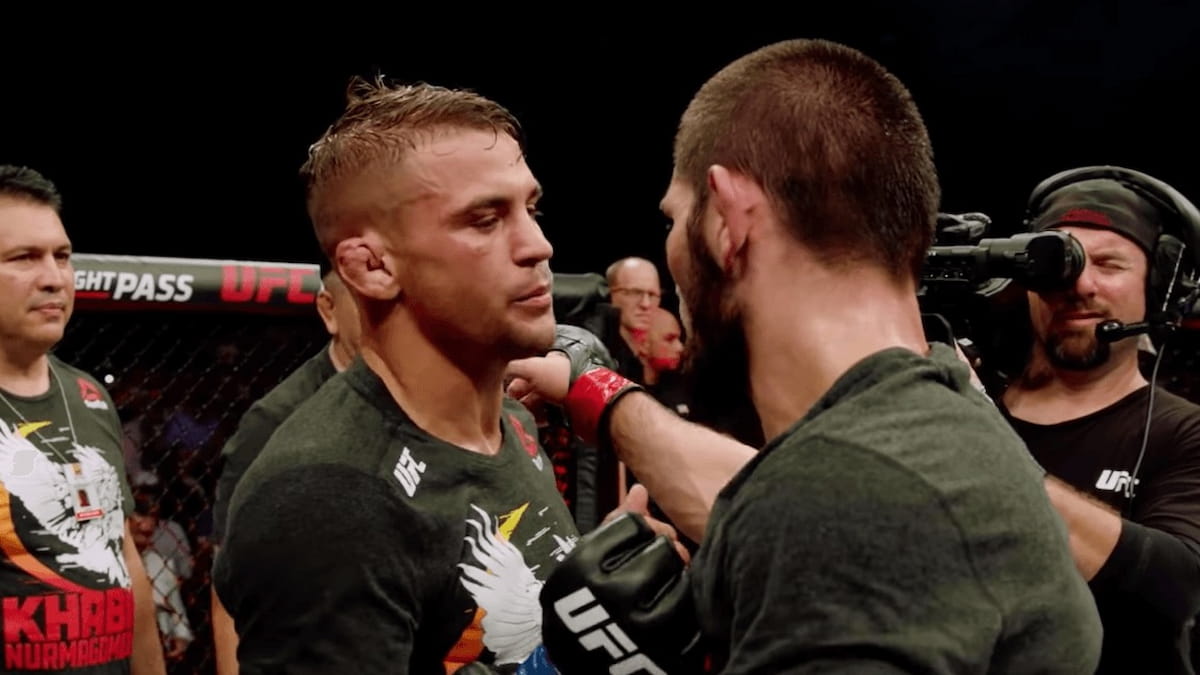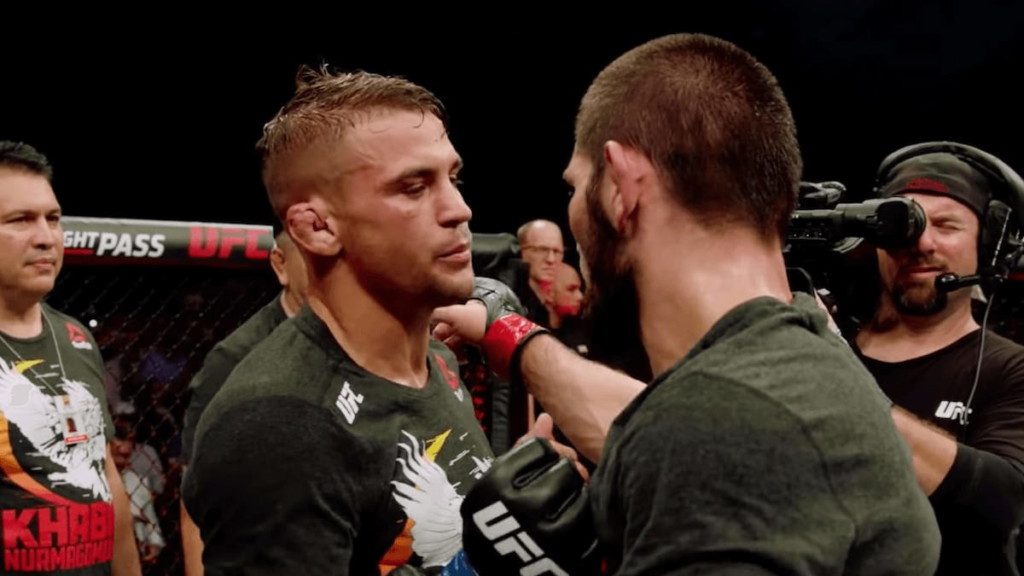 The Eagle defended his title for the first against Dustin Poirier at UFC 242. It was a typical Khabib fight by all accounts as the Dagestani fighter dragged Dustin into deep waters and then choked him out in the third round. However, one moment in the fight must have sent alarm bells ringing throughout Khabib's corner.
Very early in the third round, as Khabib attempted to wrestle Poirier to the ground, the American ended up pulling guard on Nurmagomedov. He ended up catching The Eagle in a nasty guillotine and many were convinced that they would see Nurmagomedov tap to the choke.
Also Read: "How do you win a spar?" Paddy Pimblett and Daniel Cormier left BAFFLED by Jake Paul's callout before UFC 282
However, Khabib showed his resilience as he somehow managed to escape the choke. Khabib later revealed what was going through his head while he was in the choke.
"It was in front of father, it was like 2 meters maybe. Very close when Dustin tried to choke me. I remember thinking like 'Dustin is crazy guy'. He think I am going tap in front of my father?" said Khabib Nurmagomedov about the whole incident. It seems insane that only the drive to not tap in front of his father helped The Eagle survive the choke, to ultimately winning the fight.
Also Read: "Little f*cking prick," Sean Strickland expresses his disdain over Paddy Pimblett's recent antics