After losing her Straweight crown at UFC 274, Rose Namajunas isn't thinking of fighting currently. She is taking off some time to polish and add more skills to her arsenal. Namajunas also has her sight on putting on some extra weight to bulk up to 125lbs.
Rose's last outing in the octagon was against the former champion Carla Esparza in May at UFC 274. This was a rematch of their first meeting in 2014 at the TUF 20 finale. Carla won that fight by submission to claim the title. In their second matchup too Carla picked up a split decision win to snatch the title from Rose.
Prior to UFC 274, Rose Namajunas was on a 3-fight-winning streak, after avenging her loss to Jessica Andrade at UFC 237 in 2019. Namajunas went on to defeat the then champion Zhang Weili twice to claim the title and defend it subsequently. The former champion headed into her fight at UFC 274 with the plan to step away from the octagon for a bit.
Related: "Microphones put extra pressure"- Valentina Shevchenko blames 'corner coverage' for Rose Namajunas' poor performance at UFC 274
Rose Namajunas is interested in grappling in the near future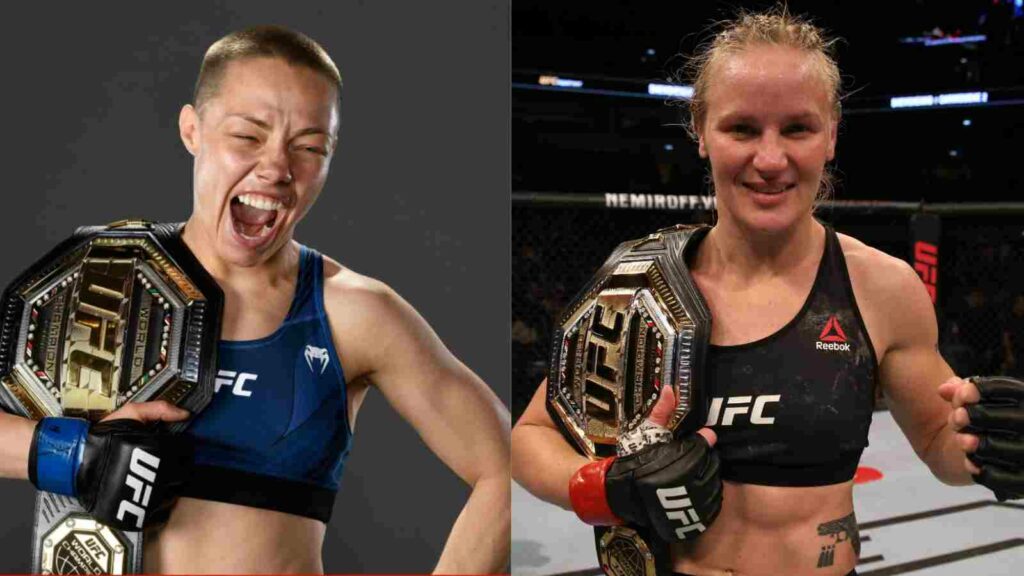 In an interview with Mike Heck on MMA Fighting yesterday, Namajunas gave an update on her career since her title loss and discussed a possible move to 125 pounds and a potential fight with the champion Valentina Shevchenko and her recent partnership with Polaris RZR.
The former two-time champion gave an update on her comeback, "The thing I do know for a fact — and I don't know when exactly I might fight again — but I do know that I want to do a grappling match of some sort. I want to really rack up some experience in that department. Also, once I get my other things in order, my life stuff, I'll be lifting lots of weights, and maybe put on a little more muscle, and just kind of see what happens from there."
When asked if that meant moving up to 125lbs and challenging Valentina, she replied, "I don't know, you can do the math, I really don't know, like I said, just one step at a time. The UFC has given me some offers for things and I just need the time to just not think about fighting at all, and then in the fall I'll kind of lay out everything to see what makes sense."
She added, "I love Valentina, In my opinion, and I always forget that Amanda Nunes is the women's GOAT of MMA, but Valentina, if she keeps doing what she's doing, you could make that case [for her] as well. I do consider myself to be Valentina's friend, so in order for me to do that, we would have to be set up, not for life, but it would have to be for a very good reason for me to even want to step to her."
"She is amazing in all ways, and I have felt what she feels like in practice. I know a fight is a totally different thing, so that would be hard for me to say. Obviously, as a martial artist, that would definitely be very interesting. But, yeah, I don't know yet. It would have to be [very lucrative]. I love Valentina. I consider her to be my friend. I've never had a problem with being cordial with people I'm going to fight."
Namajunas further explained, "I've maintained friendships with people that I've fought, but I've never had an issue with fighting a teammate or anything like that. I have started to think a little bit differently about fighting at this point in my life. It would be difficult with the emotions and things like that, and I feel like I'm a different person right now. I would have to think about it."
Also Read: "Neither one of them broke" Pat Barry explains why Rose Namajunas vs Carla Esparza fight was plain at UFC 274
Also Read: "She was completely different"- Valentina Shevchenko reveals who she backs in the upcoming fight between Amanda Nunes and Julianna Peña
Do follow us on: Google News | Facebook | Instagram | Twitter