At UFC 279, Nate Diaz fought his last UFC contracted fight against Tony Ferguson. Originally, Diaz was scheduled to fight Khamzat Chimaev. However, with last-minute changes, he had to take on Ferguson. The Stockton native put forward a great performance and won the fight via submission.
Diaz being a superstar, got an enormous farewell from the fight fans in his last fight for the UFC. During the post-fight press conference, Diaz revealed that he respects UFC but doesn't want to continue his career there to achieve greater heights. The fighter also mentioned his plans to discover new things and be the best at them.
He said: "All I know is it's been a love-hate relationship with UFC for as long as I've been in this f*** company but I love UFC. I want to get out of the UFC for a minute and show all these UFC fighters how to take over and own up another sport. How you're supposed to do it. I'm going to go out there, take over another profession and become the best at that. Show everybody I'm the best at that."
However, Diaz didn't give any particular answer regarding his next venture but the fans were extremely hyped for it.
Read More: "I would NOT advise that," Daniel Cormier speaks of Nate Diaz's chances of fighting in bare-knuckle boxing after enclosing UFC career
Nate Diaz to fight at WrestleMania 39 as the "Stockton Slugger" posses with WWE CEO?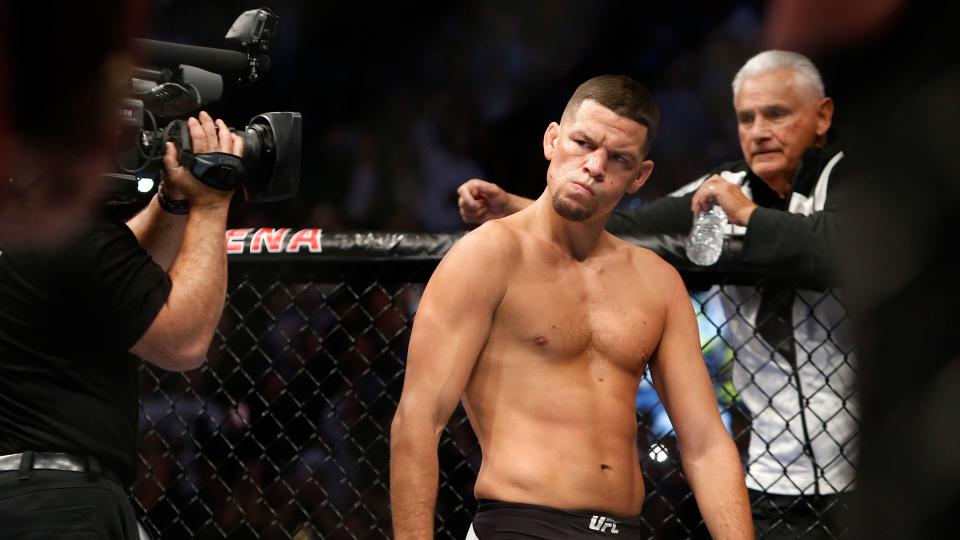 Recently, Nate Diaz was spotted along with WWE content cheif Triple H and CO-CEO Stephanie McMahon. The group had a chat and posed in front of the camera.
The pictures immediately sparked rumours regarding Diaz's trying his luck in WWE. However, it's not quite hard to speculate given that it's very normal for UFC fighters to be a part of WWE or vice-versa.
Also Read: "Hardest job in the WORLD"- Nate Diaz bashes critics for undermining Tony Ferguson's contribution to the UFC
In the past fighters such as Brock Lesnar, Ronda Rousey, and CM Punk have fought in both WWE and UFC. Diaz already has an army behind him and it won't be tough to introduce him to the existing fan base of WWE. His gangster persona and trash-talking will be a great addition to the WWE and the WWE heads are certainly aware of it.
Nevertheless, Diaz is still very relevant and has the capability to exel wherever he goes be it boxing, BJJ or entertainment Wrestling.
Also Read: From 209 to 2:09: Nate Diaz and his unlikely journey to being a rowdy MMA Legend