After replacing Chimaev in the main event bout, Tony Ferguson took to Nate Diaz in a Welterweight bout at UFC 279. This was El Cucuy's move to Welterweight after a very long time. He last competed in the division during his TUF days.
Ferguson's dominant 12-fight win streak was shattered when he lost via TKO to Justin Gaethje at UFC 249. Since then he is failing to get back to the win column as he has suffered a string of losses in the Lightweight division. He was originally scheduled to fight Li Jingliang. However, after the UFC official weigh-ins fiasco, he was scheduled to face Diaz in the main event.
El Cucuy was looking to break his four-fight losing skid and get a win against the Stockton star and UFC legend. Although, after making changes in his fight camp and bulking up to Welterweight he was unsuccessful to get a win in the main event.
He was defeated by Diaz in the fourth round via submission. After a failed takedown attempt by Ferguson in the fourth round was stuffer and reversed into a guillotine choke by the Stockton star. El Cucuy had no other option but to tap and suffer his fifth loss in a row.
Related: "Death, Taxes, and Nate Flexing" – Fans react to Nate Diaz ending GLORIOUS UFC career with stunning submission victory against Tony Ferguson
Tony Ferguson doesn't see losses, he just sees growth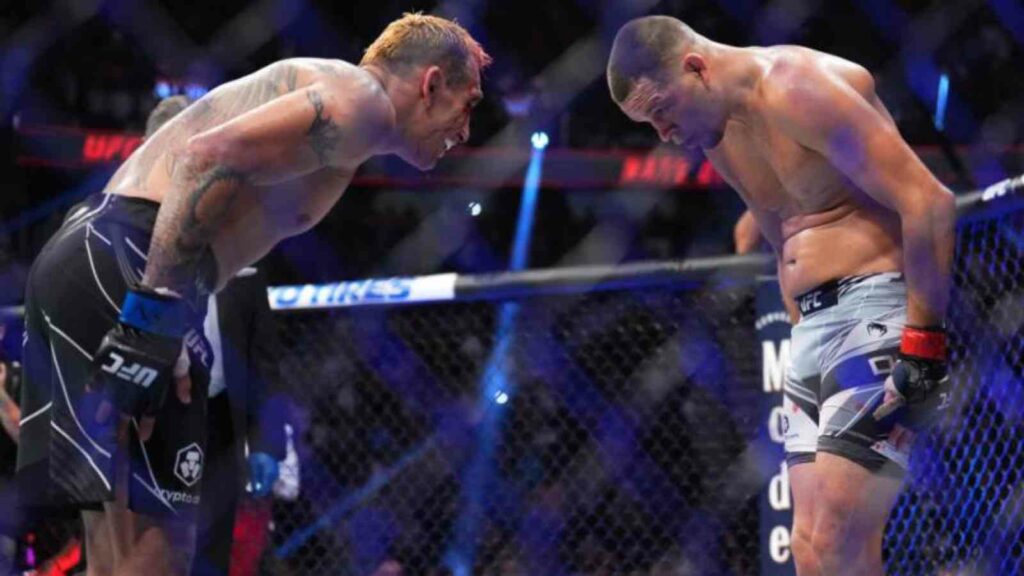 Even after suffering his fifth loss, it looks like Tony is positive about his carrier as in his post-fight press conference while addressing the media he stated that he's still at the top of the mountain. He further stated that he sees growth and isn't fazed by losses.
When asked about the last-minute replacement and the state of his legs after the fight, El Cucuy stated, "The game is still interesting to me, We had a game opponent. Short notice, no bullsh*t, but it was a crazy week and I'm excited about it and my shins don't hurt. I think his (Diaz) legs might hurt but yeah put some ice on it."
Also Read: "Waiting on his fat a*s"- Tony Ferguson reveals his plans on coaching the TUF season against Khabib Nurmagomedov
El Cucuy further stated after being asked about his state of mind after his fifth loss in a row after a dominant 12-fight streak, "I'm still at the top of the mountain! When it comes down to an L, It goes in like what's been put on the table, putting sports back on in the world setting an example for these youngsters to not quite, to go in there and F**king not give a sh*t and take the next fight that's on the land."
"So I'm gonna be real I don't see any L's, I just see growth. The last four fights that I had before this one I would be real I was sandbagging, I wasn't really doing anything. My wife called me out, I found a good team, I put on a good, F**king most golly crew of people that we could've put together." Ferguson further stated.
Also Read: "BUM Olympics" – Dustin Poirier, Max Holloway, and other legends react to Nate Diaz's FINAL win in the UFC against Tony Ferguson