Usain Bolt will have to lend Leon Edwards his title of Jamaica's favorite son for the next few weeks or possibly forever depending on how the future plays out. After his victory over Kamaru Usman at UFC 278, Leon became the first Jamaican-born athlete to hold UFC gold.
Hence it was nice to see the two of the biggest sporting names to come out of Jamaica share a mutual respect for each other while wishing they each shine brighter than the next. Bolt is a former 9-time Olympic Gold Medalist (8 if you discount the disqualification from Beijing 2008) who was among the very first athletes to put Jamaica on the world map for everyone to notice.
His speed and desire to achieve great things on the track inspired a generation of runners and other athletes in working toward their own goals. Edwards was only starting out with his MMA career when the bolt was already on the campaign to have a clean sweep in his second straight Olympics.
Related: "Little old Leon did it in ONE shot," Leon Edwards fires back at criticism that holds him inferior to Colby Covington and Jorge Masvidal
Usain Bolt sends Leon Edwards a video message before UFC 278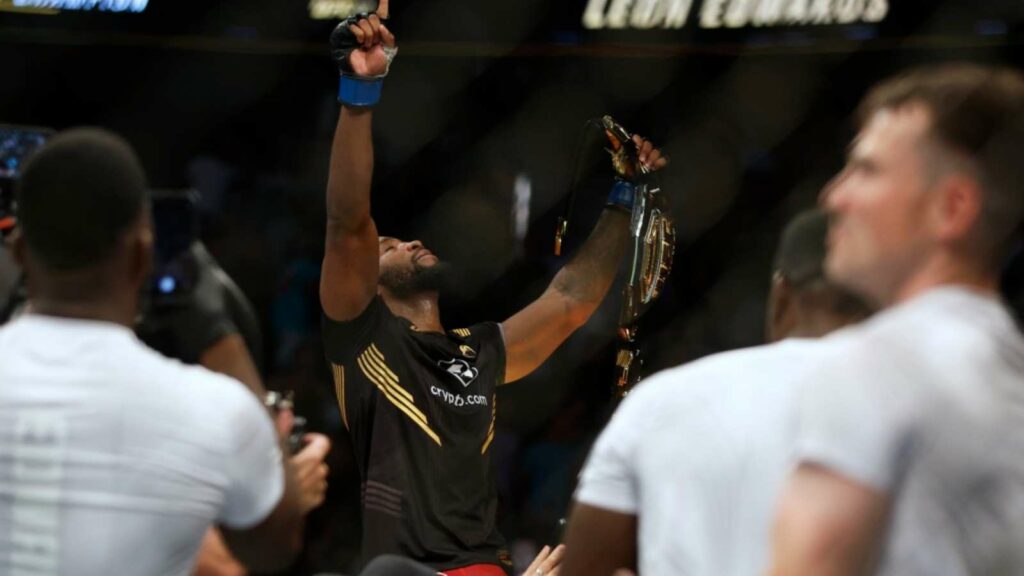 Recently, as Leon prepared to face the undisputed master of the welterweights, Kamaru Usman, many called into question the validity of a rematch between the two since Kamaru had convincingly beaten him the first time around. But Edwards was barely 23 at the time and 7 years of experience adds up.
Walking into a situation like this where you have been a constantly doubted contender facing off against one of the most dominant champions in the division's history, it's obvious that not many people will be head or heels cheering for you. However, Leon did receive the praise and prayers he needed from the people who did count.
Also Read: "THAT'S EVERY SON'S DREAM," Leon Edwards cries reflecting on backstage call with mother at UFC 278 after defeating Kamaru Usman
As if it were a calling from his home soil itself, Bolt hit up Leon as an ambassador for the whole of Jamaica in wishing Edwards luck in lieu of the upcoming title fight. In a pre-recorded message for the contender, Bolt hoped to see his fellow Jamaican walk out with gold.
"We have a championship fight tonight boss, I know you're gonna get it done, alright? ", said the Olympic hero as Leon looked onto the screen intently while someone in the background marveled at the fact that Usain bolt was directly addressing one of their teammates.
" I support you, we ready alright? Let's go!", emphasized Bolt which led to a proper hyped-up Leon repeating the same. Leon would later on go on to capture welterweight gold. The fight itself is a huge back of mixed emotions.

From winning the first round and showing real promise to losing every minute that followed, Leon had mostly lost everyone's interest in the fight right before he connected with one of the most well-placed strikes in UFC Championship history.
Also Read: 'He's not cut from that cloth' – Fans praise Jon Anik for not writing off Leon Edwards in the final moments of title fight at UFC 278