Alex Pereira is now being widely claimed as the "biggest hater of all time". The Brazilian has managed to get another victory against rival Israel Adesanya but this time in UFC. "Poatan" has defeated Adesanya to become the new UFC middleweight champion.
UFC 281 has been an absolute stunner of a card. Crazy fights from top to bottom and the main event sure did live up to its hype. As we've seen in this year earlier, Israel Adesanya was winning his title fight against nemesis Alex Pereira until the final minutes of the championship round.
Two more minutes of survival inside the octagon would've seen Adesanya defending his title for the sixth time. However, Pereira's deadly left hand came in clutch to give the Brazilian his third win against Adesanya. Alex "Poatan" Pereira headed into the fight having 2 wins over Adesanya in kickboxing and now he's made his way into mixed martial arts only to dethrone his rival, Adesanya.
Alex's knockout win over Adesanya has put the MMA world in chaos. This is The Stylebender's first loss in MMA as a middleweight fighter. Pros and fans alike are stunned at the outcome of this fight and were short for words. This win of Pereira almost feels like a movie. Almost as if it was written in the stars for "Poatan" to end the dominant reign of Adesanya.
AND NEW ALEX PEREIRA KNOCKS OUT ISRAEL ADESANYA IN ROUND FIVE #UFC281 pic.twitter.com/Dvq8eIpUFV

— Spinnin Backfist (@SpinninBackfist) November 13, 2022
Huge names like Khamzat Chimaev and Zayn Malik reacted on Twitter to this main event bout at Madison Square Garden. Fans are stunned at the dramatic finish to this fight. Pereira is only 7-1 in MMA and is now the UFC middleweight champion. Check out some of the best reactions on Twitter to this fight.
Read more: "Screwed his mind" – Alex Pereira plays mental warfare with Israel Adesanya at UFC 281 press conference
Twitter erupts to Alex Pereira becoming the new middleweight champion of UFC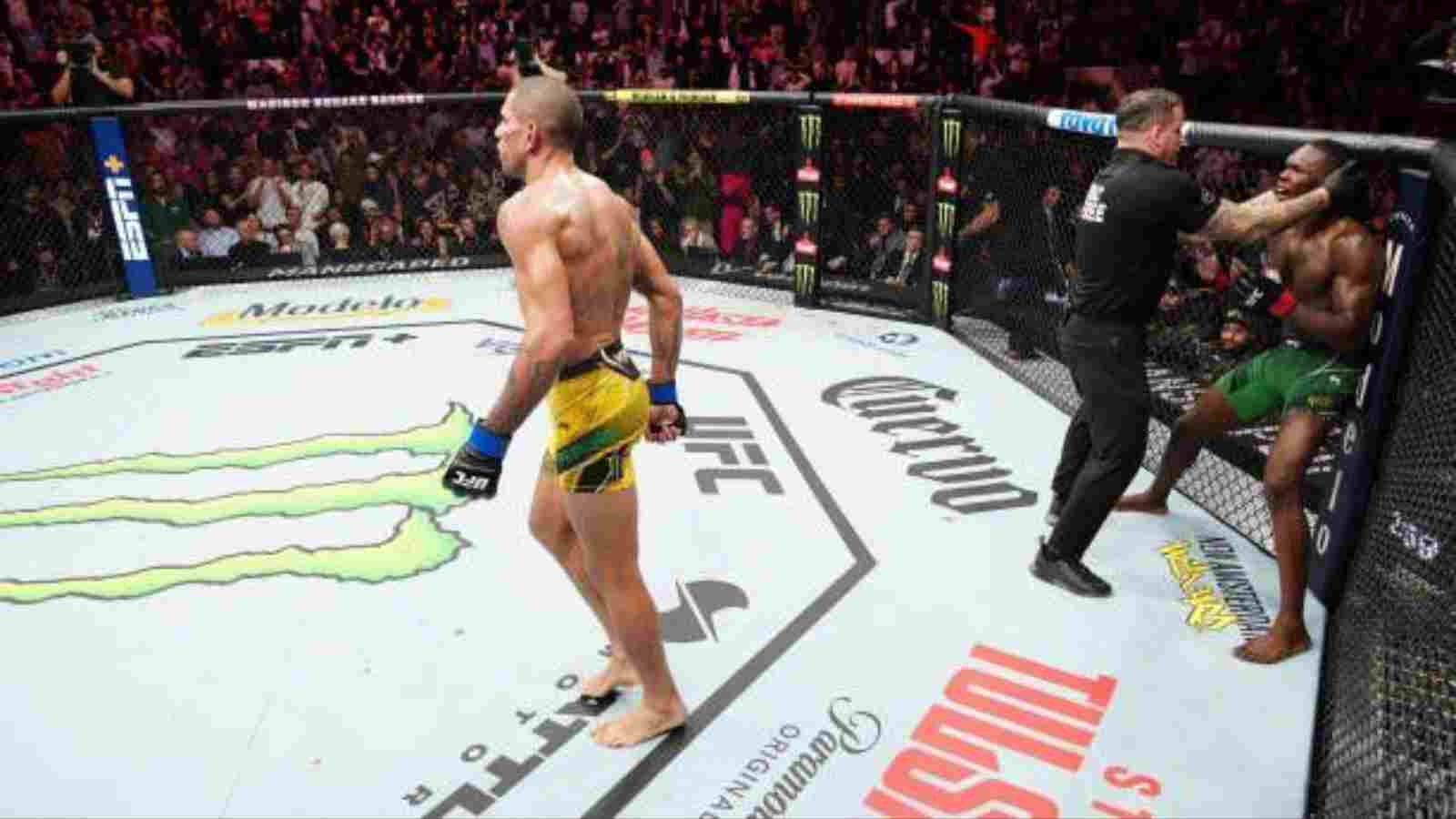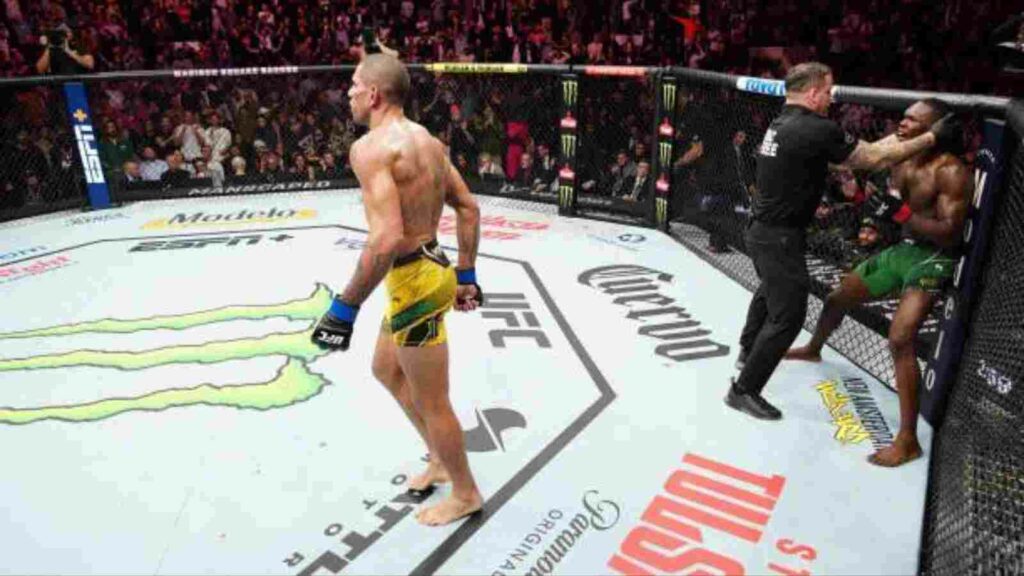 Ready to fight in Brazil @AlexPereiraUFC let's go champ 🤪🤝

— Khamzat Chimaev (@KChimaev) November 13, 2022
Just know

You will never be as big of a hater as Alex Pereira pic.twitter.com/s3boMFpsjm

— MannyBoom🍹🏄‍♂️ (@CutGuyMMA) November 13, 2022
.@stylebender #UFC281 no matter what happens Izzy's the F'N goat.

— zayn (@zaynmalik) November 13, 2022
Also read: "He got vaporized" – Fight fans devastated as Frankie Edgar gets brutally knocked out in farewell fight at UFC 281
Alex Pereira knocked Israel Adesanya out in kickboxing, and came back 5 years later just to do it again and take his UFC title 😭 bro is the biggest hater of all time.

— 𝐂𝐇𝐄𝐅 🚬 (@CHEF_MMA) November 13, 2022
ALEX PEREIRA LITERALLY JUST EXISTS TO MAKE ADESANYA'S LIFE A LIVING HELL 😭😭😭😭

— DMT (@Dmt__UTD) November 13, 2022
For what it's worth Alex Pereira had like a year of mma under his belt and he is going neck and neck with the second greatest middleweight of all time #UFC281

— Super Fan🇮🇪 (@McGregorRousey) November 13, 2022
3-0

This was like a movie, how it all happened. Alex Pereira is truly a special fighter. #UFC281

— Weasle (@ThaWeasle) November 13, 2022
Alex Pereira claims it in the fifth. Unbelievable. I could watch those two fight 10 more times.

— Brett Okamoto (@bokamotoESPN) November 13, 2022
Jon Jones to Israel Adesanya after getting beat by Alex Pereira : pic.twitter.com/bLcWaxIc1G

— Shannonnn sharpes Burner (PARODY Account) (@shannonsharpeee) November 13, 2022
Guys I don't think you realize how big of a hater Alex Pereira is he beat Izzy rematched him KO'd him DEAD then he FOLLOWED him to MMA and obliterated everyone in his way to a THIRD fight with Adesanya and waited until the VERY last minute to finish him HOLY SHIT

— DMT (@Dmt__UTD) November 13, 2022
Alex Pereira chased Izzy down from kick boxing to the UFC to come and take everything from him again pic.twitter.com/lL7REE3mws

— Weili's Load (@_MMAMindset) November 13, 2022
Also read: "Imagine if it was a double KO"- MMA Twitter erupts at a double knockdown between Michael Trizano and Choi Seung-Woo at UFC 281