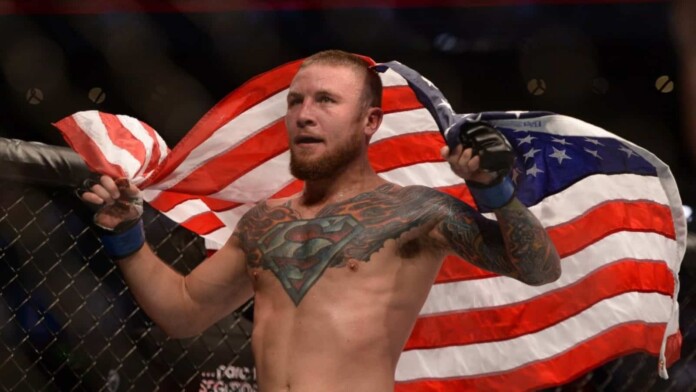 The UFC returned to allow fans for attending the pay per views and they are already having fully packed arenas since then. In the most recent outing, the promotion hosted UFC 262 at Toyota Center in Houston, Texas.
Even though the UFC's Featherweight fighter, Steven Peterson was born in Texas and he trains at Fortis MMA in Dallas, he doesn't intend to fight in any of the events which are going to be hosted in Texas anytime soon.
During an interview with MMA Island, Peterson revealed that he is boycotting the Texas Athletic Commission. He says, "I'll gladly attend and hopefully corner some of our guys, but I will not be fighting in Texas any time soon, I am boycotting the Texas commission."
He continued, "I have nine losses in my career, five of which I would highly contest, sit with you, watch the tape and argue with you how I won the fight. Those decisions were all lost in Texas."
The most recent incident happened in his fight against Alex Caceres on UFC on ESPN: Dos Anjos vs Edwards. Many of the MMA pundits scored this fight in favor of Steven Peterson but in the end, he lost it by a unanimous decision.
Talking about it he says, "I thought I won that fight, hands down, I'm not going to put myself in the line of fire if I don't have to, so I'll be sitting out any Texas shows, and hopefully something changes with the commission and we get things worked out over here,"
Steven Peterson will face Chase Hooper at UFC 263
While Steven Peterson is ready to take on the Texas commission, he is happy to fight as other locations until thing doesn't get on track in Texas. In his next fight, he will be facing Chase Hooper in the early prelims of UFC 263.
Peterson will be entering into this fight with a spinning back fist knockout against Martin Bravo that helped him win performance of the night against Hooper who is coming in this fight with a heel hook submission victory against Peter Barrett.
This fight will serve as a perfect starter to the big night of UFC 263.
Also Read: UFC 263 Full Fight Card: Two Biggest Rematches and return of the Baddest Welterweight fighter.