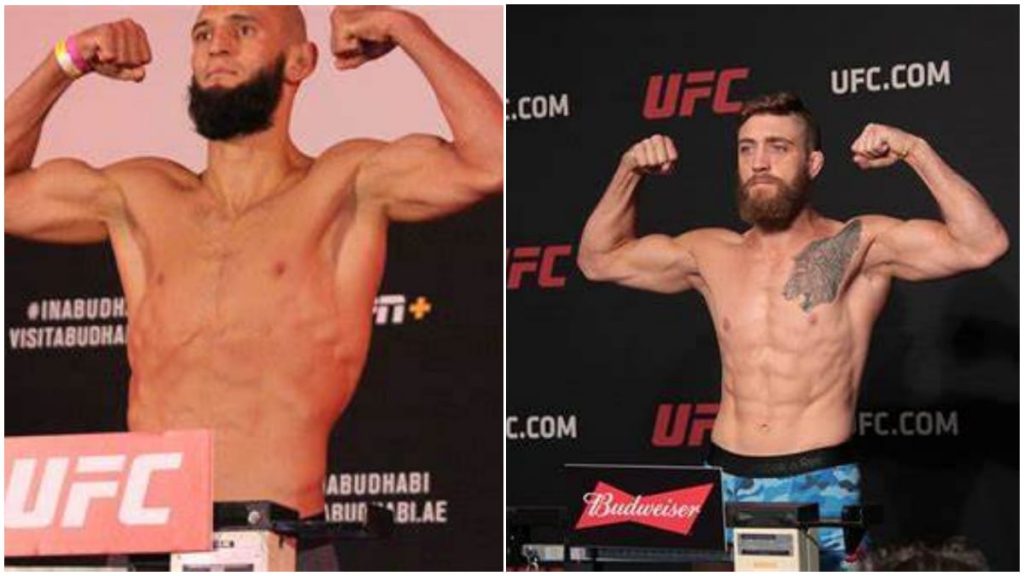 UFC's new and hot prospect Khamzat Chimaev fights against middleweight fighter Gerald Meerschaert. As it seems this fight will be not fought with respect for one another.
According to undefeated Russian, he ran into Meerschaert in the hotel's hall and decided to give him a piece of his mind. After hearing interviews with the Duke Roufus-trained fighter leading into their fight.
Chimaev revealed on UFC Vegas 11 media day that he did not like Meerschaert disrespecting him. He said, "He think I didn't like that, but I said to him you like to talk too much. He stated, 'Yeah,' I said I'm going to smash your face, chicken. He says nothing."
Suprisinigly Meerschaert had a different version of this incident. He said, "We passed each other in the hallway earlier today it was pretty quick. He tried; I think he was trying to talk trash to me. He just kept saying, 'don't talk too much' and I was kind of like 'OK, we're fighting Saturday, we're not going to do anything now' because I want to make money. I don't know what his deal is.
"Not only that, but I don't think it's a very cool thing to flex when you've got a bunch of your friends with you and stuff. Like I had one guy with me, he had a bunch of guys with him. Dude, I get it. You don't have to like me; I don't have to like you but let's just save it for the cage."
Khamzat Chimaev vs Gerald Meerschaert verbal banter
Chimaev made his promotional debut July 15 at UFC on ESPN 13, defeating John Phillips in dominant fashion. Ten days later, Chimaev picked up his second promotional victory, finishing Rhys McKee in the first round. He became the first fighter in the modern UFC era to win two fights in 10 days.
Meerschaert has alternated wins and losses over his most recent four fights. After submitting Trevin Giles in August 2019. Meerschaert returned two months later to lose a split decision against Eryk Anders. Thus far in 2020, Meerschaert has defeated Deron Winn by submission and lost to Ian Heinisch by TKO.
Meerschaert has already mentioned his dismay with UFC having booked Chimaev with another fight ahead of this against Demain Maia. Although the latter doesn't understand the reason to be upset. Speaking on it he said, "I am better everywhere. I have better wrestling and better grappling. Have better striking. How's he going to stop me? He said my jiu-jitsu but eight fights, eight finishes. But these guys were not jokes that I'm fighting, these guys are real fighters. I finished the guys. Who is this guy to stop me? I'm going to smash his face also." 
Watch the full video here
Also Read: Thiago Santos tests positive for COVID-19, fight on October 3 cancelled