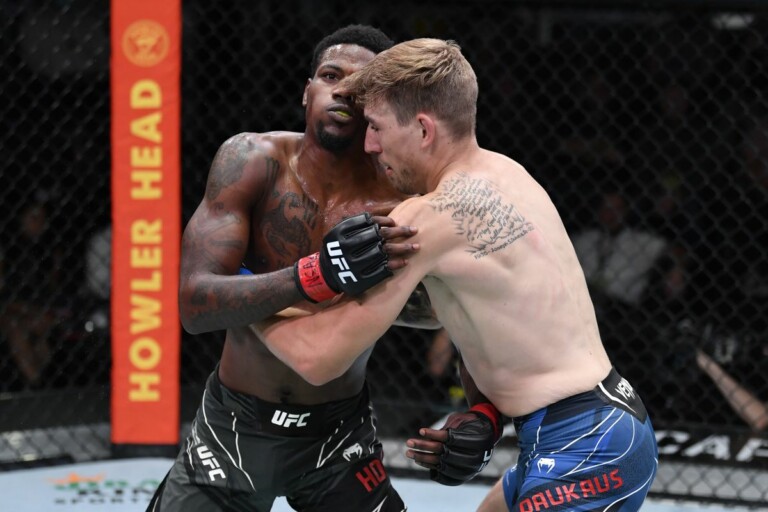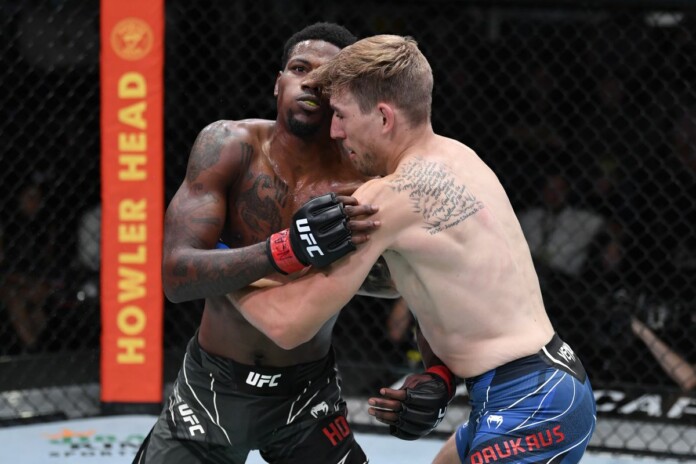 Kevin Holland is not the type of fighter that would hope his fight gets ended in a 'No Contest'. Unfortunately, his middleweight contest against Kyle Daukaus at UFC Vegas 38 was called an NC after Daukaus accidentally headbutted the Trailblazer in the process to take him down.
UFC Vegas 38 took place at the UFC Apex, Las Vegas. Kevin Holland was choked out in the very first round by Daukaus but the fight had to be called a 'No Contest' as the referees noticed Daukaus dropping his opponent with a headbutt. After the fight, Holland spoke to the media and gave his thoughts about it. Kevin is not happy with the result and is embarrassed that the fight ended this way.
Holland said, "I never thought about a No Contest. I am not that kind of a person. If this was a street fight, he'd had got the job done. Kung Fu first, defend yourself at all times, I didn't defend myself from the headbutt, that's my fault."
Kevin Holland gives props to his opponent Kyle Daukaus
Holland believes Daukaus has nothing to be ashamed of. The fighter gave props to Kyle for having submitted him. "I mean props to Kyle," said Holland. Kevin does not like to give excuses for his Ls and this one is an L for him the fighter believes. Holland wants a rematch against Kyle and from Holland's interview, it seems like the two already spoke about that backstage after the fight.
Holland is determined to run it back with Daukaus and doesn't mind if he has to do it the day itself. Sadly, Daukaus has revealed that a rematch is not ruled out but if something else pops up, Kyle is sure to take the better fight. Holland is coming off two straight losses and is yet to win in the year 2021. Do you think the rematch might happen?
Also read: UFC Vegas 38: Daniel Cormier, Belal Muhammad, Marlon Vera, and others react to Kevin Holland vs Kyle Daukaus no contest