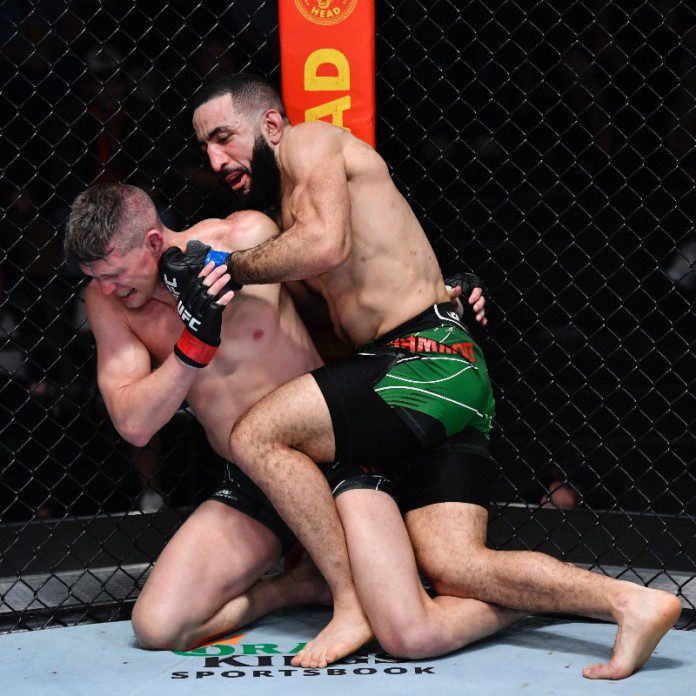 One of the most anticipated contests for tonight was the welterweight scrap between Belal Muhammad (19-3 MMA, 10-3 UFC) and Stephen Thompson (16-5-1 MMA, 11-5-1 UFC). These two are some of the best strikers in the entire UFC, and fans had really high hopes from this one.
Wonderboy was coming off from a loss against Gilbert Burns, and he wanted to create a highlight KO to get back in the win column. Belal was coming off from an impressive victory over another veteran, Demian Maia. He is in pursuit of a title shot, and this fight was very important for his career.
Round 1 – Wonderboy and Belal got to the center of the cage, Wonderboy attempted a sidekick that missed, Belal started walking Thompson down and got caught with a kick up top. Belal attempted a takedown but Wonderboy got up, Belal got him down again and started teeing on of him with a barrage of punches. Stephen fired back, and got back to the feet, Belal stayed relentless in his pursuit, and got in a dominant position towards the end, he got to his back and kept on landing ground and pound strikes until the round ended.
Round 2 – Muhammad got right back to the work, but Stephen is now the one moving forward, he landed a couple of punches before getting taken down again, Belal secured the half-guard and went for a Kimura. Stephen defended well and denied the kimura. Muhammad stayed on top and finished the round strong with a barrage of ground and pound strikes.
Belal Muhammad took a page out of Gilbert Burns' page and got the victory over Stephen Thompson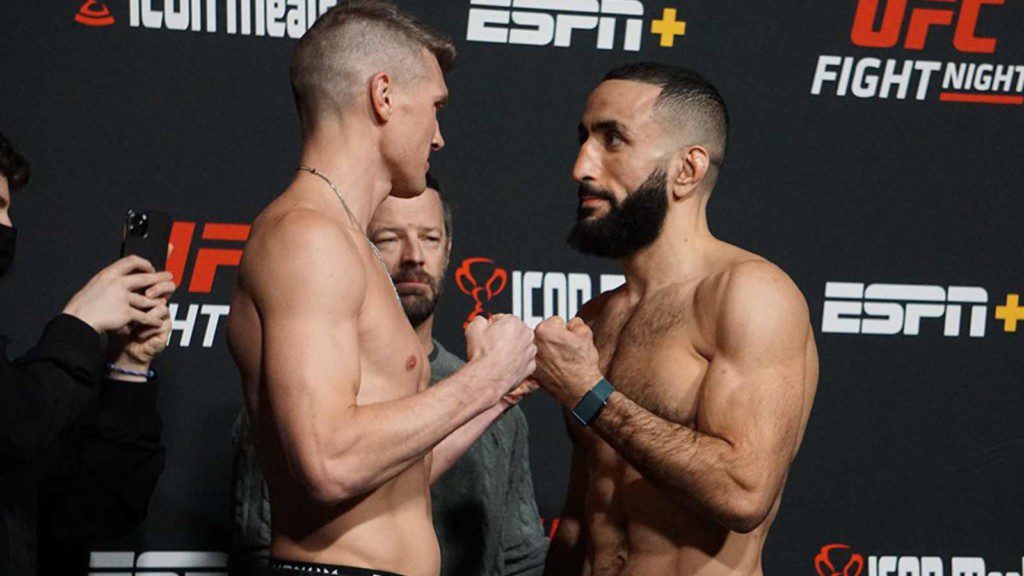 Round 3 – Belal got right back to work and secured a takedown against the fence, he got Stephen right where he wanted and started landing punches. Stephen got back up, and attempted a guillotine choke, and reversed the takedown, Belal got free and secured another takedown right in the center of the octagon, and finished the round on top to get the win at UFC Vegas 45.
Also read – WATCH: 'Vintage' Cub Swanson knocks out the immensely durable Darren Elkins inside round one at Fight Night 199