UFC Vegas 53 features one of the most interesting bantamweight matchups between Rob Font and Marlon Vera in the main event.
UFC Vegas 53 takes place at the UFC Apex in Las Vegas, Nevada. The fight night is headlined by the very crucial bantamweight fight between Rob Font and Marlon Vera. In the main event, both the bantamweight are looking to climb the rankings to get closer to a title shot in what is a very packed division.
Font has not made weight for this fight as he weighs 3 pounds more than the weight limit. Rob has a record of 19-5-0 in his professional MMA career and is coming off a loss against Jose Aldo in 2021 which ended his four-fight win streak. Rob will be looking to get back on his winning streak as fan-favorite veteran Marlon Vera will be looking to stop him.
Vera is fighting for the first time in 2022 and is coming off a two-fight win streak. A win tonight could see the veteran move up the rankings. This fight at UFC on ESPN 35 is a match made in heaven for the bantamweight division.
Rob Font outclassed by Marlon Vera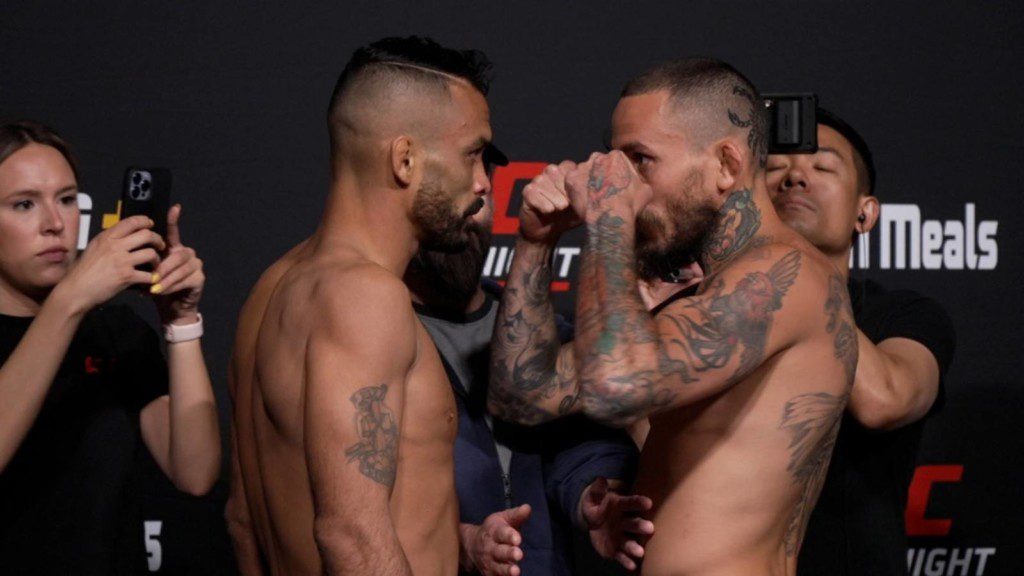 Round 1 Both the fighters touch gloves. A kick for Vera to start the fight as the crowd cheers for the veteran. A low kick for Vera as Rob responds with a right hand. Huge body kick for Vera. Font working the jab as he lands one-twos. An amazing elbow from Font followed by consecutive uppercuts. Good jab from Vera. Tremendous striking from Font.
Round 2 Huge blow from Font as he catches Vera's kick. But Chito with a spinning body kick that lands perfectly on Font. Rob has great success with his jabs. Heavy body kick from Marlon Vera. While Font sees success with his hands, Vera looking to get the better of him with kicks. Vera rocks Rob with a hook and pours punches on him. Font saved by the bell.
Round 3 Rob shoots for the takedown but Vera defends it very well. Great back and forth this round from both the fighters. Marlon keeps attacking the lead leg of Font. Chito's jabs get through Font's guard. Great jabs from Rob. Great knee to the body from Vera. Font with tremendous output from his jabs. Great knee from Chito and Rob goes down once again. The #5 contender is once again saved by the bell.
Round 4 Rob once again working the jab but Chito looks like he's not tired. A great jab from Chito. Amazing connection from Rob Font. Chito still looking for the right time to go big with his hands. Chito with a high kick and Font is dropped once again. Rob is let to stand back up after a lack of engagement on the ground.
Round 5 Font still looking to show that he is still in the fight. Vera looks really swift with his movement. A snappy jab from Vera. Chito Vera with sneaky short clips that are putting Rob on the back foot. An up-kick for Chito to the face of Font. A quick jab from Vera as Font looks to continue his jabs. Another huge swing from Font but Chito does not look to be fazed. Another headkick from Font that hurts me once again. WHAT A FIGHT
Results: Chito Vera def. Rob Font via unanimous decision
Also read UFC Vegas 53: Joanderson Brito stuns Andre Fili with a first round knockout