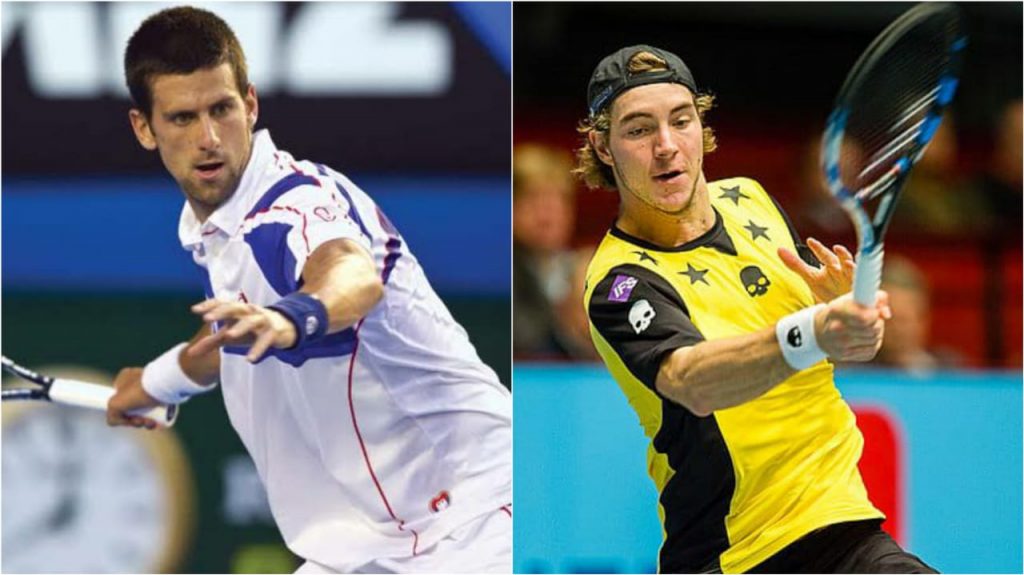 SUMMARY
Novak Djokovic is on unbelievable route of success. This is a significant win over Jan Lennard Struff for Djokovic. Undoubtedly Novak looked effortless and have defeated Struff by 6-3, 6-3 and 6-1. Jan Struff had a few moments in the match but the invincible Joker steal the show and now he has advanced ahead in the tournament.
Not to forget the undefeated streak of Novak which has reached to 26-0 in this 2020. It looks nearly impossible to bring this man under any sort of pressure on the tennis court. Djokovic is surely looking the firm favourite to lift the US open 2020 title this year.
US Open 2020 Live Updates: Novak Djokovic beats Jan-Lennard Struff
6:28 IST: Simply the best Novak Djokovic. Another day another victory. Struff played well but knocked out of the tournament now.
6:24 IST: Djokovic is leading 5 games to 1 and he is serving for the match now.
6:19 IST: The best you can do against Djokovic is to appreciate him and nothing else . 4-1 now the lead for Djokovic.
6:16 IST: Djokovic breaks and lead by 3 games to 1 now.
6:12 IST: Djokovic 2-1 Struff. Struff giving it the all he have but Novak too good of a opponent.
6:08 IST: You just cant describe the skills of @Nole by words. What a net point won by him. Outstanding movement, brilliant relaxes and great head position as well.
6:05 IST: Struff frustrated as he could not make a break and wastes 2 break points. Djokovic wins the first game of third set.
6:02 IST: 2nd break point of the match for Struff and he misses the opportunity to convert it. Deuce.
5:57 IST: Djokovic takes the 2nd set by 6-3 to his name. He looks in red hot form. Breaks Struff twice in this set.
5:56 IST: Unbelievable return. Just Novak Djokovic's things.
5:54 IST: A backhand winner for Joker to take the score now to 5-3.
5:51 IST: Djokovic 4-3 Struff. The 28th seed is serving well but needs to break if he wants to comeback in this match.
5:48 IST: Ace to seal the game and lead the set by 4-2 by Djokovic.
5:46 IST: What a brilliant rally. Good athleticism by Struff.
5:44 IST: Struff not looking to let this game go away from him that easily. 3-2.
5:42 IST: Djokovic leading 3 games to 1.
5:37 IST: Struff wins his first game of the 2nd set. 2-1 Struff trailing.
5:35 IST: 2-0 for Djokovic as he holds his serve quite comprehensively.
5:32 IST: Djokovic turning the heat on here. He breaks in the very first game in the second set and leads by 1-0.
5:29 IST: Couple of break points saved by Struff.
5:23 IST: Djokovic serves with complete focus to take the first set 6-3. Struff started pretty well but how long can he show resistance was the question! It looks like Struff had only that bit of determination.
5:21 IST: What a time to break the serve. Struff misses the forehand return and trails by 5-3.
5:16 IST: Nothing could have done with those two huge serves. Djokovic hold and leads the score now by 4-3.
5:15 IST: Djokovic is using the drop shot to great effect this season. But Struff is not holding back. The game goes into deuce again. Djokovic ready to serve.
5:12 IST: Excellent on the volly here Struff. He takes the game and scores are level at 3-3 all.
5:10 IST: Again a long rally and Djokovic earns another break point.
5:09 IST: The big lad his serving also big here. Struff saves the break point and its deuce.
5:08 IST: Breat point for Djokovic.
5:06 IST: Struff just can't on the baseline. He needs to make the move. Djokovic is getting better of the longer rallies.
5:03 IST: Djokovic 3-2 Struff. Both men have got their tempo rights with their serve.
5:01 IST: Struff is not looking like the same guy whom we saw struggling against Djokovic in the Cincinnati open. He is looking ultra aggressive .
5:01 IST: Struff squares off 2-2 with Djokovic.
4:57 IST: Novak leads by 2-1 as he holds his serve with ease this time.
4:55 IST: 1-1 all. Both men looking good but Struff is looking turned on here from the word go.
4:53 IST: Struff showing some real aggression here. A powerful over head smash from him to take 30-0 lead.
4:52 IST: 1st game goes to Djokovic. Some good shots from Struff though. He needs to be accurate while his serve.
4:48 IST: Break point for Struff. A successful challenge from the seed 1 saves the break point though.
4:46 IST: From the very begging its obvious that Struff needs to work exceptionally well in this game to compete against Djokovic.
4:45 IST: Djokovic and Struff have made it to the center of the Court and they are ready to begin here.
Welcome to the live updates of 2020 US Open match between Novak Djokovic and Jan-Lennard Struff.
PREVIEW: N. Djokovic vs J. Struff
We are in the 3rd round of US Open 2020 where Novak Djokovic is going to play against Jan-Lennard Struff. The world number 1 is in sublime form and looking in great shape to conquer another grand slam title. Djokovic has knocked out Kyle Edmund in the previous round. He is on a 25-0 streak of victory this season.
On the other hand J. Struff for only second time of his career has reached the third round of US Open title. The 28th seed have had couple of comprehensive wins against Pedro Martinez and Michael Mmoh in straight sets. Conversely Struff would not have forgotten the defeat in straight sets by 6-3 and 6-1 against Djokovic in Cincinnati open recently.