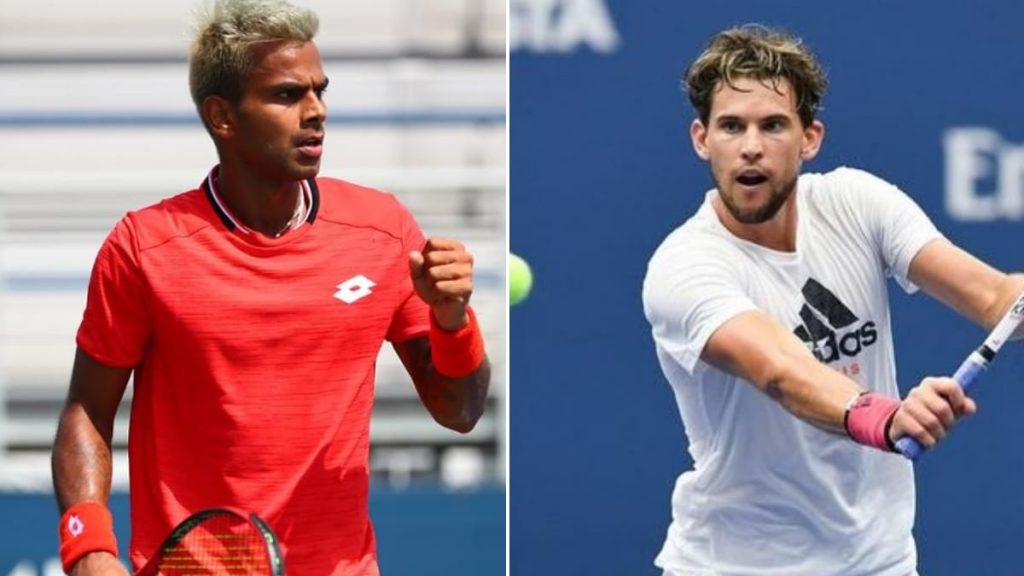 US Open 2020 Live Updates: Dominic Thiem vs Sumit Nagal
MATCH SUMMARY:
Thiem wins the match 6-3, 6-3, 6-2. He will now face the former US Open Champion M.Cilic. With a total number of 7 aces and 7 break points won, Dominic was too much for Sumit Nagal to handle. In the 3rd round Thiem won't have a cakewalk like this one as he takes on the Croatian M.Cilic.
01:24 IST: 6 – 2 GAME, SET & MATCH for Dominic Thiem who couldn't have asked for a better gift on his birthday than a dominating win in the 2nd round of the US Open 2020. Thiem is set to face cilic in the 3rd round of the US Open after a stright set win against Nagal in the 2nd round.
01:22 IST: The game keeps on continuing as Nagal keeps on fighting to stay alive
01:14 IST: 5 – 2 The Austrian is just one game away from a dominating win against the Indian in the second round of the U.S. Open
01:12 IST: 4 – 2 Nagal who won a set last year against Federer is not going to win one against Thiem as the scoreline suggests. But he can if he plays the remaining games of the set like he played this one
01:08 IST: 4 – 1 The Austrian who is currently ranked number 3rd in the world has won his 4th game in the 3rd set. He seems unstoppable at the moment
01:05 IST: 3 – 1 Nagal finally has won his 1st game of the 3rd set which seems to be the last of the match
00:59 IST: Dominic Thiem is in all smiles as he seems to enjoy his 2nd round match against the Indian
00:56 IST: 3 – 0 Dominic Thiem is just 3 games away from securing his spot in the 3rd round of US OPEN 2020
00:53 IST: 2 – 0 BREAK POINT WON by Dominic Thiem. Thiem seems to cruise his way into the 3rd round
00:50 IST: SET 2 SUMMARY – Sumit's first serve has let him down today against Thiem.A double fault to go down 0-40 in the last game of the 2nd set is not what he would have wanted. Nagal has playedso well to fight back but has let himself down with his serve and a few unforced errors. Thiem takes the second set 6-3.
00:44 IST: 1 – 0 The 23 year old from India has no answers right now for Thiem's brilliance
00:42 IST: 6 – 3 DOMINC THIEM wins the game in style and has captured the second set in similar fashion
00:38 IST: 5 -3 Sumit Nagal stays alive in the 2nd set as he wins the 3rd break piont of the game. He would like to repeat it in the upcoming games
00:35 IST: Dominic Thiem is serving for the 2nd set. He would like to finish the game in straight sets.
00:33 IST: 5 – 2 Both players hold serve without much sweat. Nagal has been broken at the outset in both the sets so far and that is what has hamstrung him so far today
00:30 IST: 4 – 2 Sumit Nagal should somehow find a way to break the next serve of Thiem to find his way back into the 2nd set.
00:25 IST: 3 – 2 Incredible play from the Indian this game. He seems to be finding his form back
00:23 IST: 3 – 1 Sumit Nagal is finding it so hard to return Thiem's serves
00:19 IST: 2 – 1 Nagal somehow finds a way to win a game in the second set
00:16 IST: 2 – 0 Thiem takes the second game comfortably
00:14 IST: 1 – 0 Thiem looks in a stellar form as he eases pst his opponent in the first game of the second set
00:11 IST: SET 1 SUMMARY – Sumit Nagal did put up a good fight against the 3rd seeded Dominc Thiem but his unforced errors cost him the set
00:09 IST: 6 – 3 The birthday boy from Austria wins the first set in a dominating fashion
00:07 IST: SET POINT for Dominic Thiem. The Austrian is just one point away from capturing the 1st set
00:07 IST: Sumit Nagal seems so rusty with lots of unforced errors which clearly indicates his inexperience at big tournamnets
00:05 IST: 5-4 Dominic Thiem breaks Sumit Nagal's serve again
00:03 IST: Sumit Nagal recovers after giving 2 break points to Thiem
23:58 IST: 4-3 Good hold from Thiem to win the game
23:54 IST: 3-3 Sumit Nagal serves and wins the game
23:51 IST: 2-3 Sumit Nagal makes it up for the 1st game
23:50 IST: 4th Break point for Sumit Nagal
23:45 IST: Thiem recovers with an Ace but only to give Sumit Nagal his 2nd break point
23:44 IST: Break Point for Sumit Nagal
23:39 IST: 3-1 for Nagal who wins his first game of the match
23:36 IST: 3- 0 Thiem wins the game with an ACE , Sumit Nagal looks rusty so far
23:33 IST: 2 – 0 for the Austrian , as he takes advantage over the double fault from Nagal
23:28 IST: 1 – 0 for Dominc Thiem as he wins the game 40-15
Welcome to the live coverage of US Open 2020 match between Dominic Thiem and Sumit Nagal.
Preview: Dominic Thiem vs Sumit Nagal
Thiem's US Open campaign got off to a winning start after his first-round opponent Jaume Munar retired due to injury with the Austrian 7-6, 6-3 up. The Austrian now takes on World No. 24 Sumit Nagal, who is in some solid form. Nagal defeated Bradley Klahn 6-1, 6-3, 3-6, 6-1, which made him the first Indian player to win a men's singles match at the US Open in seven years.
During the lockdown period as Sumit Nagal trained at his academy in Germany. This is Nagal's second appearance in the main draw of the US Open, after his first-round defeat to Roger Federer at US Open 2019.