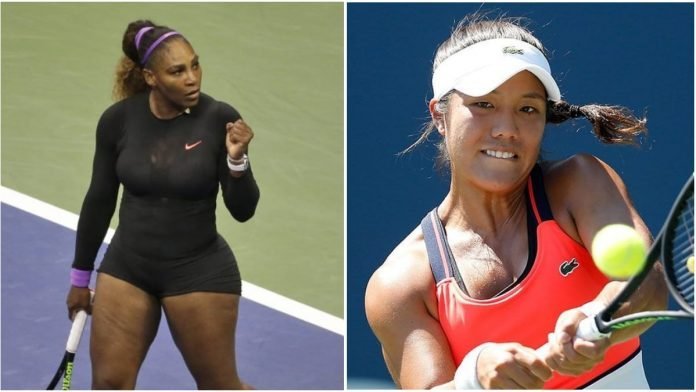 Serena Williams starts her proceedings well in the US open 2020.She beats Kristie Ahn in straight sets by 7-5 and 6-3. Ahn imposed some challenges against Williams in the first set. But Serena was upto the task and she dominated most part of the match with her big serves. Serena was on fire today with 13 serves.
The 38 years of age Serena has now become the woman with most US open victories (102). She also has presented a beautiful birthday gift to her daughter who turns 3 today. The comprehensive victory has taken her to next round where she will lock horns against M. Gasparyan.
4:18 IST: Brilliant start from Williams. She wins the second set comfortably 6-3. Final scores 7-5 and 6-3.
4:15 IST: Ahn stays in the match. 5-3 Williams leading. Serena is looking to hit the ball a little to hard today which has caused her a few extra games here.
4:10 IST: Williams is backing her power game here as her agility is not the same now. She is gasping for breath but still managing to win games.
4:10 IST: Impressive from Serena as she leads 5-2 now.
4:07 IST: One of the slowest ace in the history of US open 2020 at 87 MPH to win a solo point in her service set for Ahn. Serena 4-2 Ahn.
4:03 IST: Serena 3-2 Ahn. Is it the first set recap or what!
4:00 IST: Serena breaks back. 2-2 all. Thanks to lots of unforced errors from Ahn to give away the game to Serena after a 40-0 lead.
3:54 IST: Strong power game on display from Serena. Wins her 1st game of the second set. Ahn 2-1 Williams.
3:51 IST: Ahn holds and its 2-0 now. If Ahn really wants to make an impact here than she needs to take the game in longer rallies.
3:47 IST: Exactly similar start to the 2nd set as Ahn breaks and lead 1-0 like the first set.
3:41 IST: Williams wins the first set 7-5. Kristie Ahn looked good but not good enough against Williams. The American veteran is making life of the younger American fellow difficult with her aces. Ahn needs to stop herself from committing to many unforced errors.
3:40 IST: Couple of set points for Williams.
3:38 IST: If Ahn holds, we will head towards a tie-breaker than.
3:36 IST: Couple of huge serves to make 6-5 by Serena. Ahn did well to get a racquet on these serves.
3:35 IST: Ahn is looking to attack the body and the baseline.
3:34 IST: Kristie yells in joy as she holds on to her serve. 5-5 all.
3:32 IST: What a backhand return from Serena. 30-30 and Williams wants to finish this set here.
3:27 IST: Good skills shown by Ahn but all goes in vain as Serena holds and leads 5-4.
3:26 IST: Unplayable ace from Williams to deuce the game. Williams save the break point here.
3:24 IST: Couple of great forehand returns from Ahn. She is looking to break Serena again. Its 30-15.
3:22 IST: Ahn with a nice forehand holds on to his serve. 4-4 all.
3:18 IST: In a blink of a second, Williams finishes her service game. She leads 4-3 as Ahn looks clueless about the big serves.
3:16 IST: Ahn holds on to a tricky game. 3-3 all. Serena looking ultra-aggrrssive as she stands well inside the baseline to receive.
3:12 IST: Outstanding backhand on the line by Ahn. 15-15 Ahn is on serve.
3:09 IST: Williams wins 3 games in a row now to make it 3-2 . Some beautiful aces on display from the seed no. 3.
3:08 IST: Williams struggling with her second serves. 30-30 in the 5th game.
3:06 IST: Williams find her rythm back as she breaks and sqaures it off with Ahn. 2-2 all.
3:01 IST: Serena back on track with her service. Still trailing though 2-1.
2:59 IST: Ahn wins her service game quite comfortably. Williams trailing 2-0.
2:54 IST: Ahn looking good. Its a good positive start from her. Some good reflexes. She has straight away made the break against Williams. Ahn 1-0 Williams.
2:47 IST: Serena and Ahn on the Arthur Ashe court. The American duo looks ready to start off the proceedings here.
Welcome to the live updates of 2020 US open match between Serena Williams and Kristie Ahn.
Preview: Serena Williams vs Kristie Ahn
3rd-seed Serena Williams will vie for her record-equaling 24th Major when she begins her campaign against Kristie Ahn in the first round at the US Open 2020 in an all-American affair.
Talking about the performance this year, Serena Williams has had a mediocre season so far according to the standards set by her. The 38-year old shockingly lost to Qiang Wang 4-6, 7-6, 5-7 in a Round of 32 match at the Australian Open. The long break due to the pandemic has not stopped her string of losses in 2020.
The American icon suffered defeat at the hands of Maria Sakkari in pre-quarters in three sets 7-5, 6-7, 1-6 at the Western and Southern Open, which concluded last week only. All in all, the World No.9 has just one title to her name in 2020.
On the other hand, Kristie Ahn was 24th-seeded at the Cincinnati Open and won her first-round match before going down in the next round to Leylah Fernandez in straight sets 4-6, 1-6. The 28-year old bowed out in the Round of 128 itself in Melbourne. Currently, Kristie Ahn is World No.96 and according to her ranking, we can say that she has had an average season so far.