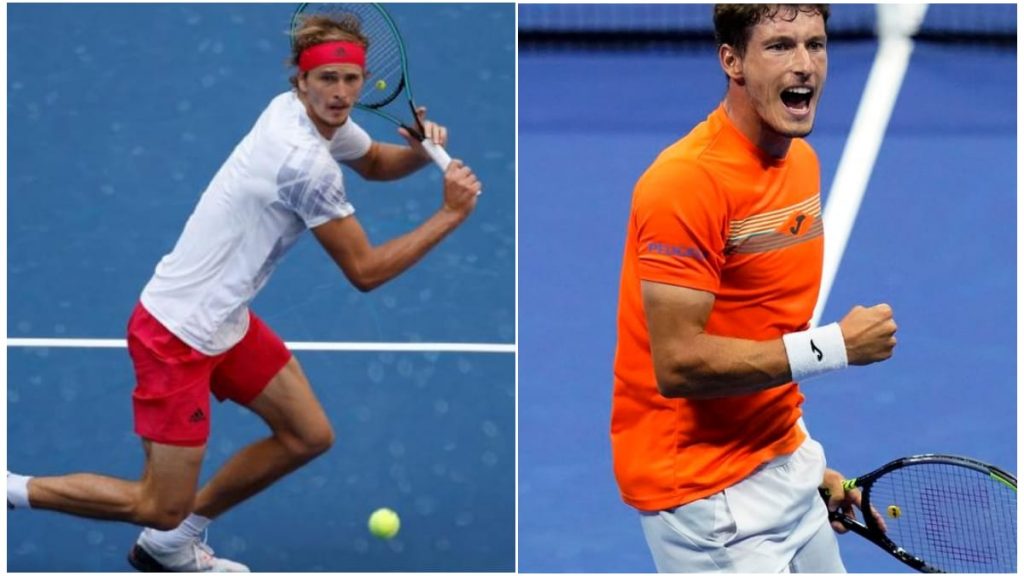 Summary :
One peach of a match finally comes to an end. Zverev has made an epic comeback in the semifinals after being put down by 2 sets to none. Zverev defeats Carreno Busta in a crunch match by 3-6, 2-6, 6-3, 6-4 and 6-3. Both the players were lacking confidence though with their serves. Busta struggled with a nigle in the later part of the match as well.
Zverev has made into US open 2020 finals but he will be against a tougher opponent. Zverev needs to back himself up and play more aggressively and with a lot more confidence. Then he has got a chance to make a mark in the finals.
US Open 2020 Men's Semifinals Live: Alexander Zverev beats Pablo Carreño Busta, catch all LIVE Updates here
5:10 IST: Zverev makes his way to the finals of US open 2020.
5:06 IST: 1 game away Zverev from the finals now as he leads 5 games to 3.
5:02 IST: Busta continues to stick around in this set. Zverev 4-3 Busta.
4:59 IST: Zverev displaying his power here as he leads 4-2 now. What a turnaround in this match.
4:55 IST: Good service games from both the players. 3-2 Zverev is leading.
4:53 IST: Zverev leads 3 games to 1 as he is looking in supreme touch with his aces.
4:51 IST: Zverev has got the much needed nod ahead of Busta in the final set. Its 2-1 as Busta gets on board.
4:44 IST: Zverev looks in complete control as he leads by 2 games to 0 now in the decider.
4:40 IST: Busta is in lion's den now. Zverev at his very best. He breaks and lead by 1-0.
4:36 IST: Zverev seals the set with an ace. Its all even now. We are in to the 5th set which I told you in the 1st set.
4:27 IST: 3 set points saved by Busta. Signs of aggression from both players. Bit of words exchanged as well because Busta unintentionally hits Zverev. 5-4 Zverev leading.
4:22 IST: Zverev is dominating now. He is leading by 5-3. Get ready for the 5th side.
4:20 IST: Zverev breaks and leads by 4-3.
4:14 IST: Incredible rally in this game. Zverev executes an unusual shot between his legs . 3-3 all.
4:10 IST: Busta screams loudly as he holds. Every game counts now. 3-2 Zverev is behind.
4:05 IST: Busta breaks back. Its 2-2- all now. Everyone be on the edge of your seats. This situation is getting a bit tense now.
4:01 IST: Early break for Zverev in the 4th set. He leads 2-1 now.
3:56 IST: Zverev is looking quite descent with his serves now. 1-1 all.
3:54 IST: Busta holds somehow in a tight game. 1-0 Zverev trails.
3:46 IST: There we go now! That's how you serve for the set. Zverev in style takes the third set to his name 6-3.
3:44 IST: 5-3 and Zverev is ready to serve for the set.
3:41 IST: Zverev holds pretty nicely this time. Its 5-3 and Zverev looks good to take this set.
3:39 IST: Both men unable to hold there serves. Alexander breaks again and leads 4-2.
3:32 IST: Busta doesn't really letting Zverev to comeback in this match. He breaks back. 3-2 Zverev leading.
3:29 IST: Here is a momentum shift for sure. Zverev breaks and now leads by 3 games to 1.
3:23 IST: Zverev is now looking to get his rhythm back in this match. 2-1 Zverev is leading.
3:20 IST: Busta know that he needs to stay up in his toes. He holds and doesn't lets Zverev make any move to comeback in this match.
3:18 IST: Thats more like it from Zverev. He is 1-0 up in the third set.
3:14 IST: Zverev needs to find back a way that brings him back in this match. Otherwise Pablo might be the 1st finalist of US open 2020.
3:13 IST: 6-2 and second set also goes to Busta. He looks in complete control today.
3:07 IST: Zverev getting his rhythm right here. Now the score is 5-2 Busta leading.
3:06 IST : Finally Zverev gets on the board here. He is trailing 5 games to 1.
3:00 IST: Busta makes it 5-0 now. Nothing is working for Zverev here. This never ending game finally came to an end in the 9th deuce.
2:57 IST: The cat and mouse chase in this deuce. Zverev with a brilliant volly. On the other hand couple of demolishing backhand return from the seed no. 20.
2:48 IST: Easy hold for Busta and he is leading 4-0 now. Zverev all over the place today.
2:44 IST: There is the double break for Busta. He leads 3 games to love now. Zverev not getting rid of the butterflies in his stomach. 5 double faults already for him in the match.
2:41 IST: 2-0 for Busta. No rhythm for Zverev at all.
2:37 IST: That is brilliant from Busta. He breaks straight away in the second set. Long game but the 2nd break point has been converted. Zverev is committing hell lot of unforced errors. Busta 1-0 Zverev.
2:27 IST: Busta takes the first set 6 games to 3. He is looking rock solid with his performance till now.
2:22 IST: Some sort of comeback from Zverev as he breaks once and now takes the this game as well. Its 5-3 with Busta ready to serve.
2:15 IST: Carreno Busta breaks Zverev twice and now will serve gor the set. 5-1 Busta leading.
2:10 IST: Zverev is looking nervous and not in his full flow. He is looking a bit shy to extend his arms and play freely. Busta 4-1 Zverev.
2:09 IST: Excellent rally and amazing cross-court drop shot from Zverev.
2:07 IST: Zverev not looking good. What a hell of a mistake was that to hive away the game. Busta breaks and is leading by 3-1 now.
2:06 IST: Another deuce. For sure we have got a marathon match on here.
2:01 IST: Busta escapes a tough game. Zverev missed the chance to break his serve here. 2-1 Zverev trails.
1:57 IST: Deuce. Zverev tactical in his moves. He is forcing longer rallys early on putting Busta under pressure.
1:52 IST: 1 game to all as Zverev has started to serve it big. He already hit 136 MPH in his serve.
1:50 IST: Super shot from Busta down the line and pretty strong that one. 0-15.
1:49 IST: Busta hold his serve to begin with. 1-0 the lead for him.
1:46 IST: Inches away from the start of semifinal number 1 here.
Welcome to the LIVE telecast of US Open 2020 Men's SemiFinals between Alexander Zverev and Pablo Carreño Busta, Get all US Open LIVE Updates here.
US Open 2020 Men's Semifinals Live: Alexander Zverev vs Pablo Carreño Busta, Preview
Viewers will be going to witness a tennis masterclass as Pablo Carreno Busta battles against fifth-seed Alexander Zverev in the semifinals of the US Open 2020. The match has all the more significance as the player who emerges victorious will reach his maiden final of any Major.
Talking about the road to semis, 20th-seed Busta, after winning his fourth-round match against Djokovic in a bizarre fashion, had the toughest match of the tournament in the quarters. The 29-year old Spaniard held his nerve before overcoming the challenge of Canadian Denis Shapovalov. It took five sets and more than four hours before the World No.27 won 3-6, 7-6, 7-6, 0-6, 6-3 in a five-set thriller.
Similarly, Alexander Zverev also had a difficult encounter in his last-eight match. The 23-year old German looked rusty in the opening set before finding his groove to outclass the Croat Borna Coric in four sets 1-6, 7-6, 7-6, 6-3. Like Carreno Busta, Zverev too won two tiebreakers en route to victory.