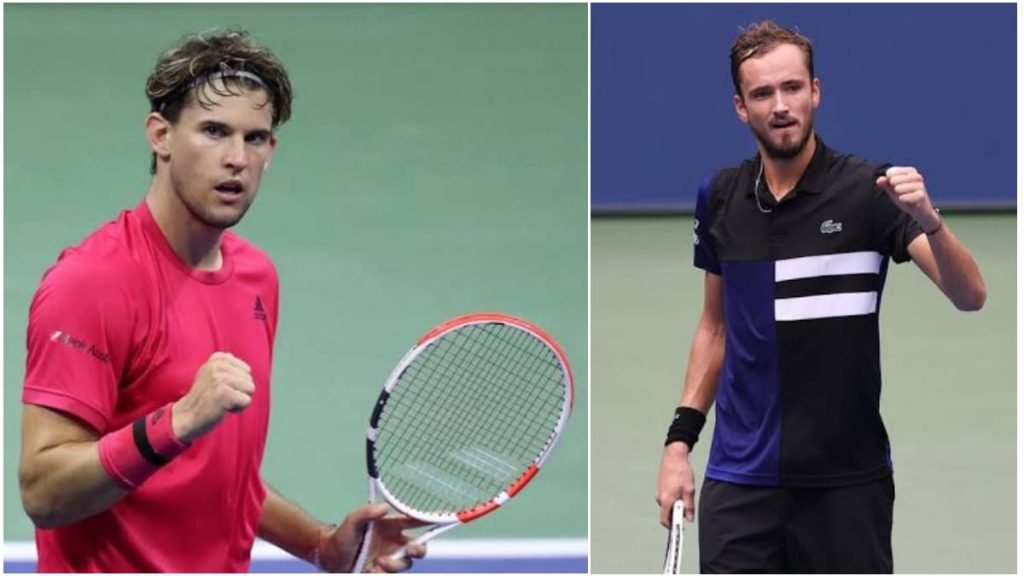 Summary:
Dominic Thiem has pulled a gem of a victory here. Daniil Medvedev who was yet to loose a set in this tournament has been knocked out in straight sets. Thiem beats Medvedev 2-6, 6-7 and 6-7. This win will sure boast Thiem's confidence in the finals.
Now a new US open champion will emerge. It will be Thiem or Zverev. Zverev has reached in the finals after he was put down by 2 sets. On the other hand Dominic Thiem has shown majestic form and dominance through out the tournament and also in the semis. Its will be interesting affair on Sunday between Dominic Thiem and Alexander Zverev.
US Open 2020 Men's Semifinals Live: Dominic Thiem beats Daniil Medvedev, LIVE Updates
8:30 IST: Dominic Thiem has done it. He has won the game in straight sets against Medvedev. He is our second finalist of US Open 2020.
8:27 IST: Medvedev is looking good. Can he pull this back now. Its 5-4 now.
8:23 IST: Shoulders have dropped for Medvedev. Not the right time for a double fault at all. 5-1 Thiem looking a favorite finalist here.
8:22 IST: Thiem 2-0 Medvedev. Good lead for Thiem.
8:20 IST: 6-6 all again. Tie-breaker will decide the fate of this match now.
8:18 IST: Medvedev holds and lead by 6 games to 5. But we are not away from another tie-breaker for sure.
8:15 IST: 5-5 all. Medvedev wants to push it to the next set but Thiem wants to finish it here.
8:13 IST: Sensational this from both the men. What a rally.
8:08 IST: What a moment to make the break. Dominic Thiem you beauty. Its 5-4 now Medvedev in lead.
8:05 IST: Medvedev leading 5 games to 3 and ready to serve for the set here.
8:00 IST: Medvedev leads by 5 games to 2.
7:58 IST: Its getting difficult for Thiem but he holds somehow. Medvedev 4-2 Thiem.
7:50 IST: Lots of frustration for Thiem as he misses an opportunity to break here. Not happy with the court or shoes or something. Thiem trails by 4-1.
7:44 IST: Thiem gets on the board and still trails by 3-1.
7:39 IST: Clean as a whistle this service game from Medvedev. He leads 3-0 now.
7:38 IST: Medvedev has made the break here in the 3rd set. Thiem should not repeat the mistake of Pablo here.
7:31 IST: Medvedev holds and lead by 1-0.
7:17 IST: Exceptional from Thiem. He takes the 2nd set as well.
7:14 IST: Neck to neck in the tie-breaker as well. 6-6 all.
7:07 IST: Medvedev literally intimidating the chair umpire here. 1-1 all in the tie-breaker.
7:05 IST: Medvedev holds and this set will be decided by a tie-breaker. 6-6 all.
7:03 IST: Deuce. Just what Medvedev didn't wanted. Indeed an opportunity for Thiem to seal 2nd set.
6:57 IST: Thiem gives it his all to take a lead of 6-5 in the second end. A never ending game came to end courtesy outstanding forehand from Thiem.
6:48 IST: Thiem breaks back and its 5-5 all now.
6:44 IST: Thiem not letting this go trails by 5-4.
6:39 IST: 5-3 Medvedev leading.
6:34 IST: Thiem is also serving nicely. 4-3 Thiem behind.
6:32 IST: 2 big serves from Medvedev to save this game and his lead of 4-2 now.
6:26 IST: Medvedev is looking good but here comes a hold from Thiem. Its 3-2 now.
6:23 IST: Medvedev leading 3 games to 1 against Thiem.
6:19 IST: Whooping backhand winner for Thiem. He gets on the board. 2-1 Thiem behind.
6:16 IST: Medvedev holds and makes it 2 games to love.
6:16 IST: This match is in complete contrast of what we saw a bit earlier. Then it was the smooth silky shots in play but here it is power vs power.
6:15 IST: Medvedev breaks pretty early in the second sets. He leads by 1-0.
6:08 IST: Thiem on fire as he takes the first set pretty comprehensively. Medvedev needs to focus on his game with a cool head.
6:04 IST: Medvedev looks a bit out of sorts. Thiem looking strong and leading by 5 games to 3.
6:02 IST: Thiem 4-2 Medvedev. Lots of drama as Medvedev crosses the court and also starts a banter with chair umpire not a friendly one at all.
5:54 IST: Thiem is leading 3 games to 2. The seed 2 and 3 are holding their serves beautifully till now.
5:52 IST: Medvedev hold on to his serve and saved a break point as well to make it 2 all.
5:45 IST: Spectacular ace from Thiem to hold his serve. 2-1 Thiem ahead.
5:42 IST: 1 game to all. Thiem is looking good as he pushed this game in to a deuce.
5:37 IST: Thiem takes the opening game and leads by 1-0.
Welcome to the LIVE telecast of US Open 2020 Men's SemiFinals between Dominic Thiem vs Daniil Medvedev, Get all US Open LIVE Updates here.
US Open 2020 Men's Semifinals Live: Dominic Thiem vs Daniil Medvedev, Preview
The US Open 2020 semi-finals between Dominic Thiem and Daniil Medvedev has the potential to become one of the greatest matches of all time. After World No.1 Novak Djokovic was defaulted from the tournament, Thiem and Medvedev were everyone's favourites. Unfortunately, both of them will be clashing in the semi-finals itself.
This is sure to be an epic clash with both players in supreme form. World No.3 Dominic Thiem has improved his performances, especially on hard-courts. Thiem had a smooth journey to his first US Open semifinal. He has improved his serve drastically and is willing to take more risks.
In 2019, the Medvedev had reached the finals of the US Open where he lost to Rafael Nadal in a match that went on to the 5th set. Medvedev has been phenomenal in this year's US Open. Medvedev's serve has been way better. He has been broken only thrice and he hasn't lost a set yet.
Thiem has looked increasingly dangerous especially in the last two rounds. He eased past Felix Auger-Aliassime in the fourth round with an awesome performance, registering a 7-6(4), 6-1, 6-1 win. The Austrian carried the same form against Alex de Minaur in the quarterfinal too. Dominic Thiem's straight-set victory 6-1, 6-2, 6-4 in that match should be a warning to Medvedev.
Medvedev seems to have carried his form from US Open 2019. Thiem should find a way to break his serves. Medvedev hasn't lost a set in this year's US Open. Medvedev's toughest match was against his countryman Andrey Rublev in the fourth round, where he went into a tie-break for the first time in the US Open 2020. But the 24-year-old emerged victorious, winning 7-6(6), 6-3, 7-6.