Bray Wyatt has been well-known for his enigmatic persona. The Fiend's gimmick gave most of Bray Wyatt's career recognition. The 35-year-old made his much anticipated return in October last year. However, he then disappeared from television due to his real-life injury. Wyatt has remained absent since then, showing no signs of returning.
While speaking on the Hall of Fame podcast, Booker T spoke about Wyatt's character and its flaws. The WWE veteran spoke on what he believes hinders Bray Wyatt's career. Wyatt is one of the most prominent stars in the WWE. Despite his much-hyped return last year, he failed to make a mark and live up to the hype. Booker T believes that some aspects of his character hold him back.
Speaking about it, Booker T said that Bray Wyatt was confined to his Firefly Funhouse and supernatural characters. He believes that one can only do limited things with that persona. The WWE veteran believes it's also necessary to give quality matches in the ring, which he feels Wyatt lacked. "This Firefly Funhouse thing and the magic, you can only take it so far," he said.
Booker T then praised The Undertaker and compared him with Bray Wyatt. He said that The Undertaker, despite having a supernatural character, delivered great performances in the ring. The NXT commentator feels that Wyatt should do something similar to his character. He believes this is one of the significant reasons behind the former WWE Champion's setback.
Bray Wyatt battled LA Knight at the Royal Rumble this year. WWE planned a feud between Wyatt and Bobby Lashley at this year's WrestleMania. However, the match didn't happen. There have also been reports that WWE hired a new writer for The Eater of Worlds. As a result, fans have been hoping to see him return with a fresh storyline on the roster.
Related: "Hope she gets a chance" – WWE legend Booker T longs to see a 'released star' back in WWE
John Cena comments on Bray Wyatt and his Firefly Funhouse match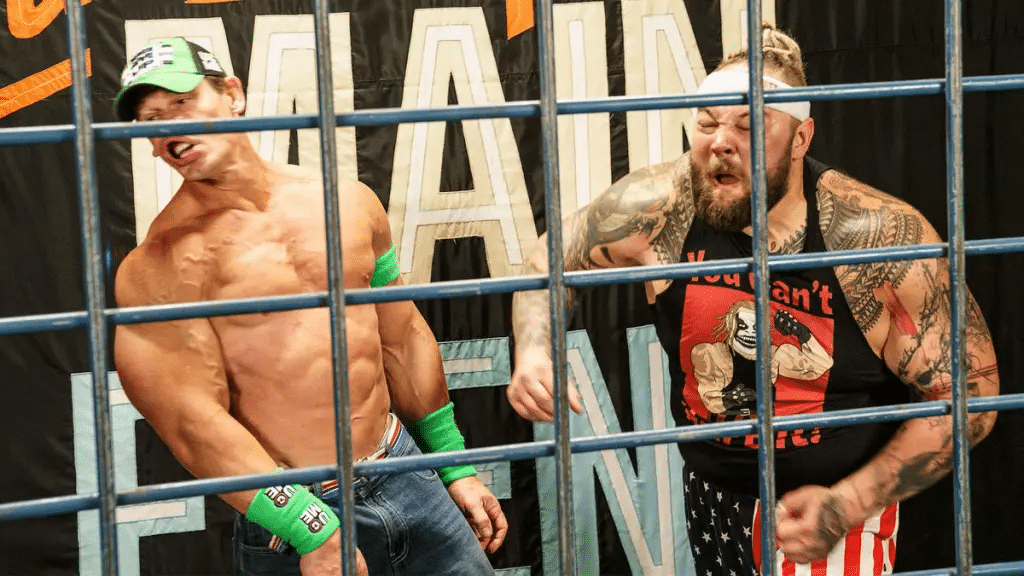 John Cena battled Bray Wyatt in a Firefly Funhouse Match at WrestleMania 36. The match was great in its cinematic nature, and the fans quite loved it. It was a match that grabbed eyeballs and has been a unique one. The 16-time champion revealed that he himself put forth the idea for this match.
During a recent podcast on "Happy Sad Confused," Cena stated, "I did a unique piece of programming called the Firefly Fun House match." He said that the idea for the match came straight from his brain. The Cenation leader expressed his satisfaction at being able to pull off such a match that defied the traditional matches.
John Cena then thanked everyone involved in creating what was indeed his brainchild. He indicated that it contained Easter eggs throughout and advised people to rewatch it. The Covid pandemic was making things weird. But this trick did it for him, and he's still glad that the whole thing worked out.
In case you missed it: