Conor McGregor is a Mixed Martial Arts icon who currently holds a record of 22-6 as his remarkable career stats. As of June 2021, Forbes has listed him as the highest paid athlete in the world with a net worth of $180 millions. The irishmen is the first ever to held the two UFC Championships in different categories simultaneously. He's currently ranked at 12 in the Lightweight category of the Ultimate Fighting Championship.
The MMA artist was once rumoured about possibly joining WWE when he announced his retirement from UFC in 2016 but that never happened after such heavy speculation. McGregor is a brutal force both inside and outside of that octagon as he once quoted an utterly disgraceful remark regarding WWE wrestlers.
During the press conference of his bout at UFC 202 against Nate Diaz, he was asked whether he would potentially join WWE someday. He replied giving not much a thought to it and calling the WWE Superstars as "pu***es".
"I haven't really thought about it. For the most part, those WWE guys are p***ies. They're messed up p***ies if you ask me."
ALSO READ : "Because we both had afros"- When Dwayne Johnson had joked about the reason for his relationship with Andre the Giant
Conor McGregor praised the Wrestlemania 35 main-event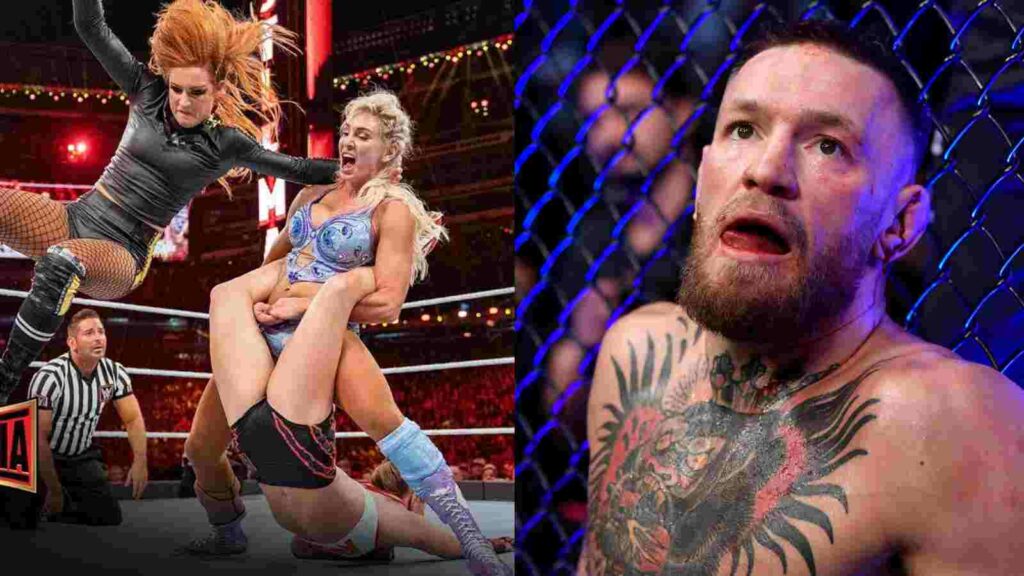 You don't see very often a UFC guy taking a moment to praise something related to professional wrestling but there are some countable instances when this happened. In 2019, WWE presented the first ever Wrestlemania which was main-evented by their women including Becky Lynch, Charlotte Flair and Ronda Rousey who fought in a grueling Triple-threat contest for both the Raw Women's Title held by Ronda Rousey and the Smackdown Women's Title which was under Charlotte Flair's wings. Becky Lynch outperformed their opponents and won both the titles earning herself the right to be called as "Becky 2 Belts".
Conor McGregor took to Twitter for congratulating these utterly talented women especially praising the brilliance of his fellow compatriot Becky Lynch for delivering an outstanding performance and capturing those championships. You can check out Conor McGregor's tweet below.
ALSO READ : "Let's write this FINAL CHAPTER"- Bianca Belair indicates that she wants to end her rivalry with Becky Lynch at SummerSlam
ALSO READ : "This should have been number one"- When Becky Lynch took a cheeky sneer at Stephanie McMahon when she called 2019 as The Man's year