Lacey Evans recently made her WWE return after having a break from the company due to her pregnancy. Just before disappearing from television she was involved in a romantic angle with 2-time WWE Hall of Famer Ric Flair and they were trying to shove off Charlotte Flair back in 2020 during the Thunderdome Era.
Lacey became the first women to qualify for the Women's Money in the Bank ladder match after she defeated Xia Li in a qualifying match on the June 10th edition of Friday Night Smackdown. Evans recently appeared on WWE's The Bump as a guest where she talked about how the Queen of Hart Dynasty and former Smackdown Women's Champion, Natalya carries herself as a women backstage stating that "she walks around like she's got a stick up her butt".
"I see the way she walks around backstage now. She's walking around like she's got a stick up her butt and mad at everybody," Lacey Evans said. "And I don't know if it's because of her career, where she's at, or what she's been through. But let me tell you, we're going through some stuff too. So rock your cat and calm your nerves because she's mad. She's just been treating people very, very rudely, and I think her emotions are going to end up kicking her own a** because of how mad she is with everybody else."
Lacey even said that she doesn't know why Nattie's like that, maybe because of what she's accomplished here in WWE as a performer. Adding to the statement, she said that the former Smackdown Women's Champion treats people very "rudely" and that her emotions would lead to her own downfall.
Natalya made her WWE debut in April of 2008 and has been a constant of the company's female division ever since then. Apart from being a 1-time Smackdown Women's Champion she has also the now-retired Divas Championship as well as the Women's Tag Team Championship once. Next up, she will challenge her formal best friend Ronda Rousey for the Smackdown Women's title at the upcoming Money in the Bank premium-live-event on July 2nd.
Also Read – "There's not a damn thing that she's gonna do about it"- Former Women's Champion issues a warning to Ronda Rousey ahead of their clash
Lacey Evans and Natalya share a rich history in WWE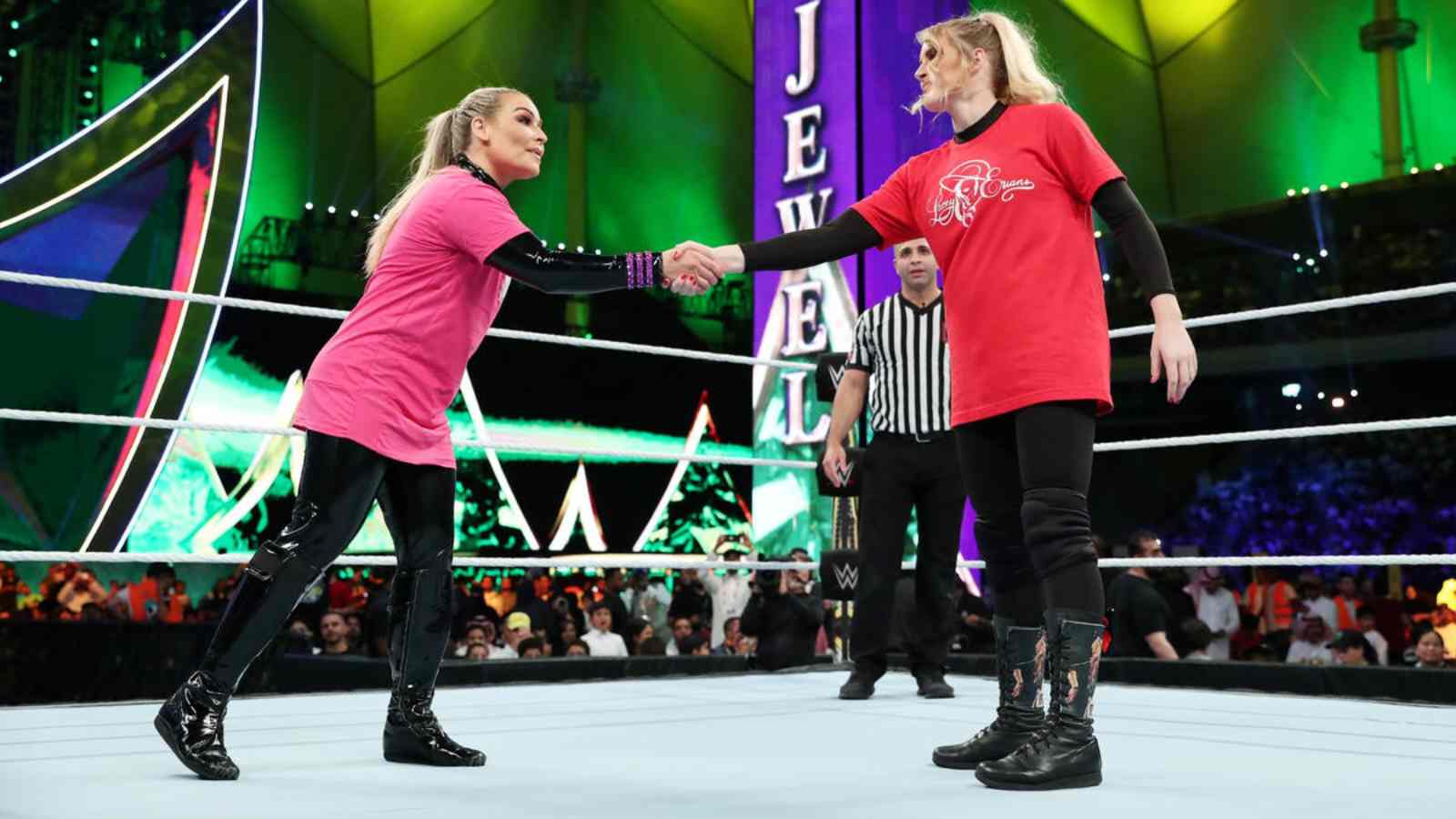 When it comes to hanging out there in the ring, both Natalya and Lacey Evans have faced each multiple times on television including a string of matches dating back around 2019 when they developed a brief grudge. On the October 7, 2019 edition of Monday Night Raw, Natalya defeated Lacey in a fantastic last-woman standing match.
Adding a history page in the history books, both Natalya and Lacey wrestled once again against each other at Crown Jewel 2019, which kicked-off the tradition of doing more women's matches in Saudi Arabia which was a really revolutionary step in the history of women's wrestling as they were getting showcased to start a new tradition once and for all.
At the event, Natalya defeated Evans after the latter submitted to the Sharpshooter. After the match got concluded, both women shared an emotional moment as they hugged each other and acknowledged the support of the Saudi crowd.
Also Read – "This Brock Lesnar is a completely different" – Eric Bischoff is excited to see the Beast Incarnate back ahead of SummerSlam 2022
Also Read – "The biggest problem in pro wrestling is no one don't care enough about the wrestlers" – Bully Ray dissects the cons of modern-day wrestling