AEW's Double or Nothing event that took place at T-Mobile Arena in Las Vegas was a severe miss for the company. The show was criticized for its less hype-making and the Unsanctioned match between Adam Cole and Chris Jericho. Positioning of the Four Pillars Fatal Four-way match for the AEW Championship also made no sense alongside the silence of the crowd.
WWE's own Pat McAfee commented on the event's situation during The Pat McAfee Show. McAfee took a shot at AEW when he mentioned the huge number of empty seats at AEW's event. Pat proceeded, "It was like three-quarters of an arena completely empty." The fan-favorite commentator then weighed in his advice over producers to avoid such reveals on live TV.
Pat McAfee stated that any shot away from the hard cam exposes a lot of unwanted things. A valuable lesson that AEW learned over the weekend during the Vegas' show. Wrestling Observer's Bryan Alvarez posted a photo showing unoccupied seats behind Orange Cassidy. Alvarez managed to be fair by writing a caption regarding Cassidy's win and nothing about those clearly visible seats at the back.
AEW's next major show, All In is set to take place at Wembley Stadium in London on August 27. Although that event is reported to be a hit as more than 65000 tickets have been sold as of this date. No prior matches have been announced for this show, but the hype has been built over their first international show.
Related: WWE takes sarcastic jab at AEW after video of fan watching NXT Battleground on his phone at Double or Nothing show goes viral
Tony Khan is not ready to address CM Punk's return at AEW Collision premiere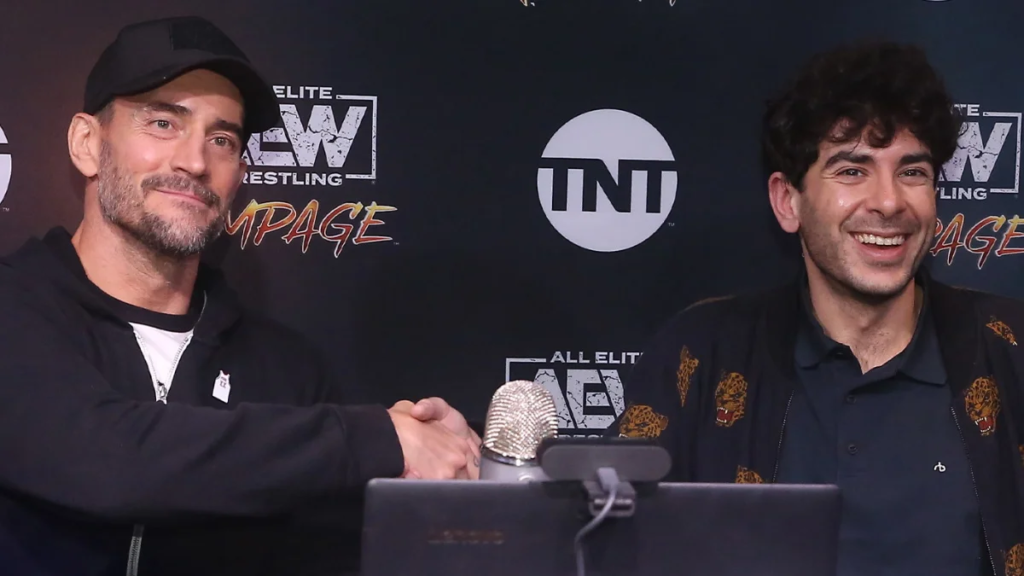 Following the Double or Nothing event of AEW, a media scrum was arranged by the company's CEO Tony Khan. Where the superstars of the show were asked questions regarding their matches and future. Khan was asked the most obvious question regarding the return of CM Punk at premiere of AEW Collision in Chicago.
Tony responded, "I am not prepared to address that question at this time". He focused on 'time will tell' theory and went on to promote the show through the question. He stated the ticket sales for the show are getting stronger day by day as June 17 approaches.
Khan believes that June could be a bigger month for the company considering the massive series of events in it. The launch of AEW Collision, the second installment of AEW x NJPW Forbidden Door, and the release of Fight Forever video game. This will lead the company to head up to 'All In' at London in August.
In case you missed it: