Ronda Rousey is a former UFC Bantamweight Champion and the youngest Judoka in history to compete at the Olympic Games ever. After ending her stint with MMA, she switched towards being a professional wrestler and that led to her debut in WWE. Today she's one of the most successful woman on the roster and it's fair enough to say that she's earned everything and made every single penny worth of what she is making. Rousey have been a centre of mainstream attraction throughout her career and her bold statements about many people and celebrities made headlines on several occasions.
One such incident took place around 7 years ago in France at the Cannes Film Festival where Rousey was invited as a guest and she took her little sister Julie alongside too. Popular Canadian singer and musician Justin Bieber was also present there and had a grand performance at the event. Following everything got over, Bieber got extremely busy in clicking pictures with his fans and followers and this site also led to Ronda Rousey's younger sister getting excited to do so with the singer.
But, as soon as they approached him for the pictures, Justin Bieber refused to take up a moment and do the pics as he was previously being taken through millions of those and he didn't wanted to do it anymore. This took the Rousey sisters to a storm and later in an interview with Cosmopolitan Magazine, Ronda termed that gesture from Bieber to be "rude".
"Justin Bieber was taking some pictures with some ladies and she suddenly got really excited and was like, 'Do you think he'd want to take a picture with me?' I was like, 'Sure Julie, don't worry about it, everyone's taking pictures today. Don't feel bad, that's why everybody's here… look at him, he's a sweetheart,"
Rousey detailed the exact wordings of what happened when she and her 16 year old sister went to Bieber asking for pictures. According to her, the singer was already messed up and upon asking for photos one more time with them, he turned and walked away snubbing them all way around.
"I walked over there and said, 'Excuse me,' he turned and goes, 'I've already taken a billion pictures today, OK.' I said, 'Yeah but' — because my sister is the only 16-year-old girl at the whole party — I only got, 'Yeah but' out before he goes, 'A billion' and walks off and totally snubs my little sister,", Rousey said.
ALSO READ – "And called Rocky Johnson a M**********r" When Vince McMahon and Pat Patterson were drunk at Rocky Johnson's Funeral
Ronda Rousey is an icon of Combat Sports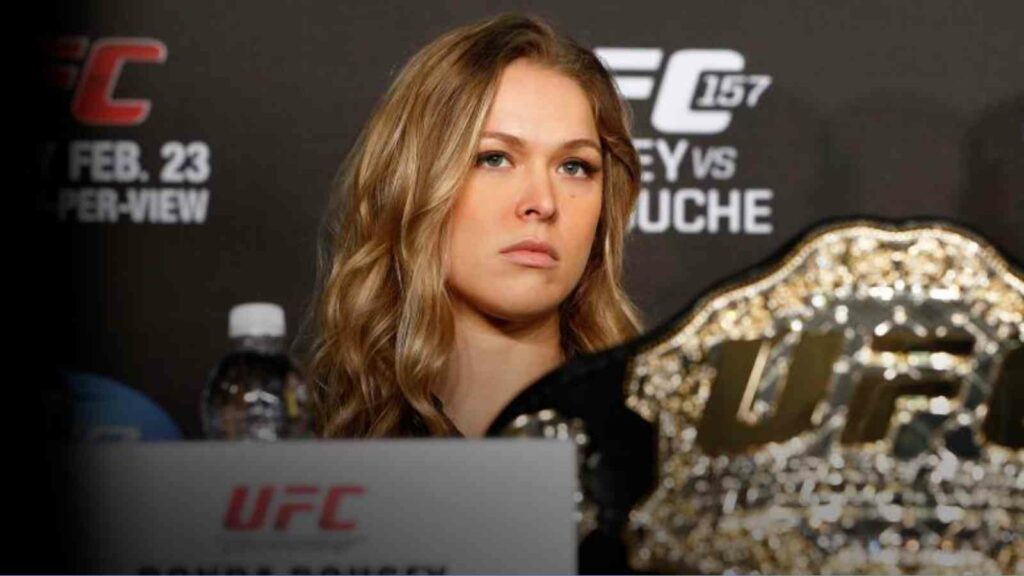 The Former Bantamweight Champion is has not only created a name for herself in the UFC but also has been a real inspiration for many young women who want to take up combat sports as a profession and explore themselves. It would be fair enough to say that Ronda Rousey is the torchbearer of Mixed Martial Arts and one could not even imagine mentioning that without naming Rousey in the conversation along with it.
In WWE, Ronda Rousey recently lost her Smackdown Women's Championship to Liv Morgan this past Saturday night and it would be interesting to see what's next in store for the Baddest Woman on the Planet this Friday night when she appears on Smackdown.
ALSO READ – "This should have been number one"- When Becky Lynch took a cheeky sneer at Stephanie McMahon when she called 2019 as The Man's year
ALSO READ – "I don't think they knew" Vince McMahon' s reported reaction to Israel Adesanya using Undertaker's entrance