This was the second night of NXT TakeOver: Stand & Deliver in the Wrestlemania week. The episode featured four Championship matches and also an Unsanctioned match between Adam Cole and Kyle O"Reilly.
Santos Escobar def. Jordan Devlin (NXT Cruiserweight Championship Unification Ladder match)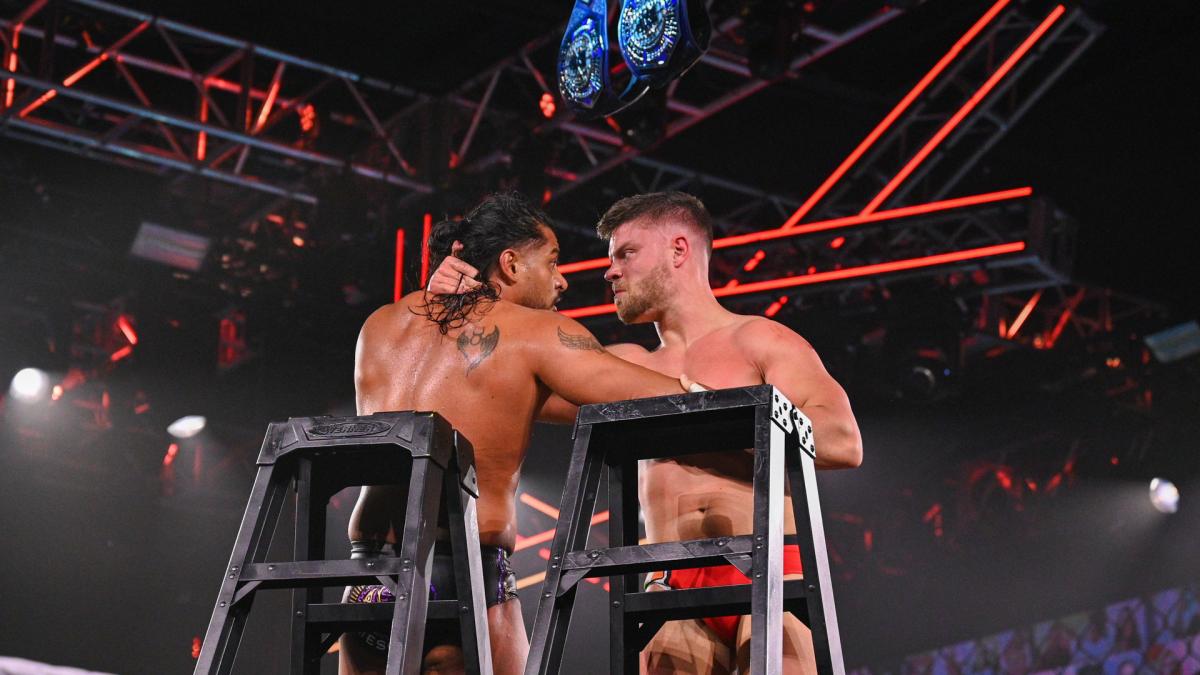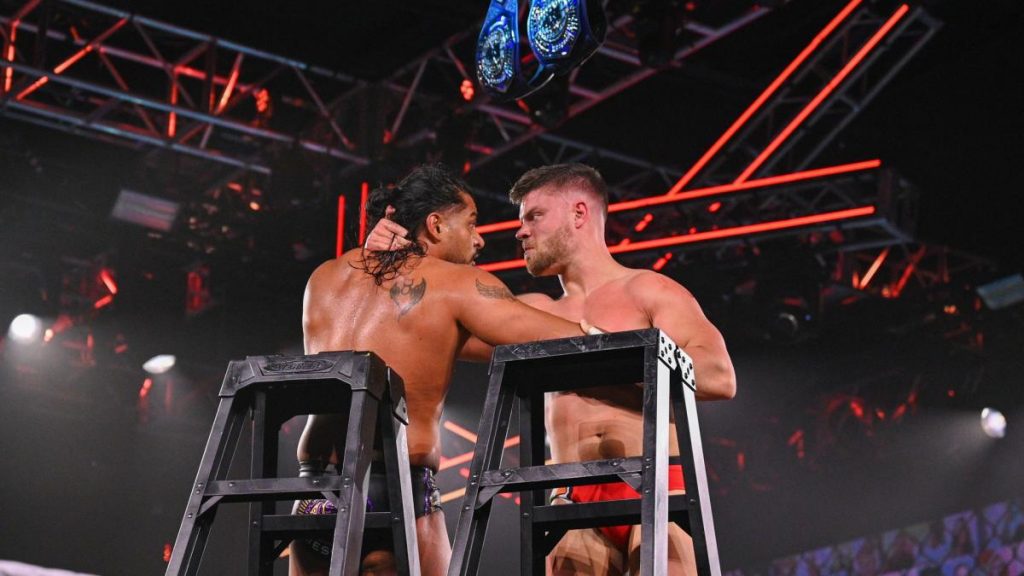 As the match began, Jordan Devlin got the best of Santos Escobar with an armdrag. Escobar countered the Devlin Side but was dropped with a uranage/moonsault combination.
Escobar moved to the floor but was taken out with a springboard moonsault. Devlin brought in the ladder and crashed it into Escobar's face. The leader of Legado Del Fantasma smashed Devlin's face into the steel construct.
In the ring, a ladder was dropkicked into the ribs of Devlin, leaving him gasping for air as Escobar grabbed another one. Escobar hit a short missile dropkick but Devlin countered with a slingshot, landing on the ladder and climbing up.
Escobar pulled him off again, but Devlin turned around in mid-air, hitting Escobar with a vicious DDT. Escobar responded with The Arrow from the Depths of Hell.
Jordan Devlin moved to the top of the ladder for a moonsault on high, crashing right onto the midsection of Santos Escobar. Devlin moved up the ladder, but Legado Del Fantasma rushed to the ring, sending him crashing to the floor into the steel steps.
Escobar sent them back. As he climbed up to get the titles, Devlin threw a ladder. He followed Escobar, countering the Phantom Driver with a sky-high Spanish Fly. Just as Devlin reached for the NXT Cruiserweight Titles, Escobar joined him. A headbutt sent Devlin through the ladder, as Escobar became the Undisputed NXT Cruiserweight Champion
Shotzi Blackheart and Ember Moon def. Candice LeRae and Indi Hartwell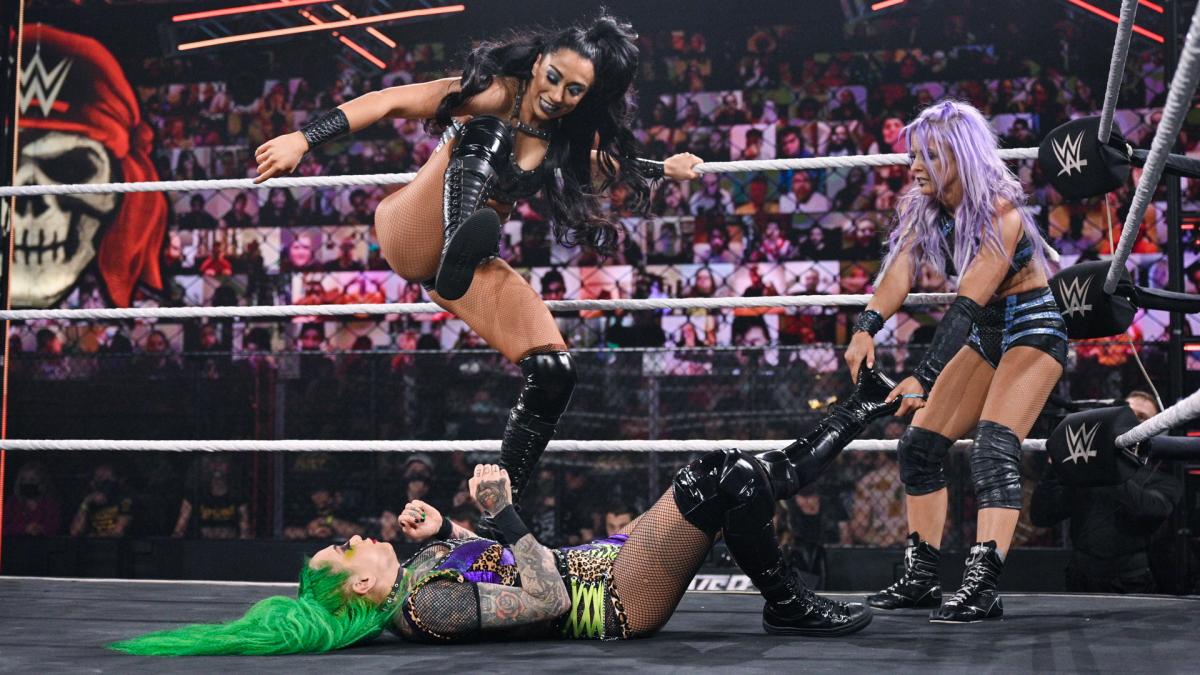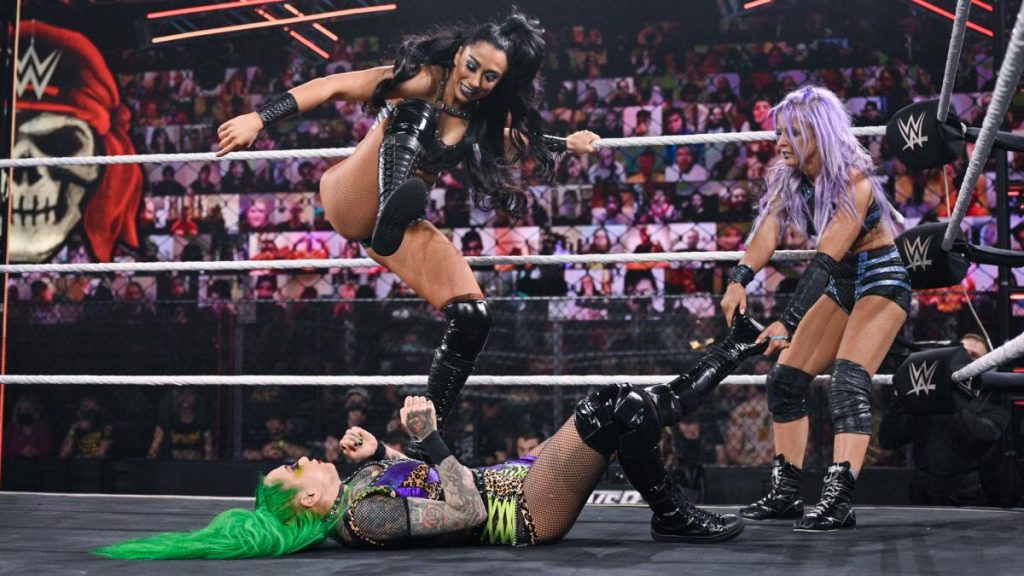 The Way got the better of the current Champions in the opening moments of the match. Indie Hartwell slammed Blackheart for a step-up senton for Candice LeRae, who hit a fireman's carry/double knee facebuster combination.
Blackheart struggled to tag in Moon. But a wild enzuigiri stunned Candice, allowing Blackheart to get to Moon. Moon pelted The Way with a series of kicks and punches. A discus punch nearly knocked LeRae out of the ring.
Moon set up for The Eclipse, but a distraction from Hartwell allowed LeRae to hang her up on the top rope. Just as Hartwell tagged in, Blackheart prevented a double superplex. A dragon suplex threw LeRae to the floor with Hartwell and Blackheart crashed into them with a suicide dive.
Back in the ring, Moon was able to drop both Hartwell and LeRae with a double Eclipse followed by a diving senton from Blackheart for the win.
Johnny Gargano def. Bronson Reed (retains NXT North American Championship)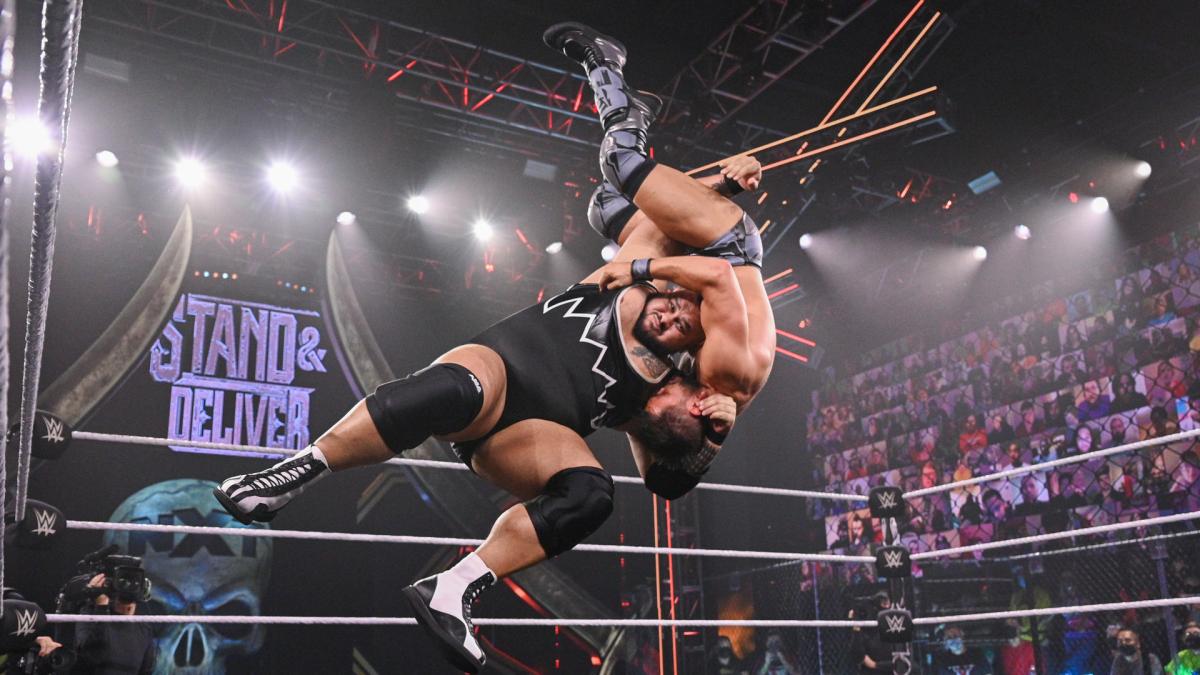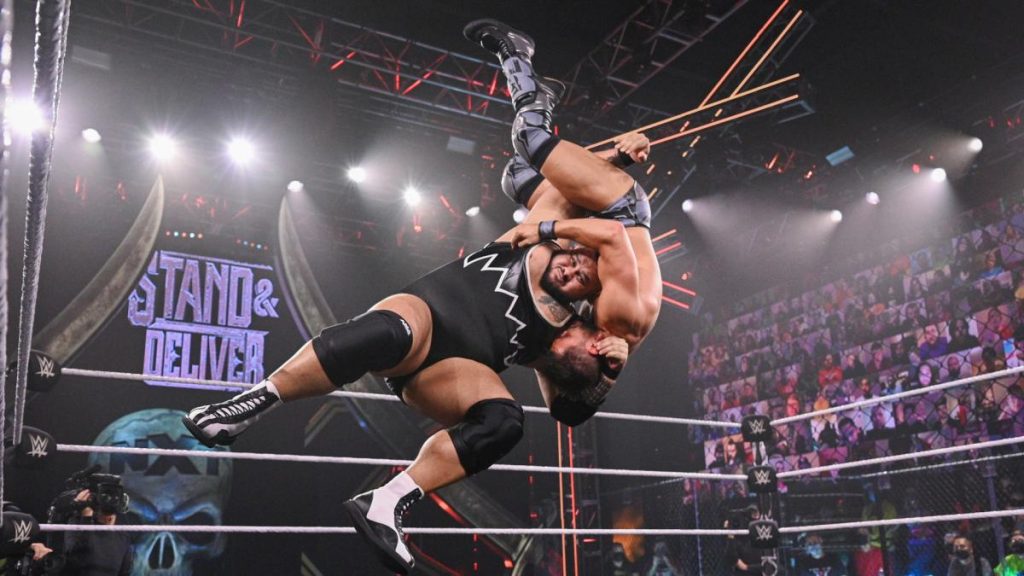 As the match began Gargano struggled to get Reed off his feet. A fallaway slam sent Johnny Gargano across the ring. Gargano hit the slingshot spear, but it still didn't drop the big man. Finally, a chop block finally gave him an opening, and a flying clothesline dropped Reed to the mat.
Gargano escaped a powerbomb attempt and avoided a seated senton.Gargano kept Reed down on the mat, with a crossface and kneed him in the ribs. Reed broke away and caught Gargano diving, turning it into a powerslam in mid-air.
Johnny hit the superkick to the midsection but was dropped with a big suplex. Reed was spiked with a poison rana, and Gargano Escape was locked in. Reed escaped to the elevated ramp and countered One Final Beat with a forearm smash. Gargano was launched over the ropes by A Razor's Edge.
Gargano distracted the referee, allowing Austin Theory to draw Reed's attention. As he went for the top rope rana, Reed landed on his feet and hit a powerbomb. Theory managed to get Gargano's foot on the ropes.
Theory was proud of himself but Reed used Gargano as a weapon to batter him. A suicide dive crushed Theory, but Gargano took advantage. Sending Reed back inside, Gargano set up for One Final Beat.
Two superkicks stunned Reed, and Gargano avoided a diving moonsault to deliver back-to-back One Final Beats to retain his title.
Karrion Kross def. Finn Balor (New WWE NXT Champion)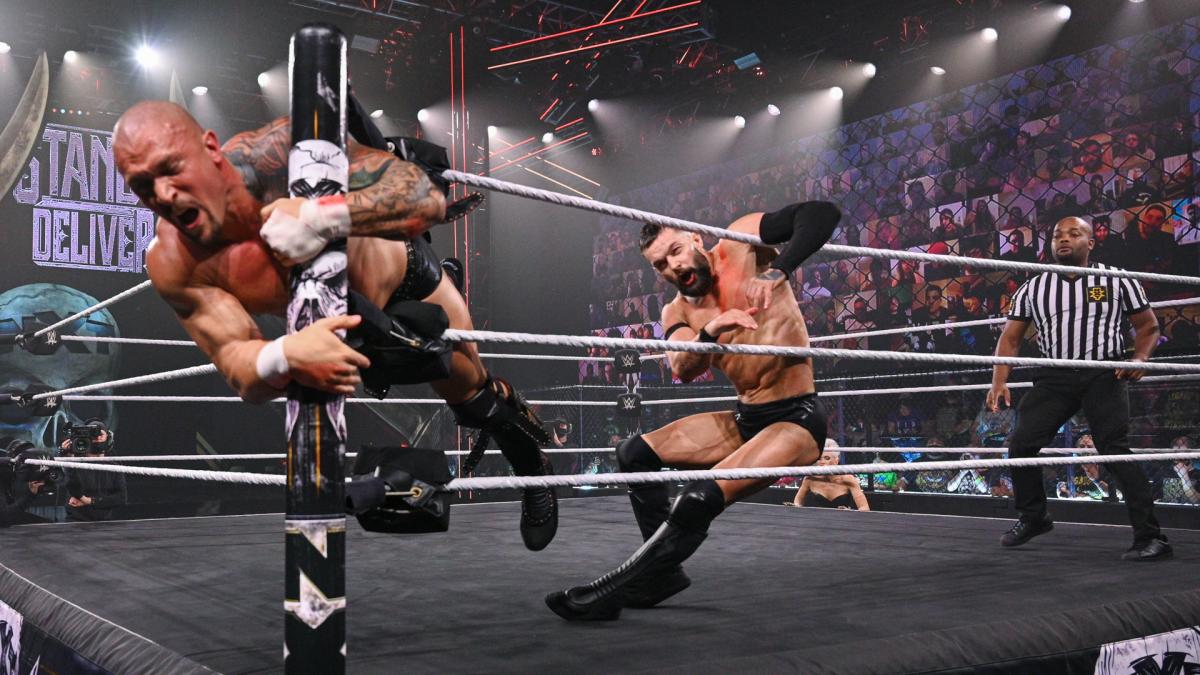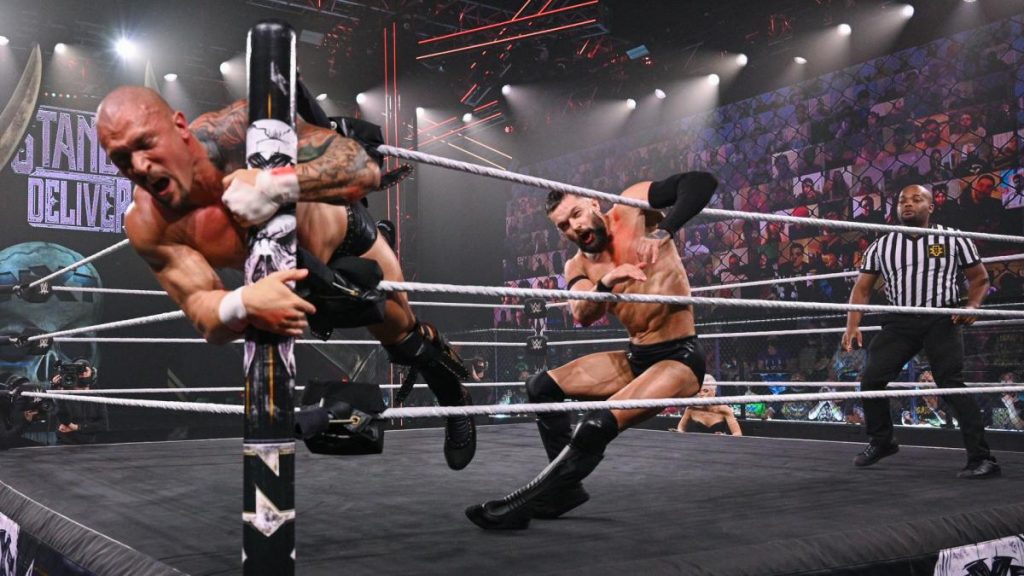 Balor was aiming to weaken his opponent's formerly injured shoulder. Bur he was hit by a knee lift but Balor kept smiling. He slapped Kross' face and angered him. A high-speed shoulder tackleby Kross. He went for a second one but Finn dodged, sending Kross into the ring post.
Kross suplexed The Prince of NXT across the ring. Balor was unable to avoid a running knee into the midsection. But somehow, Balor managed to catch Kross with a surprising armbar as Kross lay down in pain.
After making it back to his feet, Kross set up a powerbomb counter but Balor held onto the arm. Kross slammed the NXT Champion into opposite turnbuckles, but the powerslam was countered with a spinning headlock elbow drop.
Balor again went after the arm. The Doomsday Saito dropped Balor on his head. Balor saw Kross' elbow coming and responded with the Pele Kick. A series of shotgun dropkicks connected, as did the Coup de Grace.
Kross screamed in pain and was unable to get to his feet. Balor locked in an octopus stretch, but Kross broke through it. He got on the back of Balor and punched viciously at his head.
A series of knockout forearms connected as Kross regained his WWE NXT Championship.
Kyle O'Reilly def. Adam Cole (Unsanctioned match)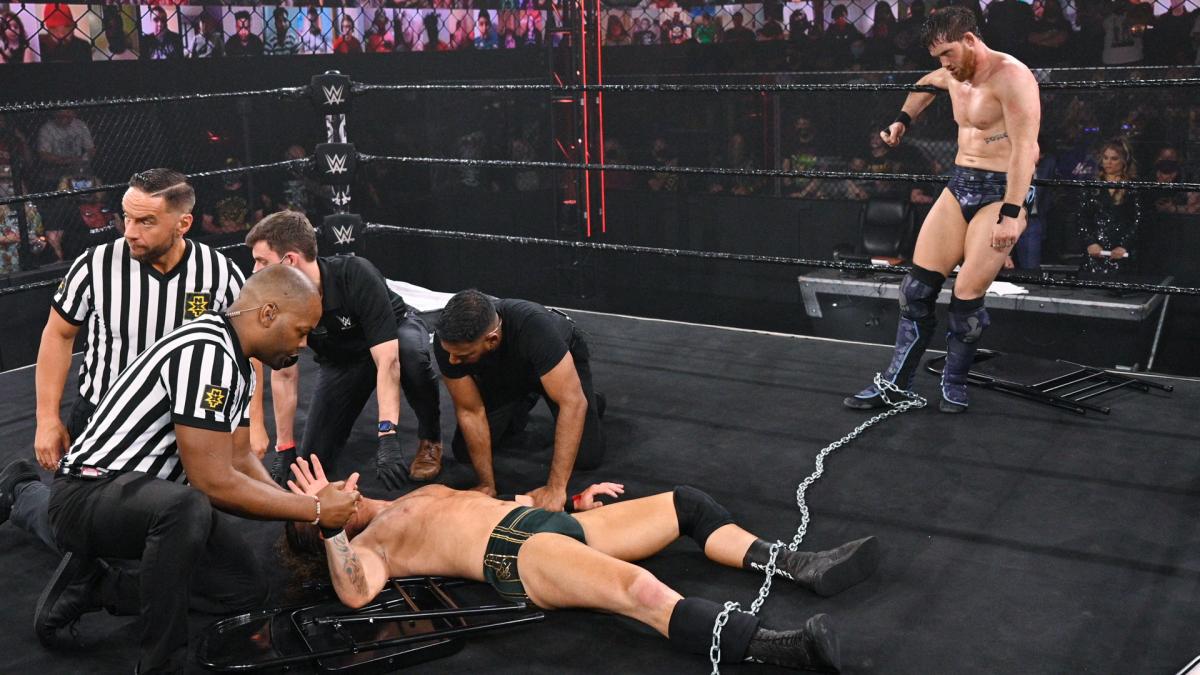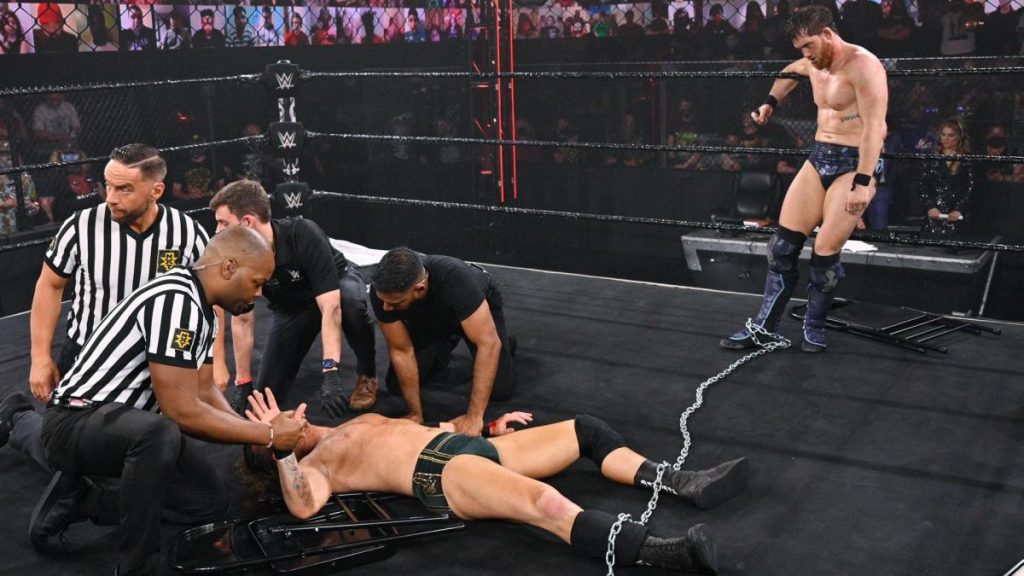 Kyle O'Reilly and Adam Cole ran right into one another as KOR sent Cole to the floor. Cole bounced O'Reilly off the barricade, but he countered with a series of high kicks to the chest. They moved back into the ring.
Cole pushed O'Reilly up to the top rope and shoved him to the floor landing on his neck. He followed that up with a steel chair into O'Reilly's injured neck. Kyle made it to his feet and battered Cole with a striking combo.
Kyle kicked a chair into the head of Cole before rolling to the floor for a steel chain. O'Reilly was dropped with a hangman's neckbreaker right onto the steel chain. O'Reilly wrapped the chain around his leg and kicked Cole's head.
Cole set up two chairs and dumped O'Reilly into one for a shining wizard. He went to drive KOR into the steel steps, only for O'Reilly to land on his feet for a guillotine. Cole started limping.
A suplex onto the table sent Adam over the barricade. As O'Reilly chased him, he was hit with a TV monitor. Cole was trapped in a triangle choke and managed to break away ashe drove a tire iron into the ribs of Kyle O'Reilly.
Cole lowblowed KOR. A chair was wrapped around O'Reilly's neck. The NXT official tried to stop it but he was punched away.
O'Reilly was hit with the Panama Sunrise. Cole continued to focus on the neck, driving it into the barricade and slinging weapons into KOR's head.
On the ramp, O'Reilly locked Cole in a guillotine. They broke through the side of the stage. The NXT official was back up at this point and ready to end the match.
O'Reilly wrapped a chair around Cole's ankle and moved to the top. But Cole quickly escaped and hit O'Reilly with a chair. O'Reilly went low and wrapped the chain around his leg and connected a flying knee for the win.
Also Read: Kairi Sane teases a WWE return