Hanuma Vihari has been taking all possible efforts to help the people suffering in this pandemic and amidst all this, a twitter user who said 'Masala dosa le aao bhai' got shut down by Vihari's savage reply.
Hanuma Vihari is known for his valiant show of grit and fight as he defended for 161 balls despite suffering from hamstring injury to deny Aussies a win in the third test of the recently concluded series at the Sydney Cricket Ground. Vihari is also a real life hero as he has been helping the victims of the COVID-19 pandemic by raising funds and reaching them via Twitter. He is currently playing County cricket for Warwickshire in England.
Vihari has been taking every bit of effort to raise funds and reach the needy through his Twitter account. Even recently one is bound to have come across a fundraiser was initiated by him to pay the medical expenses of a COVID-19 victim – Kiran Kumar of Hyderabad.
Sydney defender Hanuma Vihari counter-attacks with tweets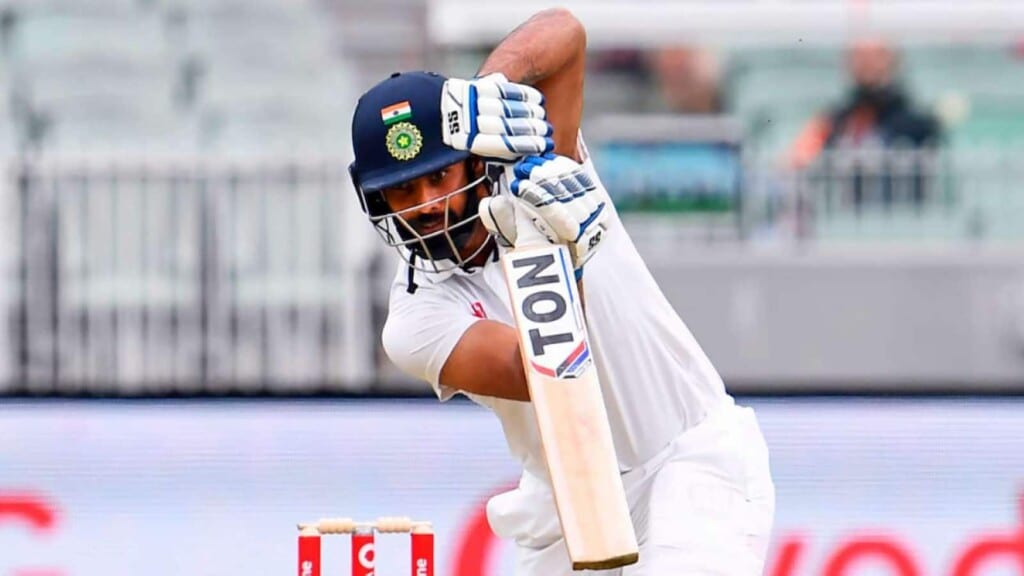 It is common to see keyboard warriors who are constantly making criticisms of cricketers and celebrities despite them trying their best to help the aggrieved people in this pandemic situation. Recently, the 27 year-old Indian cricketer had also came across one such incident in the online platform where a twitter user had asked the Indian cricketer to bring Masala Dosa and Coconut Chutney.
"I would if you're suffering like many people in India are right now. Oh, wait a minute you're actually suffering from a different disease. I'm Sorry!" was the reply that come from Hanuma Vihari to the same. The tweet has since been deleted by the Twitter user, meaning that Vihari's reply is gone as well.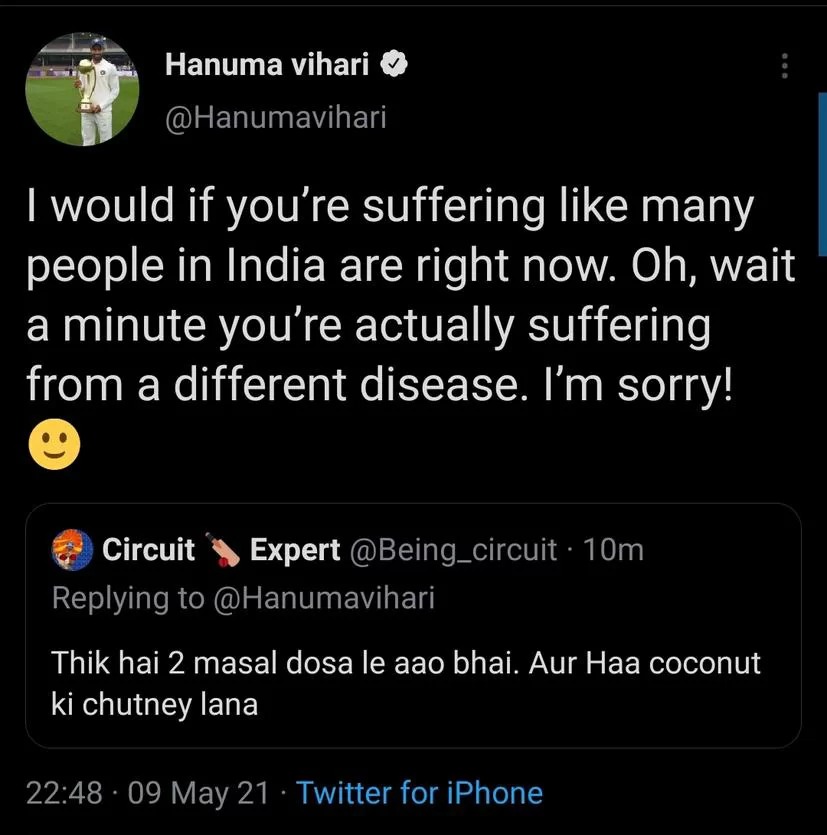 Generally he tends to ignore such trolls but this time he decided to give it back and he replied that he would have helped him if he was suffering from the disease which most of the Indians are currently victimized to.
This was not the first time we see the cricketer providing savage replies for illogical criticisms. Few months back the Sydney hero was criticized for his slow batting by politician Babul Supriyo in his twitter account and also blamed him for not showing any intent to chase down the target instead going for the draw, describing his act to be murdering of Test cricket.
"Playing 109 balls to score 7 !That is atrocious to say the least Hanuma Bihari has not only killed any Chance for India to achieve a historic win but has also murdered Cricket.. not keeping win an option, even if remotely, is criminal. PS: I know that I know nothing abt cricket" read the tweet from Babul Supriyo.
Meanwhile Vihari just replied him with a notification of typo-error of his name mentioned in his tweet and corrected his name "*Hanuma Vihari". This hilarious reply made the fans go wild with memes and jokes which flooded the internet.
Hanuma Vihari has now been selected for the Indian squad which is to play against New Zealand in the World Test Championship final in England. The Indian cricketer who is currently in England is not having a great outing as he had managed only 100 runs from 6 innings with one half-century for his county side, in the ongoing tournament. But we can definitely hope that the experience gained from this tournament in England will help him perform well against the Kiwis in the upcoming WTC finals.
Also read: From Sachin Tendulkar's heartfelt wish to Virender Sehwag's poem: Wishes pour in from Indian cricketers on Mother's Day