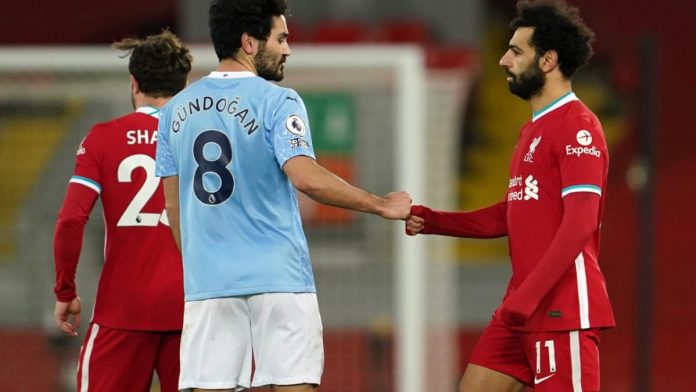 Liverpool crumbled to a demoralising defeat to Manchester City as the Cityzens ran riot at Anfield. Young midfielder Phil Foden showed that the future of English football could be better than the past if they could get a good manager to guide them. No one would believe if you said that this Liverpool side was the one that won the Champions League, UEFA Super Cup, FIFA Club World Cup and the Premier League in continuous seasons. Here are 4 fun facts about the match that was played yesterday between Liverpool and Manchester City.
1. Liverpool have lost more matches this season than the number of losses of last two seasons combined
Counting yesterday's loss, after defeats to Aston Villa, Southampton, Burnley and Brighton and Hove Albion, Liverpool have lost 5 times this season. That is more than the losses put together between the last two campaigns and Liverpool haven't even finished their season. 1 loss in the 2018/19 season and 3 losses in the 2019/20 season has been surpassed in just one season and to add insult to injury, Liverpool have lost 3 matches on the bounce at home after not having lost their for more than 3 years.
2. Liverpool have lost to Manchester City at Anfield after 17 years
Anfield had proved to be both Manchester City's and Pep Guardiola's bane as the blue side of Manchester had not won at Liverpool for more than 17 years. That curse was lifted in spectacular fashion as Manchester City simply ripped apart a weakened Liverpool at home on the way to lifting their 3rd Premier League title in 4 years. The last time they won at Anfield was in 2003 when Nicholas Anelka scored two goals to give them a 2-1 win over the Reds.
This match was more than a humiliation to Liverpool as a team that is desperately lacking in confidence was further buried as they seemed clueless in attack and vulnerable in defence.
3. Liverpool have lost 3 home matches continuously for the first time since the 1963/64 season
Another worrying stat is that after no losses for more than 3 years at Anfield, Liverpool have lost 3 matches on the bounce. Teams like Burnley-which play anti-football came and won here because of a dubious penalty while Brighton and Hove Albion scored a lucky goal. However there was no excuse for this terrible performance against Manchester City as Liverpool surrendered in the second half. Manchester City looked like the team with more fire and passion and ran riot there at Anfield-giving them their 3rd loss on the bounce.
Not since the 1963/64 season have Liverpool lost 3 times continuously at Anfield and it is demoralising to see their home advantage crumble like this. The manager then was Bill Shankly and now we have Jurgen Klopp, two legendary managers in their own right.
4. This is highest defeat at Anfield under Jurgen Klopp for Liverpool
Liverpool's biggest loss to an opponent at Anfield before this game was 2 goals when Serie A side Atalanta came around and defeated them 2-0 in a Champions League group stage match. This time Manchester City scored 3 goals more than Liverpool, thereby inflicting the heaviest defeat for Liverpool under Jurgen Klopp. This will be insult to injury for Klopp as he has a habit of making the home stadium of whatever team he manages into an invincible bastion. This is why he seeks the full support of the fans through thick and thin and this is what made Anfield the bastion it was.
No fans meant that there was no aura created that intimidated the opponents and playing in near silence meant that Liverpool also lost their 12th man. The passion and noise of the fans is what has motivated Liverpool many times and in the match against Wolves, it was seen in full force.
Also read: Liverpool's hopes of a title defense damaged with demoralizing defeat to league leaders Manchester City